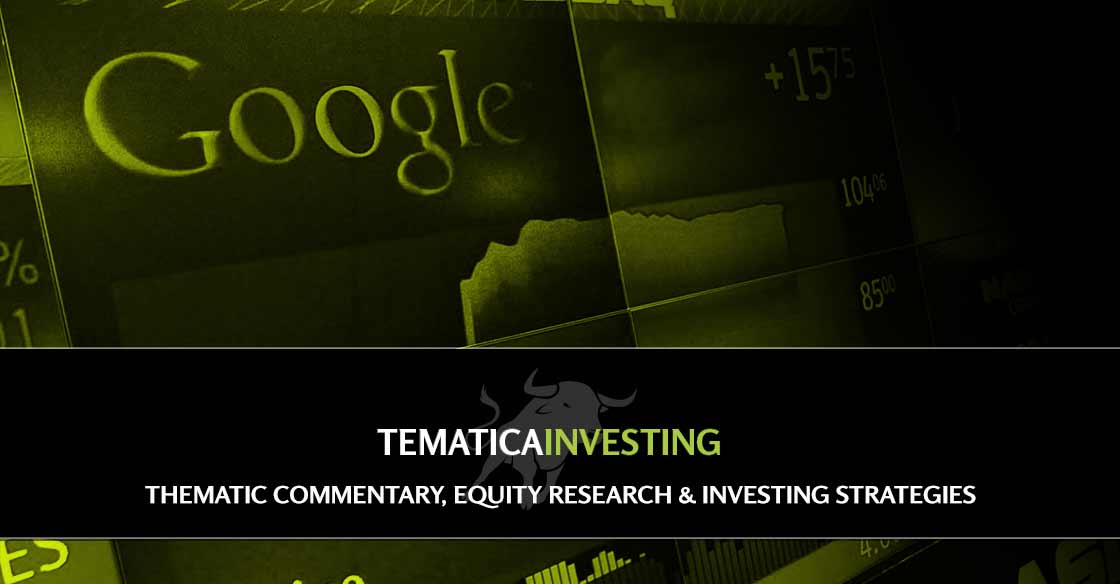 Last night Alphabet (GOOGL) reported June quarter earnings that bested expectations; however, the shares traded off last night in aftermarket trading following managements comments that costs are slated to rise faster than revenue near-term as mobile becomes a greater portion of its traffic and searches.
That tradeoff is continuing today, with the shares down almost 3 percent, as investors and analysts rejigger their EPS expectations. Making it somewhat murky was the fact that Alphabet management was tight-lipped about margin prospects in the coming quarters, and we suspect that means Wall Street could cut deeper than needed.
From our perspective, Alphabet's core businesses – search, advertising, YouTube, and shopping – all stand to benefit from the ongoing if not accelerating shift toward a digital world, which as you know, is the thesis behind our Connected Society investment theme. ( Click here to download a full thematic glossary we recently put together detailing all 17 of our themes)
As we have said previously, GOOGL shares are ones to own, not trade, even as this pullback occurs.
Therefore GOOGL shares, which benefit from tailwinds from our Asset-Lite Business Model and the Connected Society investing themes, remain on the Tematica Select List with a $1,050 price target.
Let's Look Beneath the Headlines of GOOGL Earnings
Looking deeper at Alphabet's 2Q 2017 EPS, it reported $5.01 per share, $0.58 better than the consensus of $4.43. Excluding the $2.7 billion antitrust fine, EPS would have destroyed expectations and been $8.90 per share. Stepping back, during the quarter the company continued to deliver double-digit growth at its core businesses and despite the $2.7 billion fine to the European Union, still managed to crush earnings expectations.
Quarterly revenue at Alphabet, rose 21 percent to $26.01 billion, beating analysts' average estimate of $25.65 billion with aggregate paid clicks up 52 percent year over year and 12 percent vs. the prior quarter. Paid clicks, where an advertiser pays only if a user clicks on ads, handily beat the expected 35 percent increase among the Wall Street analyst community for 2Q 2017. Google's ad revenue, which accounts for a lion's share of its business, rose 18.4 percent to $22.67 billion benefitting from advertising on both mobile and You Tube. With advertisers still shifting toward digital vs. other advertising modalities, research firm eMarketer sees Alphabets' digital ad revenue jumping nearly 18 percent for full year 2017 to $73.5 billion. We'd note given the launch of YouTube TV that is expanding its available markets, plus the overall shift from TV advertising to digital platforms not only could eMarketer's forecast be conservative, we expect share gains to continue past 2017.
Now for what has the shares trading off today
Even though the average cost per click fell 23 percent year over year and the company continues to make progress on reducing costs associated with its "Other Bets" segment, its costs for the quarter grew faster than revenue. This led to a modest decline in margins compared to expectations for the quarter. One-quarter does not make a trend, and we'll continue to watch these line item as we head into the back half of 2017.
The reaction to all of this has led to a variety of price target changes across Wall Street, some up and some down. Looking at the situation through our thematic investment lends:
We continue to have a $1,050 price target on GOOGL shares, which offers just under 10 percent upside from current levels.
Should the shares retreat further, it will be tempting to scale into the position, but we'd suggest subscribers look for an even more compelling risk-to-reward trade-off near or below $900, given the potential for other EU fines and potential changes to be made to the company's business to comply with the EU's recent ruling. We expect more clarity on both in the coming months.