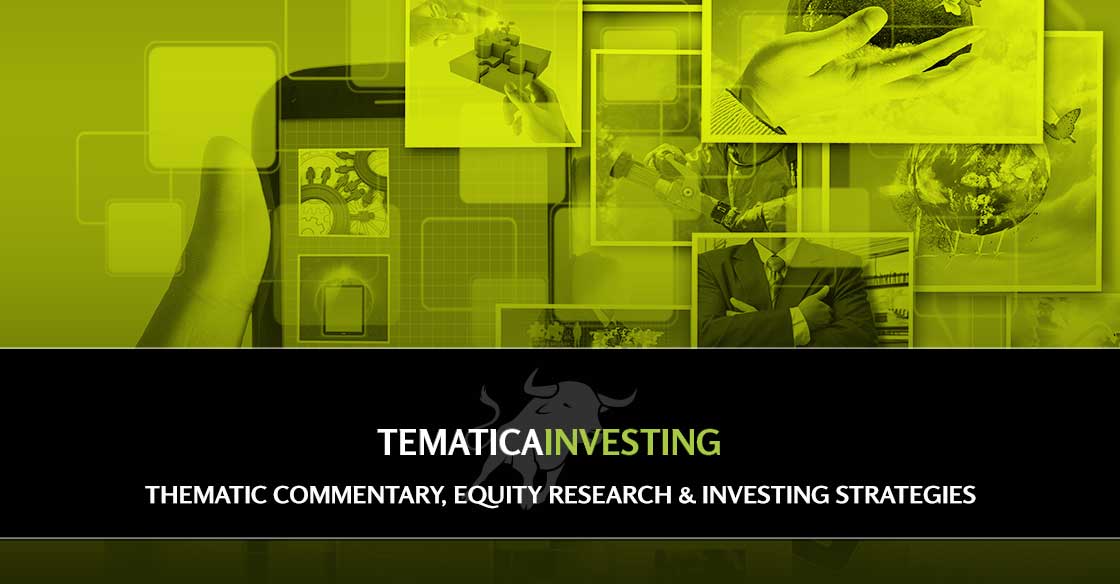 KEY POINTS FROM THIS ALERT:
Our price target on Applied Materials (AMAT) shares remains $70.
Our price target on Universal Display (OLED) shares remains $225.
Midweek, we saw yet another dynamite earnings report from Tematica Investing Select List company Applied Materials (AMAT).   The company simply walked right over expectations and not only raised its outlook, but also boosted its quarterly dividend and share repurchase program. Simply put, it was a picture-perfect earnings report from top to bottom, and in keeping with increasing presence of our Connected Society investing theme, Applied's management team shared a number of reasons why as I like to say, "chips are the fabric of our digital lives."
While many of the talking heads are bemoaning slower growth prospects for the smartphone market, the devices continue to pack more functionality and storage inside their packages, and this is before 5G. Voice recognition technology and greater processing power to handle that as well as augmented reality, virtual reality technologies are leading to greater chip dollar content in these devices despite slower unit growth. Per Applied average semiconductor content per smartphone rose 30% in 2017.  To use the investing lingo, we are seeing rising average dollar content per device that is poised to step up again in 2019-2020 as those aforementioned 5G chips make their way into smartphones as AT&T (T), Verizon (VZ), Sprint (S) and T-Mobile USA (TMUS) all launch 5G commercial networks.
We're also hearing quite a bit about the growing voice assistant market as Apple (AAPL) launches its Home Pod and Amazon (AMZN) touted 2017 was a banner year for its Alexa powered devices. What's not really talked about, however, is the typical voice assistant has around 30 chips and a total of 200 square millimeters of silicon, roughly twice the area of a smartphone application processor. Now let's think about not only the new types of voice assistants we are seeing from Amazon with video screens, but how these digital assistants are being embedded in other devices ranging from TVs to a road map that includes home appliances and autos. All of these digital assistants are connected back to servers like Amazon Web Services and the artificial intelligence workloads require server architectures that have up to eight times more logic and four times more memory content by area than traditional enterprise servers.
The bottom line is the Internet of Things, big data, augmented reality, artificial intelligence, data centers and storage are driving incremental chip demand. This tailwind of our Connected Society investment theme is leading Applied to raise its wafer spending forecast among its customer base to $100 billion over 2018-2019, up from $90 billion in 2017-2018. One of the wild cards for potential upside to that forecast is China, which continues to add domestic capacity, which is benefitting Applied given its leading market share position in the region.
Turning to Applied's Display business, which is benefitting from larger format TVs as well as the ramp in organic light emitting diode (OLED) display capacity. These drivers have led Applied to forecast more than 30% growth in its Display business in 2018, which follows nearly 60% growth in 2017. Digging into the company's comments on the earnings conference call, it is not only seeing rising OLED demand, but also a diversification in its customer base which in my view reinforces the
Previously, one customer (most likely Samsung) was more than 50% of its OLED business, and now more than 50% of Applied's OLED business, but that has flip-flopped and now more than 50% is coming from multiple customers. That widening in demand is not only good for Applied, but it also points to an expanding market for Universal Display's (OLED) chemical and IP licensing business as well.
On the dividend and share repurchase fronts, Applied Material's Board of Directors approved a doubling of the quarterly cash dividend on the company's common stock to $0.20 per share. That new dividend will be payable on June 14, to shareholders of record as of May 24. Ahead of that, Applied will pay its next cash dividend of $0.10 per share on March 14. The Board also approved a new $6.0 billion share repurchase authorization that is in addition to the $2.8 billion remaining under its previously approved authorization. I see these two offering a combination of support for our $70 price target on AMAT shares, while also providing support for the shares. At the current share price, the combined $8.8 billion in repurchasing power equates to roughly 166 million shares, roughly 15% of the company's overall share count. Do I expect it to happen in one fell swoop? Nope, but it's a factor that offers a way for the company to continue to meet and potentially beat Wall Street EPS expectations.
Given the consequences a company faces should it miss a dividend payment or find itself in the position to cut it, it's not a simple decision for a company to boost its dividend, let alone double the existing quarterly payment. In my opinion, that alone says volumes about Applied's confidence in its business over the coming years, and the additional and upsized buyback program only adds to that.
Our price target on Applied Materials (AMAT) shares remains $70.
Our price target on Universal Display (OLED) shares remains $225.