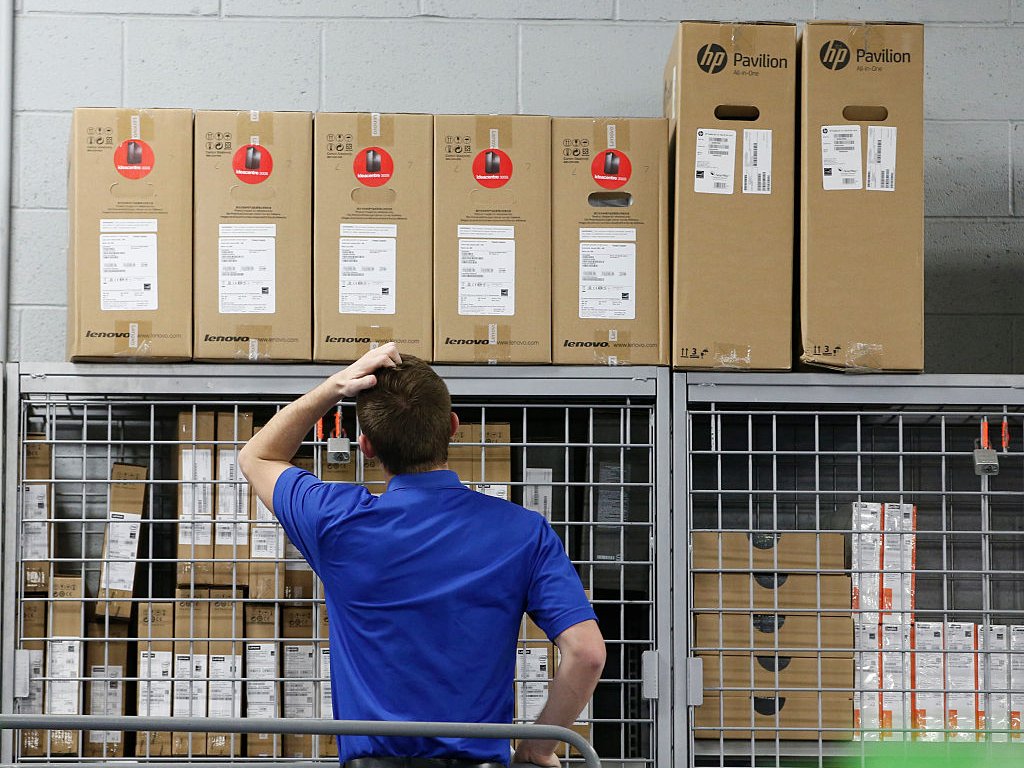 Earlier today, Best Buy (BBY) delivered better than expected quarterly results, which reflect our increasingly Connected Society. As Best Buy Chairman and CEO Hubert Joly put it, "higher-than-expected growth was driven by stronger consumer demand with technology products" as well as share gains due to competitor closures and bankruptcies. Areas of strength included computing, wearables, smart home, and mobile phones all of which mesh with our Connected Society investing theme.
What really caught our attention was the continued growth in the company's online business as its quarterly domestic online comparables rose more than 30% year over year, bringing online sales to just over 13% of revenue. In many respects, Best Buy has much more to go, but the management team recognizes this shifting competitive landscape associated with this theme in part because "So much of the customer experience has been starting online." Acknowledging that, Best Buy conceded that it has "some key categories that are pre-underpenetrated online."
We'll continue to monitor Best Buy's progress in accessing the Connected Society tailwind, but for now, with less than 20% of its revenue derived from digital commerce, we continue to prefer the Tematica Select List position in Amazon (AMZN).
We continue to have a Buy on Amazon (AMZN) shares with a $1,150 price target.
In support of maximizing the multichannel retail business, we continue to drive digital innovation to improve the customer experience. In the second quarter our domestic online comparable sales grew 31%. Online sales were more than $1 billion for the second consecutive time in a non-holiday quarter and were 13.2% of domestic revenue, up from 10.6% last year. We are on pace to generate well over $5 billion in domestic online sales this fiscal year.
Another exciting opportunity to maximize the multichannel retail business is our In-Home Advisor program. Our in-home advisors are professional sales consultants with broad product knowledge. They provide free consultations and serve as a single point of contact covering all technology needs across all vendors. In other words, they can help you design including place a great entertainment system, help you pick out your appliance for a kitchen model or help you steam music and content across your home without annoying buffering issues.
After testing the program in several cities, over the last year and a half, we're currently rolling it out nationally. By the end of September, we will be offering these free in-home consultations across all major U.S. cities nationwide.
We're very focused on the smart home as a key part of our Best Buy 2020 strategy, and we will continue to enhance this category across our stores and website this year. For example, to demonstrate we're responsible with voice technology, we're bringing new Alexa and Google Assistant experiences to 700 stores nationwide in collaboration with Amazon and Google. These enhanced experiences are unique to Best Buy and show how you can completely use voice technology. Especially trained Blue Shirts are on hand to provide advice and of course our Geek Squad agents can help install, set up and support the products.
The new species began arriving to stores in July and the rollout will be complete by the end of the third quarter. Of course, we're continuing to work on a number of other initiatives around tech support, smart home, mobile and appliances, and we will provide update during our investor day next month.
Source: Best Buy's (BBY) CEO Hubert Joly on Q2 2018 Results – Earnings Call Transcript