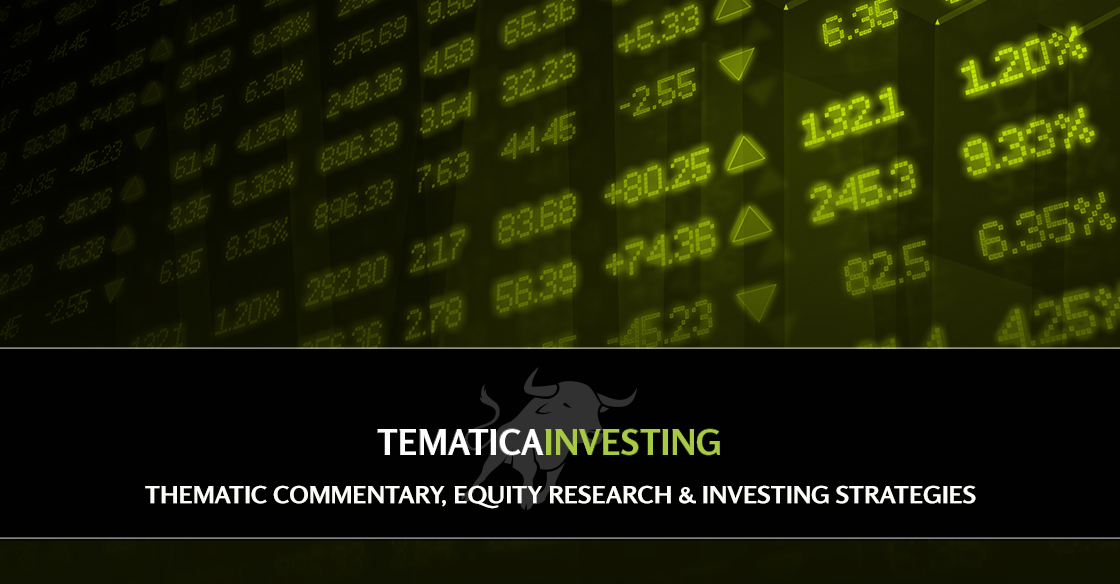 Last night recently added Connected Society / Content is King company Trade Desk (TTD) reported results that beat September quarter expectations. However, after several "beat and raise" quarters, TTD shares were trading off in the aftermarket last night and again in pre-market trading this morning due to "underwhelming" revenue guidance — guidance that was modestly short of consensus expectations. For the current quarter Trade Desk guided revenue to $101 million, while the consensus forecast was $101.6 million. For those doing the math, yes that's a variance of less than 1% — a variance on guidance, not a variance of actual results, Still, TTD shares are down more than 11%.
What's going on?
As we mentioned when we added Trade Desk shares earlier this week to the Tematica Investing Select List, the company has a reputation for "beating and raising".  While it clearly beat September quarter expectations that were looking for EPS of $0.26 on revenue of $76.8 million last night with EPS of $0.35 on revenue of $79.4 million, the guidance, which is likely to prove to be conservative in our view is the issue. Plain and simple, Trade Desk management did not boost its outlook for the current quarter above the consensus view, and that is catching some investors off guard.
We've seen this before when a company that has a track record of raising expectations quarter after quarter, suddenly doesn't follow the expected playbook. Some investors panic and sell thinking "things must be over" or "something is wrong."
In our experience, more often than not, what we are seeing in Trade Desk — a company that is benefitting from the accelerating shift in advertising spend to digital platforms — is simply re-casting the expectations bar so it can continue to walk over it, beating expectations in the process. To use Wall Street lingo, we suspect Trade Desk is sandbagging the current quarter in order to keep its "under promise and over deliver" reputation intact. While it's not fun in the short-term, such actions that drive a stock's price lower offers us an opportunity to improve our cost basis at better prices as we scale into the position.
When we added the shares, we mentioned that there was the chance that Trade Desk could deliver a flub. We didn't think it was likely, and the performance in the September quarter was robust — a quarter that showed 95% customer retention as well as solid growth across mobile, international and other advertising platforms including audio the underlying business. On the earnings conference call, Trade Desk shared it added "3 large global brands" during the quarter with spending in the test phase.
What this tells us is Trade Desk continues to gain advertising spend share as companies continue to look for ways to reach consumers in today's increasingly connected and digital world. Considering how brand conscious companies are, and rightly so, we see it as a huge vote of confidence that Trade Desk continues to win and retain customers.
Here's our strategy for TTD shares
Our strategy with Trade Desk shares will be to remain patient with our current shares and sit on the sidelines in the very short-term while sellers weigh down on the stock price. In relatively short order, we expect to be in a position to step in and add to our position at better prices given that we see no slowdown in the shift toward digital advertising.
If there was any doubt, all we need do is look at where people are spending their time — on connected devices. While there may be some bumps along the way, we see this creative destruction in how and where advertising spend occurs as 2.0 version of how the internet impacted newspaper advertising. There is no putting the genie back in the battle, especially as video consumption shifts from broadcast to streaming services, with more players ranging from Facebook (FB), Alphabet (GOOGL), Amazon (AMZN) and Apple (AAPL) getting involved. If anything, we see advertisers pivoting toward Trade Desk.