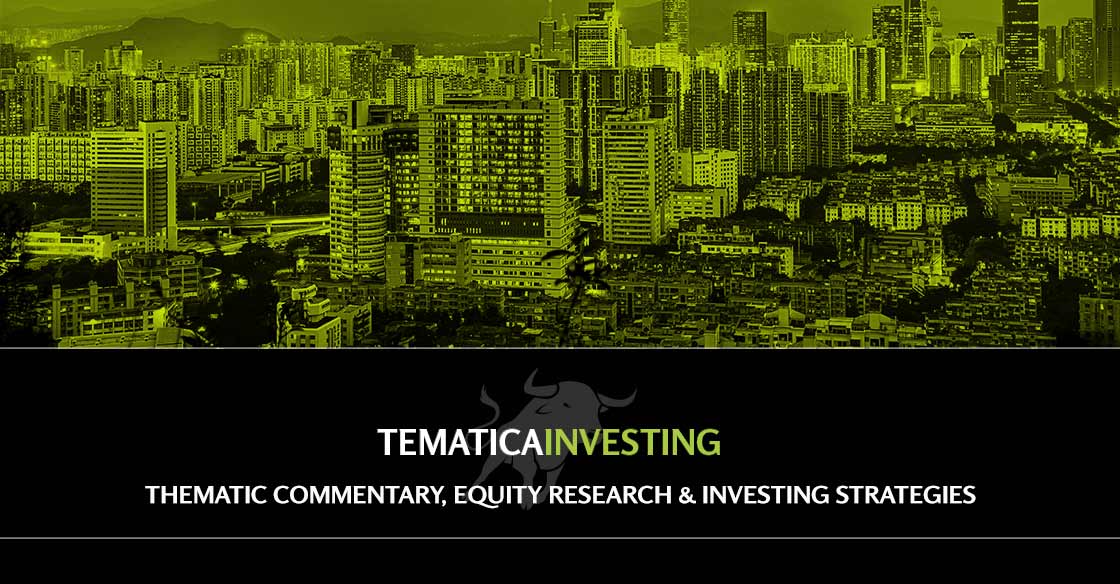 Key Points from this Alert:
We are completing the recasting of the Rise & Fall of the Middle Class investment theme with an introduction to the New Middle Class theme. 
We are adding International Flavors & Fragrances (IFF) shares back to the Tematica Investing Select List as part of the New Middle Class investment theme with a Buy rating and a $165 price target.
As part of constantly revisiting and testing our investing themes, from time to time we will make changes and enhancement to them. As part of that ongoing effort, we recently re-cast part of our Rise & Fall of the Middle Class investing theme. You can read about the change in detail by clicking here, but in summary, what we did was combine the aspect of the theme that deals with the struggling middle-class in the United States (the "Fall" part of the investment theme) and combined it with our Cash-Strapped Consumer theme to form the Middle Class Squeeze. That move left Rise of the New Middle Class, which we've shortened to the New Middle Class. This investing theme focuses on areas around the world, notably China and India, but other emerging markets as well where rising disposable incomes are driving demand for a host of products and services.
Why this focus on the middle class?
The middle-class is one of the primary engines behind consumption and domestic demand, in other words, a key part of the domestic economic engine. And while the middle class is under pressure in the U.S. and other mature markets, according to data published by the Brookings Institute, the middle class is set to grow worldwide by 160 million people per year on average through 2030. Let's put some perspective around that — the size of the "global middle class" was 1.8 billion in 2009 and is expected to reach 3.2 billion by 2020 and then reach 4.9 billion by 2030.
Where is the vast majority of that middle-class growth slated to come from? Almost 90% of the next billion entrants into the global middle class will be in Asia: 380 million Indians, 350 million Chinese, and 210 million other Asians. In comparison, on a combined basis North America and Europe are expected to account for only a fifth of the world's middle-class population, down from more than half in 2010.
And as the size of the middle class goes, so too does its influence on consumption. By 2030, North America and Europe are expected to account for 30% of the world's middle-class consumption vs. 64% in 2010. Taking over the pole position and representing nearly 60% of middle-class consumption, as one might expect, is Asia with India and China slated to account for more than two-thirds of that consumption. In 2010, Asia represented just 23% of global middle-class consumption.
By 2020 in China, mainstream consumers are expected to for 51% of the urban population compared to 6% in 2010 and 1% in 2000 per McKinsey. While their absolute level of wealth will remain quite low compared with that of consumers in developed countries, this group of167 million households (close to 400 million people), will set the standard for consumption, capable of affording family cars and small luxury items. The result is a surge in discretionary spending that in part reflects aspirational drivers, such as consumers looking to improve themselves, the way they live, and their perceived social standing.
As these dynamics unfold in China, over time they will be replicated in India and other emerging markets. According to NCAER, India's middle-class population would be 267 million in 2016. Further ahead, by 2025-26 the number of middle-class households in India is likely to more than double from the 2015-16 levels to 113.8 million households or 547 million individuals.
What is expected to unfold over the coming years is a significant shift in consumption dynamics that will favor the emerging economies like China, India, and larger Asia as well as Africa and several South American countries in the coming years.
According to research firm McKinsey & Company, these consumers tend to become more selective about where they spend their money, shifting from products to services and from mass to premium segments, seeking a more balanced life where health, family, and experiences take priority. Those findings also revealed the growth of premium segments is outpacing that of the mass and value segments, and foreign brands still hold a leadership position in the premium market.
Is it any wonder that Apple (AAPL) CEO Tim Cook has talked about the long-term, favorable demand dynamics in India and what it could mean for Apple's businesses? If we look at forecasts for refrigerator, washing machines and other kitchen appliances, India is often cited as one of the key growth markets. But it's not alone, sales of refrigerators, television sets, mobile phones, motors and automobiles have surged in virtually every African country in recent years as has car and motorcycle purchases.
Like any snowball that rolls downhill, it's a slow start at first, but as time moves forward so too does the size and momentum of that snowball. The same is poised to happen with this new middle class and it's increasing buying power. The ensuing ripple effects, however, will put pressure on global resources as they become wealthier and aspire to Western living standards. Their appetite for products, food, energy, housing and transport stimulates consumption, driving their economies, but that incremental demand will drive prices for products and services, and especially for scarce resources higher.
New Middle Class bodes well for International Flavors & Fragrances
The growth in discretionary spending as well as the growing importance of premium and branded products across a variety of categories. In keeping with our "buy the bullets, not the guns" investing strategy, we find International Flavors & Fragrances (IFF), whose scent and flavor solutions are found in a variety of consumer products, ranging from fine fragrances and beauty, detergents and household goods, and food and beverages. Moreover, the management team is focused on the emerging markets by leveraging its customer appetite to grow their businesses in emerging markets. Key customers include Procter & Gamble (PG), Unilever (UN), Colgate- Palmolive (CL), Estée Lauder (EL) and PepsiCo (PEP), and the top 25 account for a little more than 50% of IFF's revenue. IFF derives roughly half of its revenue from the emerging markets.
In its latest report, "Global Markets for Flavors and Fragrances," Research and Markets forecasts the global market to grow from $26 billion in 2015 to $37 billion by 2021 — an overall increase of more than 40%. We see fairly steady demand for the company's flavors and fragrances in more mature markets given the participation in inelastic product categories such as personal care products (toothpaste, deodorant, shampoo, body and others) as well as household ones like detergents, softeners, cleaners and air fresheners. On top of that demand base, international demand in the emerging economies should continue to benefit from rising incomes and the continued adoption of the Western lifestyle when it comes to the personal care, household, food and beverage products that contain the company's flavors and fragrance solutions. We see faster growth dynamics in those markets as consumers trade up in lifestyle.
What we find most fascinating about IFF's business is, whether in flavors or fragrances, its products account for 1% to 5% of total product cost but influence the product's scent or flavor that is responsible for repeat purchases. When was the last time something tasted or smelled awful and you opted to get more?
IFF's business is also benefitting from the ongoing shift in consumer preference to natural and organic products. With its line of 100% pure and natural line of ingredients and extracts, IFF is well positioned to capitalize on this shift as its existing and prospective customers look to reformulate their products to exclude sugar and other "bad for you" ingredients without sacrificing taste or flavor. Helping accelerate its exposure to that additional tailwinds, in May IFF acquired Frutarom, a flavors, savory solutions and natural ingredients company that sells over 70,000 products to more than 30,000 customers in over 150 countries. With 43% of its 2017 revenue derived from the emerging markets up from 27% in 2010, and more than 75% of its sales comprised of natural products, Frutarom bolsters IFF's exposure to both the New Middle Class and the global shift to natural, organic products.
The combination of inelastic demand in the mature markets, the rising demand for in the emerging markets and synergies to be had with the integration of Frutarom solidifies the company's earnings growth prospects over the coming years. Current consensus expectations have IFF serving up EPS of $6.31 this year and $6.80 per share next year, up from $5.89 last year. That earnings growth bodes well for continued dividend increases in the coming quarters, continuing the company's increasing dividend track record. Its current quarterly dividend sits at $0.69, up from $0.31 in the first half of 2012.
Owing to the escalating trade and tariff talk of the last few months that have also spared a move higher in the dollar, IFF share have fallen more than 20% thus far in 2018, which leaves them trading at a dividend yield near 2.25%. This is in line with trough dividend yield levels at which IFF shares have traded over the last decade-plus. This suggests that the worst has been priced into the shares, which for patient investors offers a favorable risk to reward to get into the shares and take advantage of the longer-term drivers laid out above. Historically, IFF shares have peaked near a dividend year of 1.7%, which, assuming no other dividend increase, yields upside in the shares to $165.
As we recast our New Middle Class investing theme, we are calling out shares of International Flavors & Fragrances (IFF) as a top New Middle Class pick:
We are adding International Flavors & Fragrances (IFF) shares back to the Tematica Investing Select List with a Buy rating and a $165 price target.
Examples of companies riding the New Middle-Class Tailwind
Alibaba (BABA)
MakeMyTrip (MMYT)
Nu Skin Enterprises (NUS)
Colgate Palmolive (CL) – 30% of oral care is to Asia
Proctor & Gamble (PG) – 32% of sales is Asia-Pac, China, Latin America, IMEA
McCormick & Co. (MKC)
McDonalds (MCD) — International Foundation Markets account for 43% of sales
Nike (NKE) – 30% of Nike branded sales are from Central & Eastern Europe, China, and the Emerging Markets