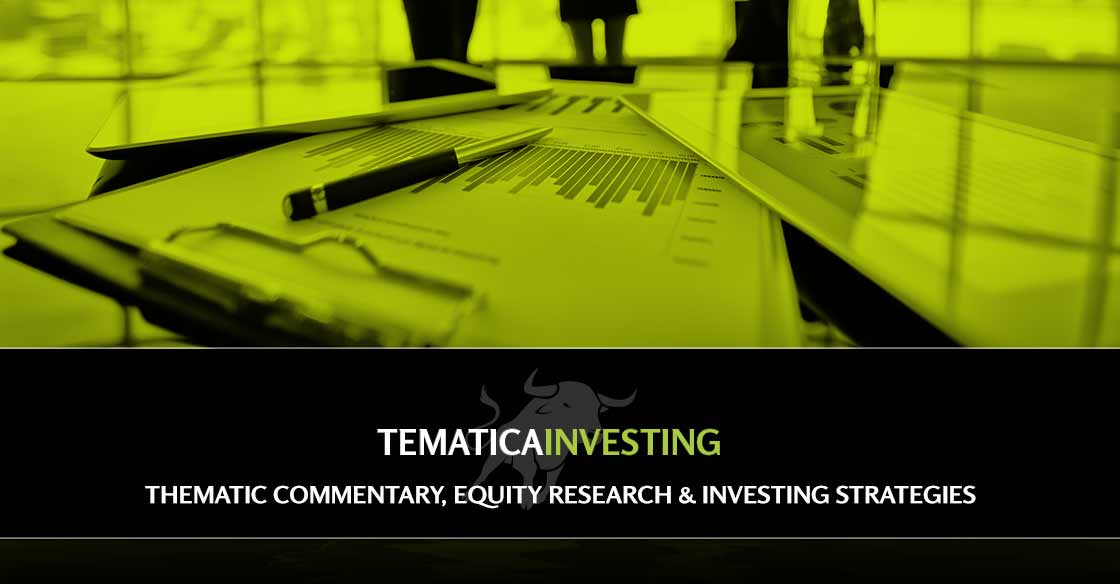 Black Friday Through Cyber Monday Provide Confirming Data Points for Amazon (AMZN) and UPS Positions
Earlier this week, we not only issued our Tematica Investing thoughts on the holiday shopping weekend, which was very confirming for our Connected Society investment theme thesis on both Amazon (AMZN) and United Parcel Service (UPS), it was also the topic of conversation between Tematica' Chief Macro Strategist Lenore Hawkins and myself on this week's earlier than usual Cocktail Investing Podcast. As a reminder, we see United Parcel Service as the sleeper second derivative play on the shift to digital shopping this holiday season and beyond.
Per data published by GBH Insights, on Black Friday alone, Amazon garnered close to half of all online sales, which set new record levels on Thanksgiving as well as Black Friday and Cyber Monday. As we learned yesterday, this year's Cyber Monday was the biggest sales day for online and mobile ever in the US as online sales hit $6.59 billion, up 16.8% year over year. As Lenore and I discussed on the podcast, spending on mobile devices continued to take share from desktop and in-store spending during Thanksgiving and Black Friday, and that also happened on Cyber Monday as mobile sales broke a new record by reaching $2 billion.
Yesterday, Amazon issued a press release sharing it was the "'best-ever' holiday shopping weekend for devices sold between Thanksgiving and Cyber Monday. After reviewing the data and prospects for Amazon's business this holiday season as it benefits in part from its expanding private label brand business as well as the even greater than expected shift to digital commerce this holiday shopping season, we are boosting our price target on AMZN shares to $1,400 from $1,250. While some may focus on the implied P/E of 175x expected 2018 EPS of $7.98 for our new price target, it equates to a price to earnings growth (PEG) rate of roughly 1.0% as Amazon is set to grow its EPS by a compound annual growth rate of just over 184% over the 2015-2018 period. Even if 2018 expectations are a tad aggressive, after taking a more conservative 2018 view our new $1,400 price target equates to a PEG ratio between 1.1-1.3x, which we find more than acceptable from a risk to reward perspective.
We are boosting our price target on Amazon (AMZN) shares to $1,400 from $1,250.
Our price target on United Parcel Service (UPS) remains $130.
Market Moves Higher Ahead of Senate Vote on Tax Reform
The major market indices continued to move higher as the Senate Budget Committee approved the Senate's tax plan yesterday, which brings it to an expected floor vote tomorrow. This inches the prospects for potential tax reform happening by the end of 2017 a bit higher, although while we remain optimistic we here at Tematica continue to see far greater odds of tax reform happening in 2018 as the House and Senate bills close their respective gap. While both bills cut taxes on businesses and individuals, they differ in the scope and timing of those cuts.
As enthusiasm has gained for tax reform, smaller cap stocks have rallied, as small-caps tend to have greater U.S. exposure in revenue and profit mix compared to bigger, multi-national stocks. The small-cap laden Russel 2000 is up more than 1% this week alone and has risen roughly 2.8% over the last month beating out the Dow Jones Industrial Average, the S&P 500 and even the Nasdaq Composite Index. That small-cap climb, combined with the influence of our thematic tailwinds led the USA Technologies (USAT), AXT Inc. (AXTI) and LSI Industries (LYTS) to rise even faster than the Russell. Over the last month, they've risen more than 30%, 18%, and 5% respectively and over the last few weeks, we've trimmed back USAT and AXTI shares, booking meaningful wins, while offsetting those gains by closing out positions that have been lagging.
As tax reform lumbers forward, we'll continue to monitor developments and what they mean for both the market and the Tematica Investing Select List.
Dividend Dynamo Company McCormick Does it Again
Call me old-fashioned, but I love dividends and I love companies that have the ability to raise their dividends even more. When a company boosts its dividend, it tends to result in a step function move higher in its stock price. If it's a serial dividend raiser, or as I like to call them a dividend dynamo company, we tend to get a hefty 1-2 combination punch of a step higher in the stock price as well as higher dividend payments. Boom!
We've got several such companies on the Tematica Investing Select List, and this week McCormick & Co. (MKC) once again boosted its quarterly dividend. This new 10% increase to $0.52 per share marks the 32nd consecutive year that McCormick has increased its quarterly dividend and offers us even greater comfort with our $110 price target. With regard to this new dividend, it is payable on January 16 to shareholders of record on December 29 – mark your calendars!
Our price target on McCormick & Co. (MKC) shares remains $110
What We're Watching For Over the Coming Days
During the next several days, as we exit November a number of economic data points will start to roll in, as well as other key data points such as retailer monthly same-store sales figures. Amid the number of economic reports to be had, we'll be parsing the October construction spending report and what it means for both non-residential construction activity and shares of LSI Industries (LYTS). The shares have been an "under the radar" mover on a week to week basis, but since adding the position to the Tematica Investing Select List in mid-September are up more than 5%. As August-September hurricane-related construction rebounds, we continue to see further upside ahead for LYTS shares.
Our price target on LSI Industries (LYTS) remains $10.
While we are understandably bearish on the vast majority of brick & mortar retailers, we remain upbeat with Costco Wholesale (COST) given its higher-margin membership fee income stream. Over the last several months, Costco's monthly same-store sales reports have shown it is not suffering at the hands of Amazon at all, but rather in keeping with our Cash-Strapped Consumer investing theme, it continues to take consumer wallet share. As Costco shares it November data, we'll be sure to break it down and assess what it means for our $190 price target.
Our price target on Costco Wholesale (COST) remains $190.
With Guilty Pleasure MGM Resorts (MGM) shares on the Select List, we'll also be on the lookout for November gaming data pertaining to Nevada as well as Macau. As we mentioned recently, we are heading into one of the slower seasons for the Las Vegas strip and MGM continues to renovate several choice properties with expectations of reopening them in 1Q 2018. We'll continue to be patient, and if the opportunity presents itself opportunistic as well given our $37 price target. On the housekeeping font, MGM's next quarterly dividend of $0.11 per share should arrive in mid-December.
Our price target on MGM Resorts (MGM) shares remains $37.