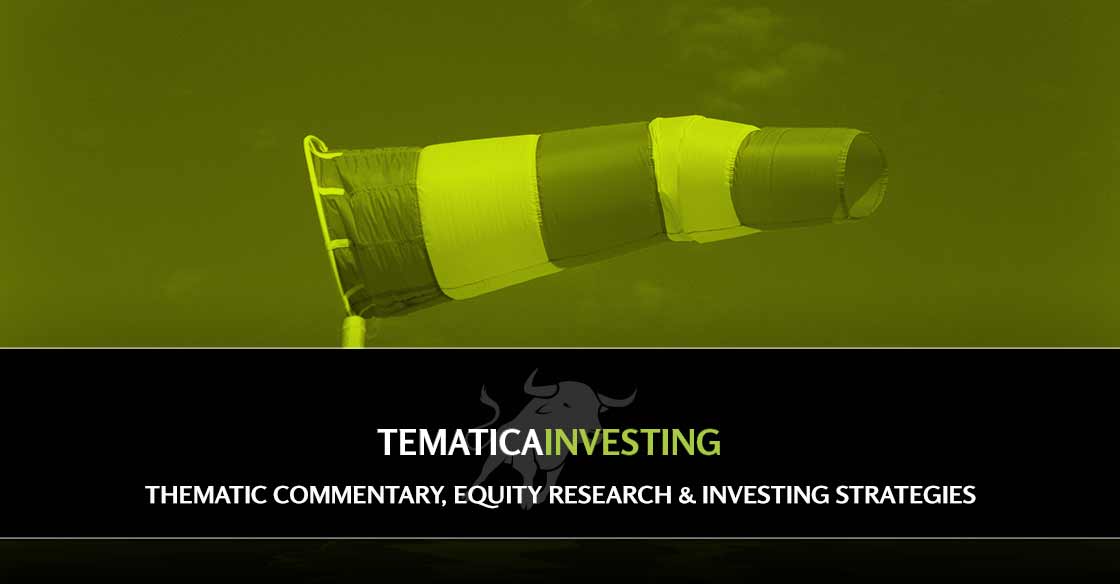 Tags:

$NOK, AT&T, AXT, AXTI, BA, Boeing, DY, Dycom, Earnings, Farmland Partners, FPI, General Motors, GM, Nokia, Paccar, PCAR, S&P500, Tariffs, Trump, United Parcel Service, UPS, Verizon
note: no comments
Key points from this issue:
Earnings from Boeing (BA) and General Motors (GM) signal markets will trade day-to-day as trade meetings and earnings season heat up.
Our price target on Dycom Industries (DY) shares remains $125
Our AXTI price target remains $11.
Our price target on Nokia (NOK) shares remains $8.50
Our long-term price target for Farmland Partners (FPI) shares remains $12.
As we head into the seasonally strong second half of the year for United Parcel Service (UPS), our price target on the shares remains $130.
This week we've moved into the meaty part of 2Q 2018 earnings season, and so far, we've seen a number of companies beat top and bottom line expectations. Some market observers will point out that some 20%-25% of the S&P 500 group of companies are in that boat, and are declaring "victory" for the market. With today's earnings from Boeing (BA) that and General Motors (GM), the market is trending lower as Boeing's outlook falls short of Wall Street expectations while GM cut its outlook due to higher commodity prices. As you probably guessed, one of the culprits for GM is higher aluminum and steel prices.
My take on that is with 75%-80% of the S&P 500 yet to report, that claim while it could prove to right, it also could be a bit premature. As I shared with Oliver Renick, host at the TD Ameritrade Network a few days ago, we've only started to see the impact of initial trade tariffs and if the international dance continues we could see far more tariff jawboning put into action.
Consider a tweet from President Trump this morning that suggests a tariff follow through is possible.
China is targeting our farmers, who they know I love & respect, as a way of getting me to continue allowing them to take advantage of the U.S. They are being vicious in what will be their failed attempt. We were being nice – until now! China made $517 Billion on us last year.

— Donald J. Trump (@realDonaldTrump) July 25, 2018
But last night Trump tweeted a path forward to eliminating tariffs and other trade barriers between the Eurozone and the US ahead of his meeting today with the European Commission President Jean-Claude Juncker today to discuss trade, including tariffs on autos.
The European Union is coming to Washington tomorrow to negotiate a deal on Trade. I have an idea for them. Both the U.S. and the E.U. drop all Tariffs, Barriers and Subsidies! That would finally be called Free Market and Fair Trade! Hope they do it, we are ready – but they won't!

— Donald J. Trump (@realDonaldTrump) July 25, 2018
It would appear Trump is attempting to keep his negotiating opponents off balance in the hopes of improving trade relations from a US perspective. But it also seems that others have read Trump's Art of the Deal by now as according to EU trade commissioner Cecilia Malmstrom, the Commission is also preparing to introduce tariffs on $20 billion of U.S. goods if Washington imposes trade levies on imported cars.
While I would love to see some forward progress coming out of these talks, but just like with China the probability is rather low in my opinion. Much like with the China trade talks, things have escalated so that both sides will be looking to claim some victory to report back to their countrymen and women.  This likely means that as we migrate over the next few weeks of earnings, we will have to continue to watch trade developments, especially if more recent and wider spread tariffs wind up being enacted.
With more on the earnings and trade to be had in the coming days, we should be ready for day-to-day moves in the market, which will make it challenging for traders and options players. As they struggle, we'll continue to take a longer-term focus, heeding the signals to be had with our thematic investing lens. Now, let's get to some updates and other items…
Checking in on 5G spending from Verizon and AT&T
With both Verizon Communications (VZ) and AT&T (T) reporting June quarter results yesterday, I sifted through their comments on several fronts but especially on 5G given our positions in mobile infrastructure and licensing company Nokia (NOK), specialty contractor Dycom (DY) as well as compound semiconductor company AXT Inc. (AXTI). The nutshell take is things remain on track as both carriers look to launch commercial 5G networks in the coming quarters.
Verizon delivered solid quarterly results, buoyed by its core wireless business that added 531,000 net retail postpaid subscribers, which included 398,000 postpaid smartphone net adds. We've talked about how sticky mobile service is with consumers as smartphones are increasingly a life link for their connected lives so it comes as little surprise that Verizon's customer loyalty remains strong with the quarter marking the fifth consecutive period of retail postpaid phone churn at 0.80 percent or better.
In terms of capital spending, a figure we want to watch as Verizon gets ready to launch its commercial 5G network, the company shared its 2018 spend will be at the lower end of its previously guided range of $17.0-$17.8 billion. Now here's the thing, the mix of spending will favor 5G, which confirms the bullish comment and tone we shared last week from Ericsson (ERIC) on the North American 5G market.
With AT&T, its net capital spending in the June quarter slipped to $5.1 million, down from roughly $6 million in the March quarter but the company shared it will spend roughly $25 billion in all of 2018. Doing some quick math, we find this spending is weighted to the back half of 2018, which likely reflects investments in its 5G network as well as the new first responder network, FirstNet, it is building. During the earnings call, management shared the company now has 5G Evolution in more than 140 markets, covering nearly 100 million people with a theoretical peak speed of at least 400 megabits per second with plans to cover 400 plus markets by the end of this year. In terms of true 5G, trials are progressing and AT&T is tracking to launch service in parts of 12 markets by the end of this year.
That network spend and 5G buildout bodes well for both our Dycom shares.
Our price target on Dycom Industries (DY) shares remains $125
In addition, a few days ago mobile chip company Qualcomm (QCOM) shared that its 5G antennas are ready from prime time. More specifically, Qualcomm is shipping 5G antennas to its device partners that include Samsung, LG, Sony (SNE), HTC and Xiaomi among others for testing. Moreover, Qualcomm said it stands ready for "large-scale commercialization" which likely means 5G devices are just quarters away instead of years away.
We'd note those device partners of Qualcomm's mentioned above have all announced plans to bring initial 5G powered phones to market during the first half of 2019. That means the supply chain will be readying power amplifiers and switches that will enable these devices to communicate with the 5G networks, which bodes well for incremental compound semiconductor substrate demand at AXT. Because 5G is being viewed as an "access technology" that will move mobile broadband past smartphones and similar devices, I continue to see this as a positive for the higher margin licensing business at Nokia as well.
As a reminder, AXT will report its quarterly results after tonight's market close, and expectations for its June quarter are clocking in at $0.08 per in earnings on $26.1 million in revenue, up 60% and roughly 11% year over year.
Our AXTI price target remains $11.
Our price target on Nokia (NOK) shares remains $8.50
Farmland Partners fights back
A few weeks ago, we shared not only our long-term conviction for Farmland Partners (FPI) shares but also prospects for continued drama in the coming months. Well, let's say we're not disappointed as this morning the company filed a lawsuit in District Court, Denver County, Colorado against "Rota Fortunae" (a pseudonym) and other entities who worked with or for Rota Fortunae in conducting a "short and distort" scheme to profit from the sharp decline in Farmland's stock price resulting from false and misleading posting on Seeking Alpha. Farmland is seeking damages and injunctive relief for defamation, defamation by libel per se, disparagement, intentional interference with prospective business relations, unjust enrichment, deceptive trade practices, and civil conspiracy.
Are we surprised? No, especially since the Farmland management team signaled it would be moving down this path. While this will likely result in some incremental noise, we'll continue to focus on the business and the long-term drivers of the agricultural commodities that drive it.
Our long-term price target for Farmland Partners (FPI) shares remains $12.
Paccar delivers on the earnings front, boosts its dividend
Tuesday morning, heavy and medium duty truck company Paccar (PCAR) delivered strong June quarter results, beating on both the top and bottom line. For the quarter, Paccar reported earnings of $1.59 per share, $0.16 better than the $1.43 consensus on revenues that rose more than 24% year over to year to $5.47 billion, edging out the $5.39 billion that was expected. The strength in the quarter reflects not only rising production and delivery levels that reflect the pick up in truck orders over the last 6-9 months, but also the ripple effect had on the company's high margin financing business. Also too, as truck up time increases as does the number of Paccar trucks in service, we've seen a nice pick up in the company's Parts business that carries premium margins relative to the new truck one.
During the quarter, Paccar repurchased 1.21 million of its common shares for $77.2 million, completing its previously authorized $300 million share repurchase program. The Board of Directors approved an additional $300 million repurchase of outstanding common stock earlier this month and given the current share price that is below that average repurchase price we suspect this new program will be put to use quickly. Also during the quarter, Paccar boosted its quarterly dividend to $0.28 per share from $0.25, and management reminded investors of the company's track record of delivering quarterly and special dividends in the range of 45-55% of net income.
Given 111% year over year growth in the new heavy truck orders throughout the U.S. and Canada during the first half of 2018, we continue to be bullish on PCAR shares as we head into the second half of 2018. Even so, we'll continue to analyze the monthly truck order data as well as freight indicators and other barometers of domestic economic activity to assess the continued strength in new truck demand. In the coming months, we expect long-time followers of Paccar will begin to focus on the potential year-end special dividend the company has issued more often than not.
Our price target on Paccar (PCAR) shares remains $80.
A quick note on United Parcel Service earnings
Early this morning, United Parcel Service (UPS) beat estimates by a penny a share, with an adjusted quarterly profit of $1.94 per share. Revenue beat forecasts, as well, boosted by strong growth in online shopping – no surprise to us given our Digital Lifestyle investing theme. UPS will host a conference call this morning during which it will update its outlook for the back half of the year, and that should help quantify the year over year growth in Amazon's (AMZN) Prime Day 2018 ahead of its earnings report later this week.
As we head into the seasonally strong second half of the year for United Parcel Service (UPS), our price target on the shares remains $130.