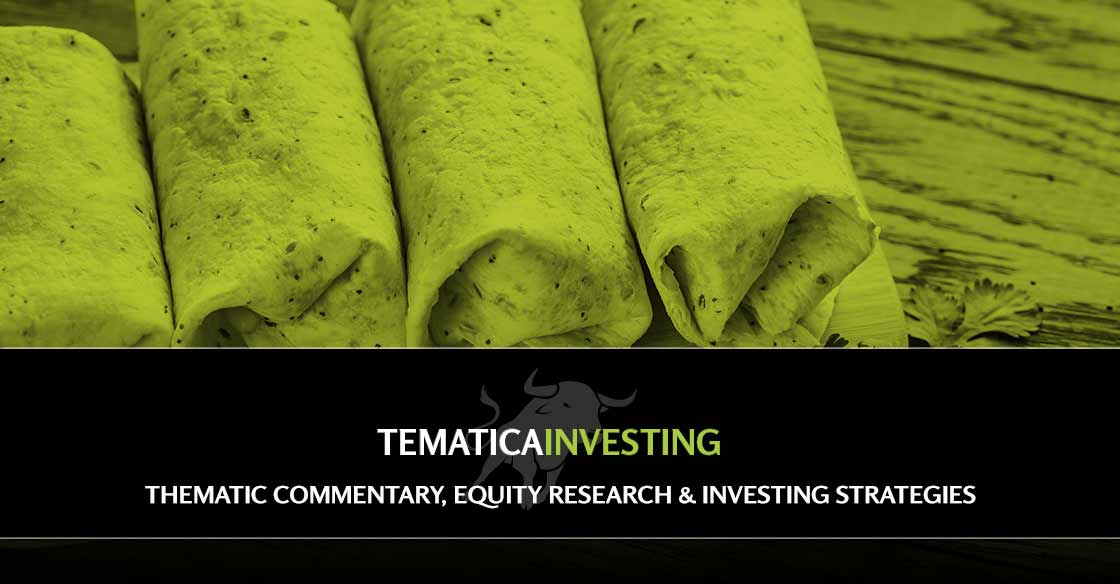 I've been keeping a close watch on the shares of Chipotle Mexican Grill (CMG) since we removed them from the Tematica Investing Select List in mid-2016. The company was previously part of what we now refer to as our Clean Living investment theme given its use of fresh, high-quality raw ingredients including meats that are raised without the use of non-therapeutic antibiotics or added hormones and none of the ingredients in the food (excluding beverages) in U.S. restaurants contain genetically modified organisms (GMOs).
The company was removed from the Tematica Select List back in 2016 when the share price dropped below our $390 stop-loss at the time.  Over the last 26 months, CMG shares fell to a low of $263 in November 2017 then rallied back to a recent high of just under $531. To refresh memories, Chipotle was once a darling of Wall Street as consumers flocked to eat its fast-casual Mexican fair that emphasized "food with integrity," but its shares and management came under pressure following several outbreaks of foodborne illness that left diners ill and sent traffic, sales and shares plummeting in 2017. It appeared a recovery was underway until another outbreak occurred in mid-2017, once again hitting sales and the shares. This continued flow of bad headlines and whipsawing in the share price has kept us on the sidelines.
Management announced it would step down in November 2017 and in March 2018 Brian Niccol, the then CEO of Taco Bell, took over the Chipotle reigns. While Taco Bell may not be the poster child for refined cuisine, under Niccol's watch Taco Bell same-store sales had grown an average of 4% a year at a time when the restaurant industry was experiencing a challenging environment as consumer preferences shifted toward healthier foods, snacks and beverages.
Investors loved the idea as the news of Niccol's appointment started CMG shares on their current rebound. Niccol and his team quickly went to work on basic blocking and tackling, which led to declining guest complaints and improving guest satisfaction scores as shared on the June 2018 quarterly earnings call. Also on that call, following his first full quarter at the helm, Niccol shared his strategic plan for the company. It centered on four key areas: menu innovation, updated marketing, the introduction of a loyalty program, and a greater emphasis on digital sales.
That plan is already being put into action with the testing of several potential new menu items at its test kitchen in New York, including quesadillas, nachos, chocolate milkshakes (which personally perked up my ears), avocado tostadas, and a new salad. Once the company has confirmed these and other new test products meet consumer taste preferences and operational hurdles they will go national, a process that could take 18 to 36 months. Niccol also talked about overhauling the company's marketing strategy, including more on TV spots and an overall campaign that is more  "engaging and lighthearted." We'll wait and see what this looks like before commenting, but historically Chipotle has shunned advertising and while this could weigh on margins in the coming quarters, it could help reinvigorate the company's brand. Again, more on that in the coming months.
Coming later this year, Chipotle will test its loyalty program with the expectation of rolling it out in full force during 2019. We've seen the success of other loyalty programs, most notably at Starbucks (SBUX), and I am cautiously optimistic. As it is looking to improve its digital sales, the company has made some changes to its mobile app and recently added delivery at 1,800 of its locations via DoorDash through its app and website. By the end of 2019, customers "will be able to order delivery from within the Chipotle app in most locations." We've seen the success of delivery at former Select List holding Habit Restaurant (HABT), and recognize it tends to come with premium pricing – a positive for Chipotle.
Rather than drink the new CEO's Kool-Aid, let's remember there is more work to be done with management's "Big Fix" initiative, but as we have seen before, as the turnaround momentum begins to build, the benefits begin to kick in. As traffic rebounds, the company should see volume benefits paired with prior pricing actions improve the bottom line. Given the nature of its business, I will keep watch on trends in beef, pork and chicken, as well as other key ingredients such as avocados, and the potential benefit or hindrance to margins and EPS.
When examining CMG shares, I can see upside to at least $550, which equates to 45x expected earnings near $12 in 2019, up significantly from $6.60 in 2017. While that P/E figure is rich, it has the shares trading at a PEG ratio of roughly 1x. The 2019 EPS figure bakes in continued benefits from the company's "Big Fix" turnaround and assumes management is able to squeeze meaningful margin leverage as it returns the company back to growth. While we will be patient we will also be tracking the company's "Big Fix" progress.
So why now?
Simple, a recent downgrade from investment firm Wedbush hit Chipotle shares and led them to fall just over 9% during the last several trading days from $523 to the current $475. For some perspective, that followed a recent upgrade by Morgan Stanley to an Overweight rating and the reiteration of an Overweight rating by Piper Jaffray. I see Wedbush's comment as very rear-view mirror relative to the company's progress in turning the business around, a key point of our investment thesis. That 9% drop in the share price means we now have nearly 16% upside to that "at least" $550 price target. Yes, Niccol and the company have much further to go, and from time to time there will be missteps and setbacks along the way, but as the saying goes, our eye is on the long-term prize with Chipotle.
As such, we're using the recent drop in the shares relative to the $550 price target to add CMG shares back to the Select List as part of our Clean Living investing theme. The strategy with this position will be to add to the shares on weakness provided the company continues to make progress on the new management team's four-pronged initiative AND drives favorable traffic and sales metrics.
We are issuing a Buy on the shares of Chipotle Mexican Grill (CMG) and adding them to the Tematica Investing Select List with a $550 price target.