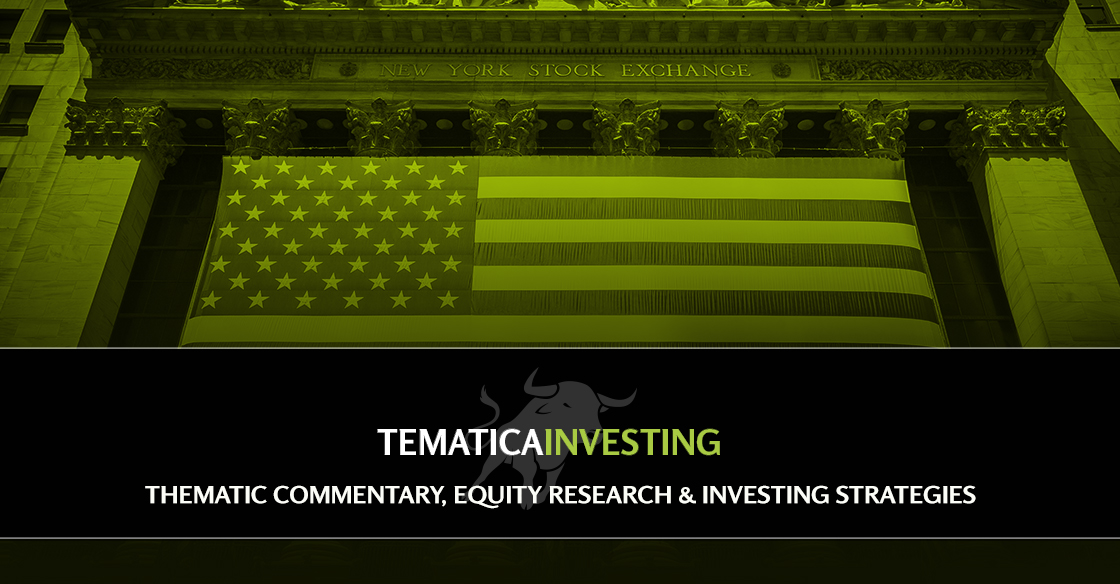 In this Week's Issue:
Deploying Several Defensive Measures to Protect Our Gains
Alphabet (GOOGL), Asset-lite Business Models
Applied Materials (AMAT), Disruptive Technology
Universal Display (OLED), Disruptive Technology
Dycom Corp. (DY), Connected Society
Facebook (FB), Connected Society
USA Technologies (USAT), Cashless Consumption
Amid the market's choppy behavior over the last week, the reality is it was little changed as measured by the performance of the S&P 500. In recent days, the market's focus has once again turned to Washington, first with Treasury Secretary Steve Mnuchin testifying to the Senate Banking, Housing, and Urban Affairs Committee in which he reiterated that the Trump administration's goal of 3 percent or better GDP is achievable provided "we make historic reforms to both taxes and regulation." That was followed up this week with the release of President Trump's 2018 budget, titled A New Foundation for American Greatness, which includes $639 billion slated for military spending that would allow the Pentagon to bolster its ranks by more than 56,000 troops, buy more helicopters and trucks for the Army, boost the Navy's fleet and pay for more stealth warplanes for the Air Force.
From a thematic perspective that is shot in the arm for another aspect of our Safety & Security investing theme following last week's high profile WannaCry ransomware attack. While we have PureFunds ISE Cyber Security ETF (HACK) on the Tematica Select List, we'll look to uncover well-positioned "bullets" for the Select List in the coming days to round out our exposure to this spending tailwind.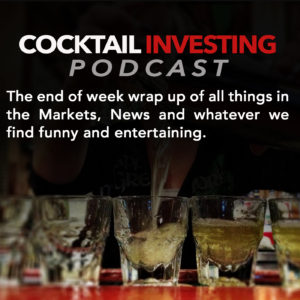 Speaking of our Safety & Security investing theme, if you missed last week's Cocktail Investing Podcast in which Tematica's Chief Macro Strategist, Lenore Hawkins and I discussed the WannaCry attack, ransomware and cyber spending with Yong-Gon Chon, CEO of cyber security company Focal Point, click here to download it on iTunes. My advice would be to subscribe on iTunes so you get every podcast each and every week, and remember they are absolutely free.
---
Deploying Several Defensive Measures to Protect Our Gains
As the stock market has moved higher and higher, it's not lost on us that a number of holdings on the Tematica Select List have been inching up week after week, closing the gap on our respective price targets — that's a nice problem to have, isn't it?
Obviously, we're not really going to complain about positions like Dycom (DY)or Universal Display (OLED) outperforming the market so far in 2017, but we will look at remaining upside to our price targets with an eye to protect subscribers from piling in at levels that don't afford sufficient upside to warrant taking on potential risk. Yes, it's the RISK and REWARD that we look at when assessing whether a position makes the cut onto the Select List.
With less than 10 percent upside to respective price targets, we are downgrading several stocks to "Hold" from "Buy." Unlike Wall Street traders, our Hold rating is just that – maintain the position to capture additional upside, not "Hold means Sell." For example, even though there is just 8 percent upside to our Alphabet (GOOGL) price target, there are enough tailwinds blowing that could lead to us to revise our price target upward over the coming months. With that mind, we are now rating shares of Alphabet, CalAmp (CAMP), International Flavors & Fragrances (IFF), and Facebook (FB) as Holds. As we do this, we'll be mindful of pullbacks in the market that offer buying opportunities as well as potential upside to existing price targets.
We're also making some prudent changes with regard to stop losses, and with that in mind we will make the following adjustments:
Boost our stop loss on IFF shares to $125 from $115, which will lock in a nice profit given our $120ish entry price.
Raise the stop loss on our PowerShares Exchange-Traded Fund Trust (PNQI) shares to $98 from $90, which cements at least a 17 percent return in the shares.
Increase our stop loss on Universal Display (OLED) shares to $85 from $70, which will ensure a minimum return of 60 percent given our $53 entry point.
Finally, with our GOOGL shares, we're stepping the stop loss up to $900 from $800, which will give us a minimum return of just over 22 percent in the shares.
One last item of note, during the past week our position in AMN Healthcare (AMN) was stopped out when the shares crossed below our $37 stop loss level leaving us with a modest profit. Despite that happening, the drivers that led us to initially add the shares to the Tematica Select List – the intersection of the current nursing shortage and the demand for healthcare workers that is a part of our Aging of the Population investing theme – remain intact. As such, we'll add AMN shares to the Tematica Contender List while we look for a favorable re-entry price.
---
 Updates Updates Updates
Below are some happenings for those companies on the Tematica Select List that we found noteworthy over the last week. As 1Q 2017 earnings season finally begins to die down, we expect to resume our quest to find new positions for the Select List or at least the thematic bullpen that we affection call the Tematica Contenders List. Two companies that I'm starting to roll my sleeves up on include MGM Resorts International (MGM) as part of our Guilty Pleasure investing theme and CSX (CSX), which falls under our Economic Acceleration/ Deceleration investing theme.
---
Alphabet (GOOGL), Asset-lite Business Models
GOOGL shares were largely unchanged this past week on the heels of its annual Google I/O event. There were several notable announcements there, including new hardware and augmented reality (AR) developments, as well as the news that Google Home will be available in more countries outside the U.S. over the coming months.
Earlier in the week Alphabet announced its Waymo division would team up with Lyft to commercialize its driverless technology, which increases the potential for Waymo to go from investment mode to perhaps revenue generating over the next several quarters. Should that happen, Alphabet could either redeploy those investments to other projects and if not we could see a reason to contemplate upside to EPS in 2019-2020.
Getting back to the here and now or at least the nearer term, we continue to see Alphabet as extremely well positioned for the continued acceleration in our increasingly connected society toward digital search (desktop and mobile), advertising dollars shifting to digital platforms (Google, YouTube) and consumer appetite for streaming content. At the same time, the company continues to exhibit a more focused view on delivering profits, something we appreciate as shareholders.
Our price target is $1,050, which offers roughly 8% upside from current levels.
Even as GOOGL shares approach our target, much like we say with Amazon (AMZN) shares, GOOGL shares are ones to own, not trade.
---
Applied Materials (AMAT), Disruptive Technology
Last week Applied Materials (AMAT) reported better-than- expected earnings on in-line revenue due primarily to robust margin expansion versus year-ago levels. Furthermore, given prospects for continued margin improvement and underlying order strength, the company guided the current quarter above consensus expectations. Per the quarterly report, Semiconductor Systems sales rose more than 50 percent year over year, benefiting from the ongoing digitization that has chips becoming the new "fabric" of lives — Connected Car, Connected Home, the Internet of Things (IoT) and wearables. Applied is also benefiting from rising semiconductor capacity in China as well as strong demand for organic light emitting diode displays that led its display equipment sales to spike more than 100 percent in the quarter.
On the underlying strength in the current demand up-cycle and prospects for further margin improvement, we are boosting our price target to $55 from $47, which offers upside of 22 percent from current levels.
We continue to rate AMAT shares a Buy
---
Universal Display (OLED), Disruptive Technology
You probably noticed in our Applied Materials comments earlier that one of the drivers to its strong quarter was robust demand from the currently capacity constrained organic light emitting diode market, or OLED's for short and not to be confused with Universal Display's ticker symbol, which is also OLED. If you didn't feel free to scroll back up and re-read them.
During AMAT's earnings conference call, the management team gave a rather bullish endorsement for our position in OLED shares when it said, "we see investment in mobile OLED getting stronger as confidence in the adoption rates of OLED technology increases. Recent forecasts indicate that two-thirds of new smartphones could have OLED displays by 2021 and screen manufacturers are accelerating their investment plans accordingly."
With more applications — ranging from smartphones to TVs and wearables — embracing OLEDs in the coming quarters and ramping industry capacity to meet that demand, the outlook for Universal's chemicals and licensing business looks very bright.
We are reassessing our current $125 price target with an upward bias.
---
Dycom Corp. (DY), Connected Society
This morning, our shares of Dycom Corp. (DY) are getting hard hit following the company's mixed quarterly earnings report. The good news is for the April quarter, Dycom crushed expectations with $1.30 per share in earnings on revenue of $786.3 million compared to consensus expectations of $1.19 and $736.2 million, respectively. Organic revenue nearly 15 percent year on year, while business acquired in the last year contributed $23 million. While details in the pre-earnings conference call press release were scant, we see the year over year growth speaking to the continued build out of next generation networks at core customers like Verizon (VZ), Comcast (CMCSA) and our own AT&T (T).
Now for the less than good news that is pressuring the DY shares  – the company's outlook for the current quarter. Dycom is forecasting contract revenue to be in the range of $780-$810 with EPS between $1.35-$1.50, which falls short of consensus expectations that were looking for revenue $845-$850 million with EPS in the range of $1.76-$1.79. As we suspected, the culprit given the nature of the company's business is the timing of projects, and in this case, the mild winter led to some pull forward, hence the part of the better than expected April quarter revenue. The other driver for the April quarter revenue beat was one industry participant has begun to invest in the wireline infrastructure required to enable fully converged wireless-wireline networks. As we've seen before, this tends to result in copy-cat spending by competitors, which in our view bodes well for Dycom in the coming quarters.
Stepping back, we see both cable and mobile operators expanding existing network capacity and launching new, next-generation networks to meet need the near unquenchable demand for data. On this morning's earnings call, Dycom shared that it is seeing a broadening set of customer opportunities that are in the initial stages of planning, engineering and design and deployment. While this has helped temper near-term spending expectations, the company is continuing to win contracts as customers continue to improve their network capabilities and performance. This brings us back to timing, and that means keeps tabs on Dycom's customer base and respective network capacity additions and new technology deployments, such as fiber to the home and business as well as 5G backhaul. We expect the Wall Street community will trim back near-term revenue expectations, but given the 18 percent drop in DY shares this morning, we would argue those cuts are largely factored into the stock price.
Keeping one eye on the medium to longer-term view as these networks get built out over the next few years (not quarters), we're inclined to use the pullback in the shares to round out the portfolio's position size as the shares settle down provided our suspicion over the guidance miss is on point.
Given the initial purchase prices on the Tematica Select List at $72.89 and $80.47, we're going to be patient with this position.
For those subscribers that missed the initial run in DY shares, we see this as an excellent jumping on point.
---
Facebook (FB), Connected Society
In the last few days, Facebook (FB) was fined by the European Commission just over $100 million on its acquisition of WhatsApp. That's nothing to sneeze at, but there was far bigger news concerning the social media giant this week.
First, Facebook is expanding its video offering, inking a deal to broadcast a live Major League Baseball game each Friday for the rest of the season. All in all, that's a 20-game package that begins tonight.
Second, Facebook's "Order Food" option on both the web and mobile is now in beta testing. This initiative is an expansion of a deal from late last year with Delivery.com and Slice in which users could place orders with supported restaurants from their own Facebook pages. In our view, this speaks to the monetization across Facebook's multi-platform offering that is benefiting from ongoing feature upgrades.
In the coming months, we'll look to see if the slowdown in digital advertising, cited on Facebook's earnings call, is occurring or if the shift to mobile advertising continues to be robust.
Our price target remains $160.
For now, we would suggest subscribers look to add to FB positions below $145.
---
USA Technologies (USAT), Cashless Consumption
Last week, USAT shares rose more than 2 percent during a quiet news week for the company. Despite the relative silence, comments from Alphabet (GOOGL) at its annual I/O developer conference revealed Android Pay was expanding into new markets: Brazil, Canada, Russia, Spain, and Taiwan. As mobile payments expand across the globe, much the way credit and debit cards have, we see an expanding target market for USA's payment solutions.
We intend to be patient investors and hold USAT shares as mobile-payment adoption grows.
Our price target remains $6 and the shares are a Buy at current levels.