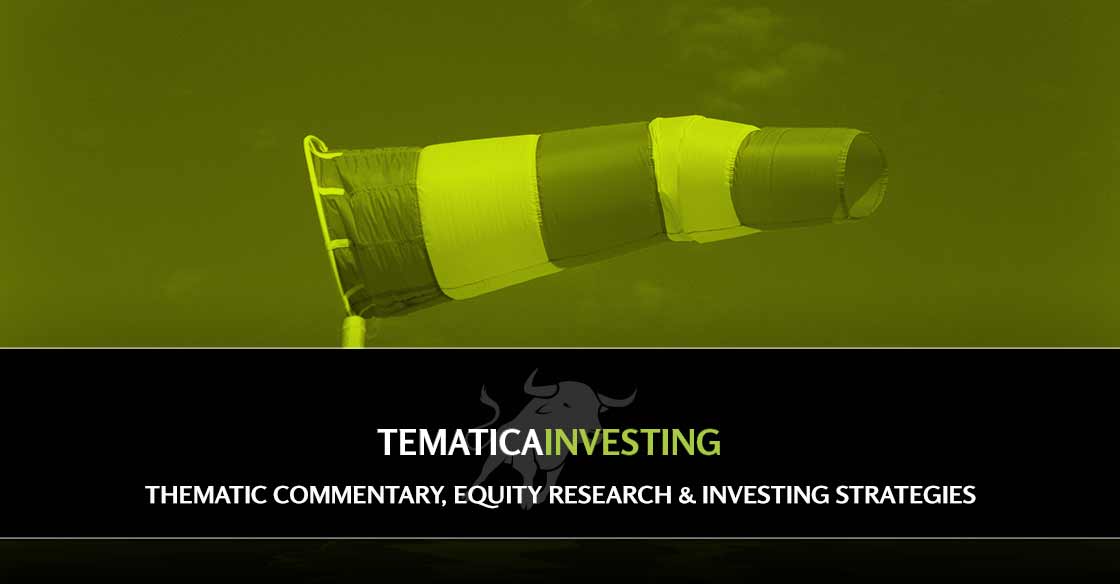 Key points inside this issue
Boosting our stop loss on Middle-Class Squeeze Thematic Leader Costco Wholesale (COST) to $240.
Safety & Security Thematic Leader Axon Enterprise Inc. (AAXN) catches a TAZR win.
Housekeeping: The next issue of Tematica Investing will be published during the week of July 29th. Why? Because next week I will be on vacation. Even though I'll be catching up on some reading and thematic thinking, I'll be kicking back and recharging for what lies ahead.
Last week, we started the June-quarter earnings season. While there were only 20 reports, what we heard from BASF SE, Fastenal (FAST), and MSC Industrial (MSM) served to remind us that, even though the Fed will likely cut interest rates, odds are the current earning seasons will be a challenging one. That view was reaffirmed this week with results from JB Hunt (JBHT) and CSX (CSX) that confirmed the slowdown in freight traffic, an indicator that we here at Tematica watch rather closely as a gauge for the domestic economy's health.
Given the declines in the Cass Freight Index over the last seven months, the results out of JB Hunt, CSX and other shippers should hardly be news to the investment community. On the other hand, what is somewhat concerning to me is that these declines in freight are coming in even as June Retail Sales surprise to the upside and e-tailers, like Thematic King Amazon (AMZN), Walmart (WMT), Target (TGT) and others, are embracing one-day and same-day shipping from the prior table stakes that were two-day shipping. The growing concern that I have is that despite the tailwind associated with our Digital Lifestyle investing theme, continued declines in the Cass Freight Index and other freight indicators could signal that the domestic economy is moving from one that is slowing into one that is in contraction territory.
Despite the upside surprise in the June Retail Sales report, it was counterbalanced by a revelation contained in the June Industrial Production & Capacity Utilization report. What we learned yesterday from that report was that domestic factory production fell at an annualized rate of 2.2% in the June quarter. Paired with the slowing freight-related signals mentioned earlier, there is little question over the vector of the domestic economy. Clearly the June quarter will be slower than the March one, but the real question we need to face as investors is, how slow will it be in the current third quarter, as well as the fourth quarter this year? That speed along with the degree of the expected July Fed rate cut and the continuation of the current US-China trade war will influence business spending and earnings expectations for the back half of the year.
As far as the June Retail Sales report goes, while I am all for consumers spending, I'm not in love with the fact that it is increasing credit card debt that is likely driving it. According to data collected by the FDIC and published by MagnifyMoney, "Americans paid banks $113 billion in credit card interest in 2018, up 12% from the $101 billion in interest paid in 2017, and up 49% over the last five years." And as we've seen in the monthly Consumer Credit Report issued by the Federal Reserve, revolving consumer credit, which includes credit card balances, has only grown year to date. In other words, consumers are using credit card debt to fund their spending and rising interest payments will squeeze disposable income levels.
While increasing consumer debt is not exactly an uplifting thought, and certainly a headwind for the economy in the coming quarters, these development are a tailwind for Middle-Class Squeeze Thematic Leader Costco Wholesale (COST):
Year to date, COST shares are up some 37%, and we are only now heading into the seasonally strongest time of the year for the company's business. We should continue to hold COST shares, but we will also increase our stop loss to $240 from roughly $225.
Thematic Leader dates to watch
With investor attention turning to corporate earnings, here are the announced reporting dates for the Thematic Leaders:
Netflix (NFLX) –  July 17
Chipotle Mexican Grill (CMG) – July 23
Amazon (AMZN) – July 25
AMN Healthcare (AMN) – August 6
Dycom Industries (DY) – N/A
Costco Wholesale (COST) – N/A
Alibaba (BABA) – N/A
Axon Enterprises (AAXN) – N/A
Not all of the Leaders have shared the reporting dates for their latest quarterly earnings, but no worries as I'll be filling the calendar in as the missing ones announce them. And it goes without saying that as the June 2019 earning season continues, I'll be sifting through the sea of reports looking for thematic data points to be had.
Safety & Security Thematic Leader Axon Enterprise Catches a TAZR Win
As I was putting this issue of Tematica Investing to bed, I saw that Safety & Security Thematic Leader Axon Enterprises (AAXN) announced a big win for its business — a significant order for its TASER Conducted Energy Weapons from agencies across the United States. These orders, which were landed during the first half of 2019, will ship in multiple phases in the coming quarters.
Why are we only hearing about this now?
Partly because Axon needed permission from the agencies make the announcement, and even with such permission granted, the company still needed further permission to name those agencies as customers. A full list of those announced orders can be found here.
Of course, this news is a positive for Axon, and it serves as a reminder that even though the headline story for Axon is the company's ongoing transformation into a digital security company as it grows it body-camera and digital subscription storage business, the steadfast TAZR business remains a firearm alternative.
We've enjoyed a nice run in Axon shares since they were added to the Thematic Leader board, and year to date the shares are up more than 46%. I see no reason to abandon them just yet and our long-term price target of $90 remains intact. For now, our stop loss on the shares continues to sit at $51.
And for what it's worth, as impressive as that year to date gain is for AAXN shares, it still trails behind Cleaner Living Leader Chipotle Mexican Grill (CMG), which as of last night's close was up more than 76% year to date.