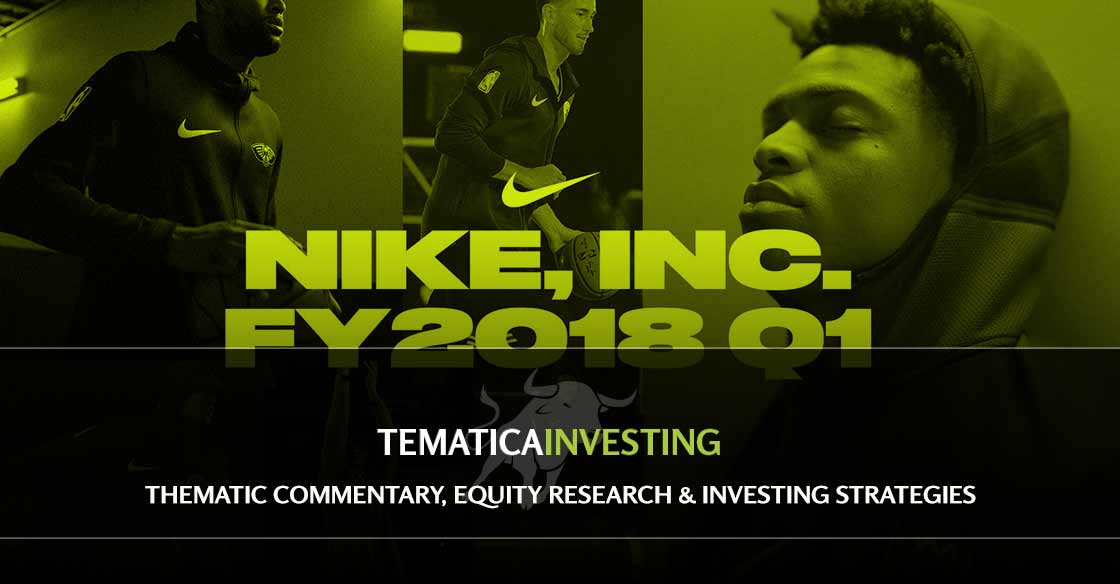 Yesterday, we received the first of what is likely to be quite a bit on potential tax reform. If the efforts we've seen pertaining to repeal and replacing Obamacare are any indication, tax reform will take some time and call for reaching across the aisle. We're cautiously optimistic such reform can take place in a lasting fashion as it would help give a boost to disposable incomes, which would be a boon to the consumer spending led U.S. economy. We'll have more on this as it develops as well as implications of other happenings inside the Beltway, from more barbs with North Korea to President Trump's regulatory reform overview to be shared next week.
Making some adjustments to the Tematica Investing Select LIst as we close the quarter
As the new tax policies are put forth and put under the microscope, we will soon close the books on September and 3Q 2017. With a few days left in the current quarter, the S&P 500 is up 3.3%, and we've had a number of positions ranging from AXT Inc. (AXTI), USA Technologies (USAT), International Flavors & Fragrances (IFF) and Facebook (FB) handily beat that index. Some of our more recently added positions, including this week's Corning (GLW) and last week's LSI Industries (LSI) have dipped along with the market these last few days, but our outlook for both remains undiminished.
We have seen some former stalwarts, like Amazon (AMZN) and Alphabet (GOOGL) underperform over the last few months, but we're heading into the seasonally strongest time of the year for these two companies – we'll continue to keep both on the Tematica Investing Select List. The same goes for Starbucks (SBUX) as it rolls out its pumpkin flavored beverages and its peppermint mocha alongside other seasonal favorites.
Our price targets remain as follows:
Alphabet (GOOGL) — $1,050
Amazon (AMZN) — $1,150
AXT Inc (AXTI) — $11
Corning (GLW) — $37
Facebook (FB) — $200
LSI Industries (LYTS) — $10
We are boosting our price targets this morning on International Flavors & Fragrances and USA Technologies as follows:
Raising our IFF price target to $150 from $145;
Increasing our USAT target to $6.50 from $6.00
These increases offer additional upside, but not enough to warrant subscribers committing new capital at this time. Rather subscribers should continue to own these positions to capture incremental upside and in the case of IFF its dividend stream.
Now let's step back and take a wider view
Our position has been and remains that we are likely to see the recent bout of volatility continue as we close the books on the third quarter of 2017 and roll right into earnings season. That reporting activity will come to a head just as we get the bulk of economic data for the month of September, the proverbial icing on the 3Q 2017 GDP cake. Based on the hurricanes, odds are this data will be a bit wobbly, to say the least, and odds are we will see more GDP revisions for the three months ending in just a few days. While some may look through the economic data, the quarterly results from Darden Restaurants (DRI) earlier this week and the subsequent drop in its shares tell us the market has yet to fully price in the impact of the hurricanes.
Here's the thing – this could lead to the stock market retrenching from current levels, and in our view letting some of the froth out of the market is a good thing. Candidly, with the market trading near 19x expected earnings – head and shoulders above the 5- and 10-year averages – it begs the question as to how much additional upside is to be had?  This is especially true for investors that are only now returning to the market.
Our strategy for the near-term will be to focus on those companies that have strong thematic tailwinds and whose shares have a more than favorable risk-to-reward tradeoff. This could be in new positions like the ones we've added over the last 10 days or it could be in existing ones that come under pressure this earnings season. We always like the former, but the latter is also welcome if it allows us to improve our cost basis for the long-term.
Now, let's dig into what Nike said last night in its quarterly earnings results – the skinny is, it was reinforcing on several levels for our themes as well as our recent comments on the dollar. Here we go…
What's Nike telling us this morning?
Last night athletic footwear and apparel company Nike reported better than expected quarterly results, but the shares are trading off this morning. Sifting through the results, we see the 3% decline in North American sales as offering credence to our Cash-Strapped Consumer theme, while the 9% growth year over year in China, as well as the 5% year on year improvement in Asia-Pac/Latin America for the company, reflects our Rise & Fall of the Middle-Class thematic. That mix brought Nike's international business to more than 55% of its overall revenue, and yes during the earnings call last night the company conceded that it has indeed benefitted from the weakening dollar during the last several months.
When it offered its outlook, however, Nike quickly called out that its expected margin contraction with "FX continuing to be the single largest driver." Yesterday we shared our view the rebounding dollar could present a renewed headwind as the investing herd adjusts it view to incorporate the Fed's interest rate hike forecast and we see that comment by Nike as confirmation. In addition to the near-term post-hurricane economic slump, this is potentially another reason we could see earnings expectations get reset in the back half of 2017 in the coming weeks.
We'll look for more confirmation today during Applied Material's (AMAT) 2017 Analyst Day and tomorrow when McCormick & Co. (MKC) and reports its quarterly earnings. As a reminder, we expect Applied to deliver a favorable demand picture for both its semiconductor as well as display capital equipment businesses, with the former benefitting from ramping demand in China. With regard to McCormick, consensus expectations have the company delivering EPS of $1.05 on revenue of $1.18 billion for the August-ending quarter. As we've all seen of late, missing expectations by a penny or two these days is likely to lead to a 4%-8% drop in the share price, and should that happen with MKC shares we're inclined to scale into the position near or below our original cost basis of $91.80 on the Tematica Investing Select List.
Our price target on Applied Materials (AMAT) shares remains $55
Our price target on McCormick & Co. (MKC) shares remains $110
The Impact of the Nike — Amazon Deal
Turning back to Nike's earnings conference call, heading into it, one of the things we wanted was more color on was the company's invigorated relationship with Amazon (AMZN). We were not disappointed. During the call, even we were somewhat surprised by how blunt Nike was about the pressures facing U.S. retail when it said:
"…a developed market like North America must embrace change to its legacy retail infrastructure. As the leader, we're fully committed to energizing and growing the marketplace through both our own NIKE Direct businesses and with strategic wholesale partners… over the past 90 days, it has become increasingly evident to all that the North America marketplace is undergoing significant transformation. Several quarters ago, we said that the U.S. retail landscape was not in a steady state, but rather would continue to be disrupted by the accelerating consumer shift to digital and more personal brand experiences… those shifts are now profoundly impacting the more undifferentiated dimensions of retail, resulting in store closures, bankruptcies, and a promotional environment… We've proven, I think, through our ability to create some real great success with other consumer-oriented digital partners like Tmall and Zalando that there isn't a real opportunity here, and we're excited about where that can go with Amazon (AMZN)."
In our view, those comments sum up the impact on brick & mortar retail that is being had by our Connected Society investing theme. Odds are, Nike is only one of the initial branded apparel companies that will look to leverage Amazon's logistics and related infrastructure, and this keeps up long-term bullish on AMZN shares.
Our long-term price target on Amazon (AMZN) shares remains $1,150.
We also clearly heard Nike is embracing several aspects of our Disruptive Technology theme when it said, "…we target doubling our direct connection to consumers, we are ramping up investment in digital capabilities ranging from data science and analytics to machine learning to augmented reality to image recognition and personalization."
The only thing better than a company riding one of our investment tailwinds is when it is riding two or more. Over the last three months, NKE shares have underperformed the overall market falling nearly 2.5% vs. the S&P's 3.3% climb. As the investing herd digests Nike's comments and the shares drift lower, we'll revisit the potential upside and downside to be had over the coming 12-18 months. If it's compelling, we'll be back with more on this Rise & Fall of the Middle-Class company that is looking to leverage our Connected Society and Disruptive Technology themes.