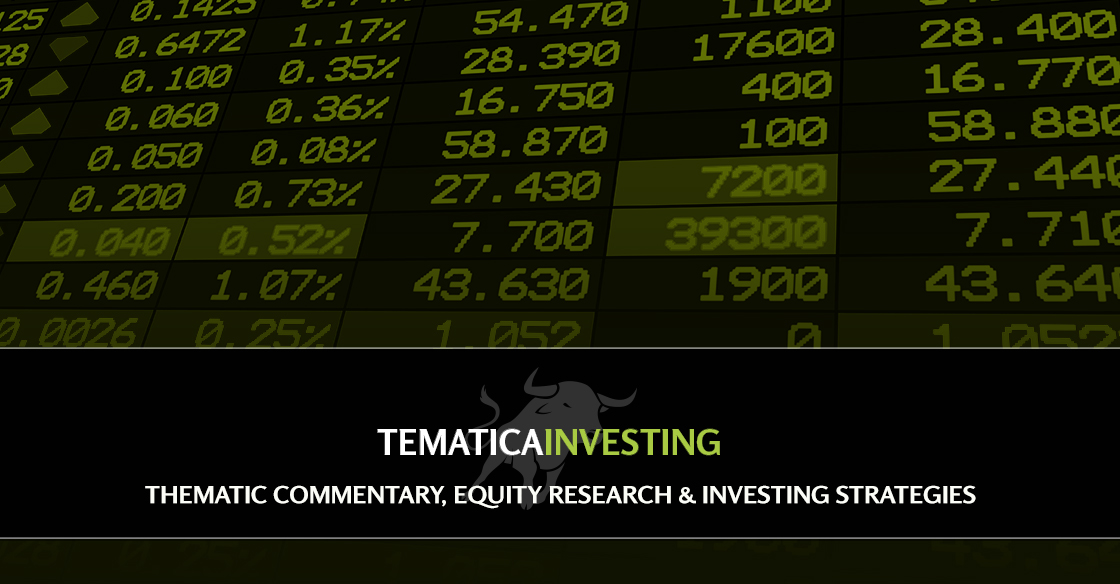 1Q 2018 – A Return of Volatility and Uncertainty
Last week was not only a shortened week owing to the Good Friday market holiday, but it also brought a close to what was a tumultuous first quarter of 2018. The stock market surged higher in January, hit some rocky roads in February than got even more volatile in March. All told, the S&P 500 ends the first three months of 2018 in a very different place than many expected it would in mid-January. While the four major domestic stock market indices finished March in the black, the only one to finish 1Q 2018 in the black was the Nasdaq Composite Index. Even that, however, was well off its January high. What we saw was a very different market environment than the one we've seen between November 2017 and the end of January 2018.
As we begin April, we have China responding to the Trump Administration's steel and aluminum tariffs with their own on a variety of U.S. goods and President Trump suggested he was ruling out a deal with Democrats on DACA. This likely means the uncertainty and volatility in the stock market over the last several weeks will be with us as we get ready for 1Q 2018 earnings season.
In my view, this should serve as a reminder that "crock pot cooking" does not work when applied to investing — rather than just fix and forget it, there's a need to be active investors. Not traders, but rather investors that are assessing and re-assessing data much the way we do week in, week out.
Of course, our view is thematic data points, as well as economic ones, offer a better perspective for investors. In last week's Cocktail Investing Podcast, Lenore Hawkins, Tematica's Chief Macro Strategist, and I explain how the combination of thematic investing and global macro analysis are the chocolate and peanut butter of investing. Coming out of the holiday weekend, I am seeing several confirming data points for our Safety & Security investing theme in the form of the data breach that hit Saks Fifth Avenue and Lord & Taylor. According to reports, Russian hackers obtained "a cache of five million stolen card numbers." This comes just a few days after Under Armour (UAA)  disclosed that an unauthorized party acquired data associated with 150 million MyFitnessPal user accounts.
During the quarter, we selectively added shares of Rockwell Collins (ROK) and Paccar (PCAR) to the Tematica Investing Select List and recently pruned Universal Display (OLED) and Facebook (FB) shares. The former two were selected given prospects for capital spending and productivity improvement in the country's aging plants, while Paccar is poised to benefit from the current truck shortage as well as the increasing shift toward digital commerce that is part of our Connected Society investing theme.
With Universal Display, it's a question of expectations catching up with the current bout of digestion for organic light emitting diode display capacity. We'll look to revisit these shares as we exit 2Q 2018 looking to buy them if not at better prices, at a better risk-to-reward tradeoff. With Facebook, while we see it benefitting from the shift to digital advertising the current privacy and user data issues are a headwind for the shares that could lead advertisers to head elsewhere. Much like OLED shares, we'll look to revisit FB shares when the current dust-up settles and we understand how Facebook's solution(s) change its business model. In the near-term, the verbal CEO sparring between Facebook's Mark Zuckerberg and Apple's (AAPL) Tim Cook over privacy, trust and business models should prove to be insightful as well as entertaining.
The Changing Stock Market Narrative
The narrative that has been powering the market saw a profound shift a third of the way through the quarter to one of mixed economic data, uncertainty over monetary and trade policies emanating from Washington that could disrupt the economy, and now short-lived concerns over inflation. Recently added to that list are user data and privacy concerns that have taken some wind out of the sales of FAANG stocks. This is very different than the prior narrative that hinged on the benefits to be had with tax reform.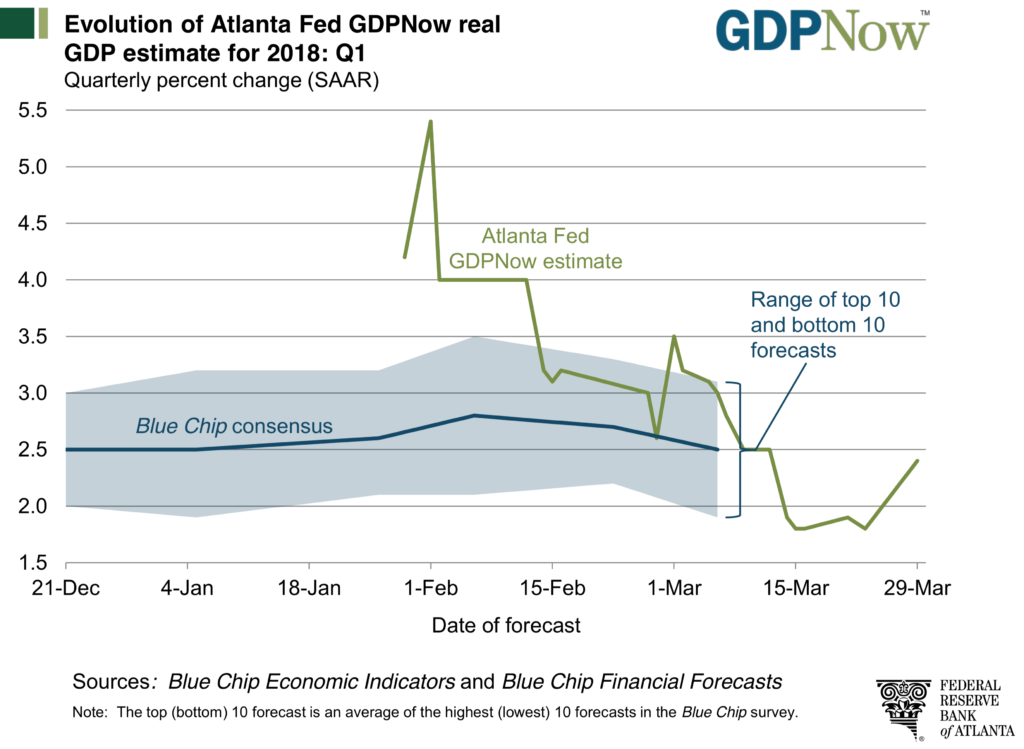 Perhaps the best visual is found in the changes to the Atlanta Fed GDP Now forecast (see above). The forecast sat at more than 5% in January before a number of downward revisions as a growing portion of the quarter's economic data failed to live up to expectations. And as we can see in the chart, as the economic data rolled in during late February and March, the Atlanta Fed steadily ticked its forecast lower, where it landed at 2.4% as of March 29. To be fair, we will receive March economic data that could prop up that forecast or weigh on it further. We'll be scrutinizing that data this week, which includes the March readings for the ISM Manufacturing and Services indices, auto & truck sales and the closely watched monthly Employment Report. We'll also get the last of the February numbers, namely the Construction and Factory Order reports.
As we digest the ISM reports, we'll be watching the new orders line items as well as prices paid to keep tabs on the speed of the economy entering the second quarter in addition to potential inflation worries. In terms of potential inflation, we, along with the investing herd, will be closely scrutinizing the wage data in the March Employment Report. We will be sure to dig one layer deeper, denoting the difference between supervisory and non-supervisory wages. As you'll recall, those that didn't do that failed to realize the would-be worry found in the January Employment Report was rather misleading.
In addition to those items, we'll also be looking at key data items for several Tematica Investing Select List positions. For example,  the March heavy-duty truck order figures that should validate our thesis on Paccar (PCAR) shares, while Costco Wholesale's (COST) March same-store sales figures should show continued wallet share gains for Cash-strapped Consumer, and the monthly gaming data from Nevada and Macau will clue us in to how that aspect of our Guilty Pleasure investing theme did in February and March.
Gearing Up for 1Q 2018 Earnings Season
Last Friday we officially closed the books on 1Q 2018, and that means before too long we'll soon be staring down the gauntlet of first-quarter earnings season. With that in mind, let's get a status check as to where the market is trading. Current expectations for the S&P 500 call for 2018 EPS to grow 18.5% year over year to $157.70. Helping fuel this forecast is the expected benefit of tax reform, which is leading to EPS forecasts for a rise of more than 18% year over year in the first half of 2018 and nearly 21% in the back half of the year. To put some perspective around that, annual EPS growth has averaged 7.6% over the 2002-2017 period. As we parse the data, we'd point out that on a per-share basis, estimated earnings for the first quarter have risen by 5.3% since Dec. 31; historically, analysts have reduced those expectations during the first few months of the year.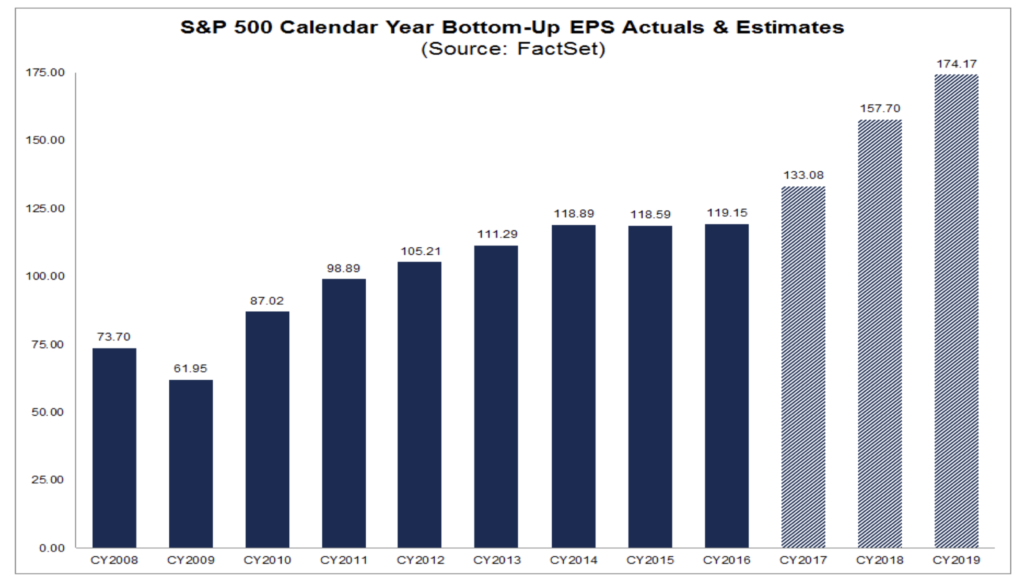 What do we think?
While we remain bullish on the potential investments and incremental cash in consumer pockets because of tax reform, we have to point out the risk that tax reform-infused GDP expectations — and therefore EPS expectations — could be a tad lofty. We've already seen a growing number of companies use the incremental cash flow to scale up buyback programs and in some cases dividends. Also, as we've seen in the past, consumers, especially those wallowing in debt, may opt to lighten the debt load. Lenore made this point last week when she appeared on Fox News's Tucker Carlson Tonight.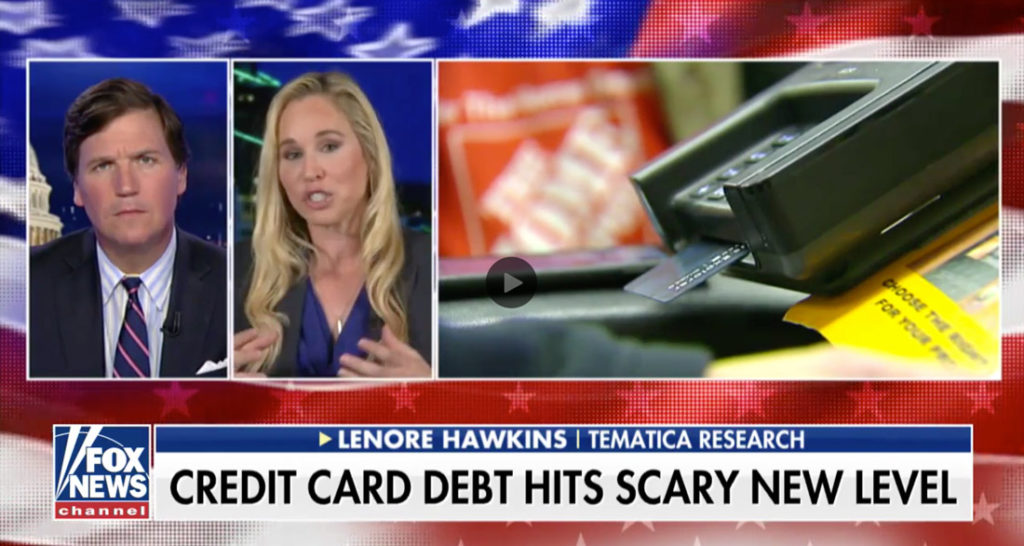 Again, this is a possibility and one that we'll be monitoring as we get more data in the coming weeks and months as we look to position the Tematica Investing Select List for what's to come in 2018 and beyond. Combined with the rising concern of tariffs and trade that could disrupt supply and goose inflation in the short to medium term, it's going to be even more of a challenge to parse company guidance to be had in the coming weeks that could be less than clear. I'll be sure to break out my extra decoder ring as I get my seatbelt secured for what is looking to be a bumpy set of weeks.
As I noted above, we were prudently choosey with the Tematica Investing Select List in 1Q 2018, and while we will continue to be so as share prices come in, I'll look to take advantage of the improving risk-to-reward profiles to be had.