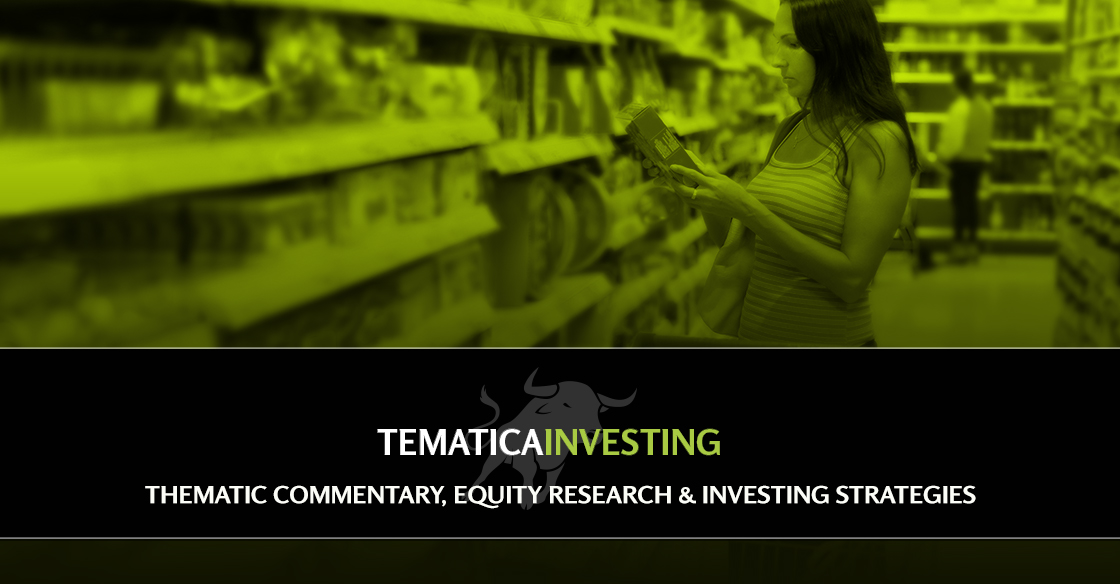 Last night Food with Integrity company United Natural Foods (UNFI) reported in-line quarterly earnings of $0.50 per share on revenue that rose 11.7% year over year to hit $2.29 billion. Despite that double-digit revenue growth, revenue for the quarter fell short of expectations by $50 million — not a big deal in our view, but we suspect some will look past the double-digit growth and focus on this being the second consecutive quarter where revenue fell just shy of expectations. To us that shortfall is overshadowed by the more than 16% increase in earnings before interest tax & depreciation (EBITDA) and the 12% increase in net income — we always like to see profits growing faster than revenue as it denotes margin expansion.
Given the continued deflationary environment the food and grocery industry is contending with, all in all, we were rather pleased with United Natural's quarterly results as it continues to benefit from shifting consumers preferences and reap the benefits from cost savings initiatives and synergies with companies acquired in the last year. With those deflationary pressures poised to continue, the company is undertaking another initiative that will shed roughly 265 jobs in the current quarter, with benefits to be had in following ones. This latest effort is expected to result in pre-tax charges of $3.5-$4 million.
Even after this new initiative the company guided 2017 in line with expectations:
fiscal 2017 revenue between $9.38-$9.46 billion, an increase of approximately 10.7%-11.7% over fiscal 2016, and consensus expectations of $9.4 billion;
adjusted EPS in the range of $2.53 to $2.58 vs. the current consensus forecast of $2.54 per share.
Stepping back, we continue to see consumer shifting preferences to fresh, organic and natural products. Last week, grocery chain Kroger (KR) commented that it continues to "focus on the areas of highest growth like natural and organic products" and we've seen companies like Costco Wholesale (COST) continue to expand their fresh and natural offering to boost basket size and shrink time between visits. Against that backdrop that is not occurring at just Kroger and Costco, we continue to like United Natural's strategy to expand its footprint, including its UNFI Next program that looks for new products and emerging brands and its e-commerce platform.
Our price target on UNFI shares remains $60, which offers more than 30% upside from current levels. As such we are keeping our Buy rating intact.