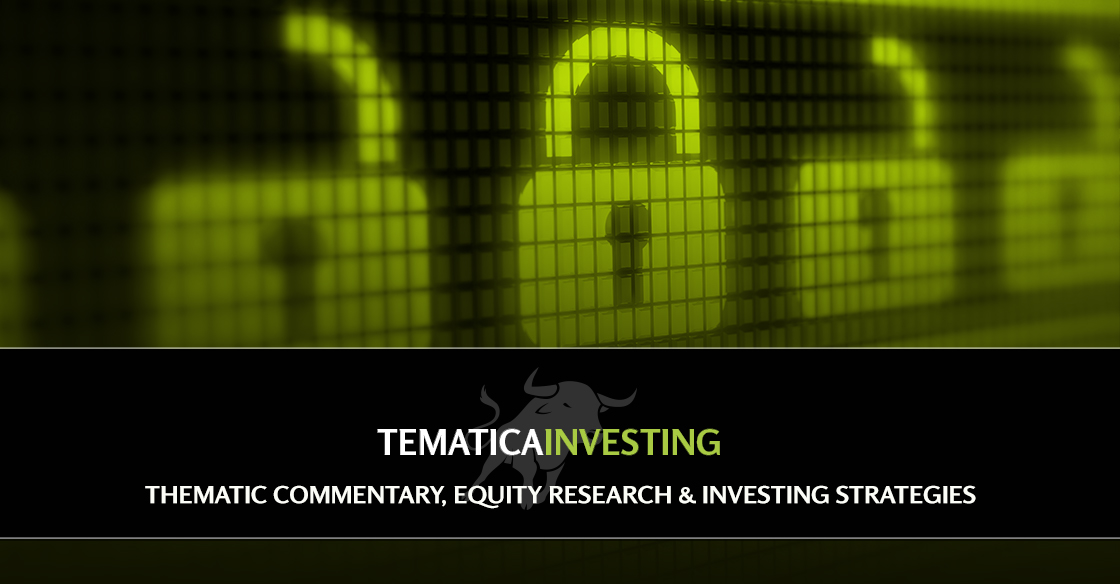 In this Week's Issue:
Doubling Down on Costco Shares

More Cyber Attacks, Mean It's a Good Time to Own HACK Shares

Alphabet Gets Wrapped on the Knuckles
We're moving deeper into summer with more schools across the country finishing out the academic year. Most would expect that would mean a slower go of things, but that's hardly been the case. True, the only economic data point to be had this week was the May Durable Orders report, which simply isn't going to speed up anyone's 2Q 2017 GDP forecast. Nondefense capital goods orders excluding aircraft — a proxy for business spending — declined 0.2 percent, while shipments of these same goods, which factor into the GDP computation, also declined 0.2 percent. We continue to think businesses are sitting on the sidelines as the Trump Slump is likely to continue through the summer months and into the fall.
At the same time, we've also had commentary from some of the Fed heads about the stock market including this from yesterday from San Francisco Federal Reserve Bank President John Williams:
 "The stock market seems to be running pretty much on fumes."
He's not alone in thinking the market is overvalued. A record 44 percent of fund managers polled in a monthly survey from Bank of America Merrill Lynch saw equities as overvalued this month, up from 37 percent last month. The surveyed body included 200 panelists with a combined $596 billion under management participated in the survey.
With the S&P 500 trading at roughly 18x 2017 expectations that have more downside risk than upside surprise potential as we discussed in this week's Monday Morning Kickoff, we suspect we are likely to see more announcements like the one yesterday from General Motors (GM). If you missed it, GM now expects U.S. new vehicle sales in 2017 will be in the "low 17 million" unit range, versus last year's record of 17.55 million units. Keep in mind, GM has been hard hit lately and seen its US inventory creep up to 110 days of supply in June, up from 100 in May. As GM said, "the market is definitely slowing" and that means we're going to see more widespread pressure on the likes of Ford Motor Company (F), Honda Motor Company (HMC) and other auto manufactures. Lower production volume also means reduced demand at key suppliers like Federal Mogul (FDML), Dana Corp. (DAN), Delphi Automotive (DLPH) and similar companies. Pair this with the May Durable Orders report, and it's another reason to see a step down in GDP for the back half of the year.
At the same time, yesterday also brought the news of the Petya ransomware, which in our view not only serves to reinforce our Safety & Security investing theme as well as our position in PureFunds ISE Cyber Security ETF (HACK)shares (more on that below), but also reminds us of the tailwinds powering all of our investing themes here at Tematica. We don't look to own sectors, but rather companies that are benefitting from multi-year thematic tailwinds – that has been and will continue to be our guiding light, and if we have the opportunity to improve our cost basis in the coming weeks we'll aim to take it.
In fact, we're doing that today with shares of Costco Wholesale (COST) right now…
Doubling Down on Costco Shares
Last week we added back shares of Costco Wholesale (COST) to the Tematica Select List given what we saw (and continue to see) as an overreaction to the Amazon (AMZN)–Whole Foods (WFM) tie up. Not only hasn't the transaction closed yet, and it won't for several months until that occurs. It will be deep into 2018 before any Whole Foods integration is even close to being done. This tells us the market is shooting first and asking questions later… potentially much later.
With COST shares falling another 2 percent over the last week, bringing the two-week drop to more than 11 percent, we'll use the current share price to improve the position's cost basis and grow the respective position size to the overall Select List. As we've shared before, the real key to Costco's profits and EPS is its membership fee income, and with more locations set to open in the coming quarters plus a recent membership price hike, we remain bullish on COST shares.
With COST shares closing last night at $159.26, we're going to use the continued drop in share price to lower our cost basis by adding a second position in the shares as of this morning.
Our price target on Costco Wholesale (COST) shares remains $190
As we scale into the position today, we are setting a stop loss at $135, but we'll look to move that higher as COST shares rebound.
More Cyber Attacks, Mean It's a Good Time to Own HACK Shares
When we added PureFunds ISE Cyber Security ETF (HACK) shares back in February this year to the Select List as part of our Safety & Security investing theme, we acknowledge the frequency of cyber attacks would be a likely catalyst for the shares. Simply put, a higher frequency of attacks would not only spur cybersecurity spending, but odds are it would also act as a rising tide as media attention shifts to these attacks lifting all cyber security boats including our HACK shares.
We recently witnessed the WannaCry ransomware attacks, and as we learned during our Cocktail Investing Podcast conversation with Yong-Gon Chon, CEO of cyber security company Focal Point, following attacks were going to get bigger and bolder. That's exactly what we saw yesterday with "Petya" ransomware that hit firms both large and small with ransomware in Europe and now the US. The attack was first reported in Ukraine, where the government, banks, state power utility and Kiev's airport and metro system were all affected. It soon spread to including the advertising giant WPP, French construction materials company Saint-Gobain and Russian steel and oil firms Evraz and Rosneft. The new malware uses an exploit called EternalBlue to spread by taking advantage of vulnerabilities in Microsoft Corp.'s Windows operating system, similar to WannaCry and the infected computers display a message demanding a Bitcoin ransom worth $300. Those who pay are asked to send confirmation of payment to an email address.
According to a study by IBM (IBM), the amount of spam containing ransomware surged to 40 percent by the end of 2016 from just 0.6 percent in 2015. While many ransomware attacks are blocked by security software, the number of infections getting through is growing. Symantec (SYMC) said it detected 463,000 ransomware infections in 2016, 36 percent higher than the year before. Odds are that figure is only to go higher in 2017 and 2018.
We continue to have a Buy on PureFunds ISE Cyber Security ETF (HACK) with a price target of $35.
Alphabet Gets Wrapped on the Knuckles
Alphabet (GOOGL) is one of the building blocks of our Connected Societyinvesting theme due primarily, but not entirely to the company's market share leading position in digital search. We define digital search much the way we do digital commerce – it comprises both desktop and mobile activity. Alphabet is also home to some of the most widely used apps across the various smartphone operating systems including YouTube (#2), Google Search (#4), Google Maps (#5), Google Play (#6), Gmail (#8) and Google Calendar (#11).
Google's YouTube is expanding not only into original content with YouTube Red, but recently copped to targeting TV advertising dollars as well as eventually creating video content with "big name stars." Alphabet is also bringing a YouTube TV service to market that will stream broadcast TV much the way AT&T's (T) DirectTV Now and Hulu do. Let's not forget Google Wallet or Android Wallet.
Putting it all together, Alphabet has several thematic tailwinds pushing its respective businesses as well as burgeoning ones like its Waymo self-driving car initiative that recently partnered with Avis Budget Group (CAR).
One of the items we've been watching and waiting for with Alphabet (GOOGL)has been the pending fine from EU antitrust regulators following the ruling that Alphabet had abused its "search engine" power and promoted its own shopping service in search results. Following several years of investigation, yesterday that EU body hit Alphabet with a decision that included a record $2.71 billion (€2.4 billion) fine and "ordered the search giant to apply the same methods to rivals as its own when displaying their services." Google has 90 days to end the conduct and explain how it will implement the decision, or face additional penalties of up to 5 percent of average daily global revenue.
On its face, the $2.7 billion is a drop in the cash bucket for Alphabet, which ended the March quarter with $92.5 billion in cash. Alphabet could simply swallow the fine, but the implication of the decision could reshape how Google presents search results in Europe if not eventually elsewhere. As such, we expect the company will review the decision and consider an appeal, thereby dragging this out for another few months.
In the short-term the fine is a bump in the road for Alphabet, but we'll continue to see how this situation develops further and what its implications are for not only Google, but other dominant technology firms such as Amazon (AMZN)that also rely on displayed search results, but also offer their own proprietary products. As we monitor these and other developments, we continue to Alphabet shares as ones to own not trade as we continue to migrate deeper into an increasingly connected society. The same goes for Amazon shares.
Our price targets on AMZN and GOOGL shares remain $1,150 and $1,050, respectively.