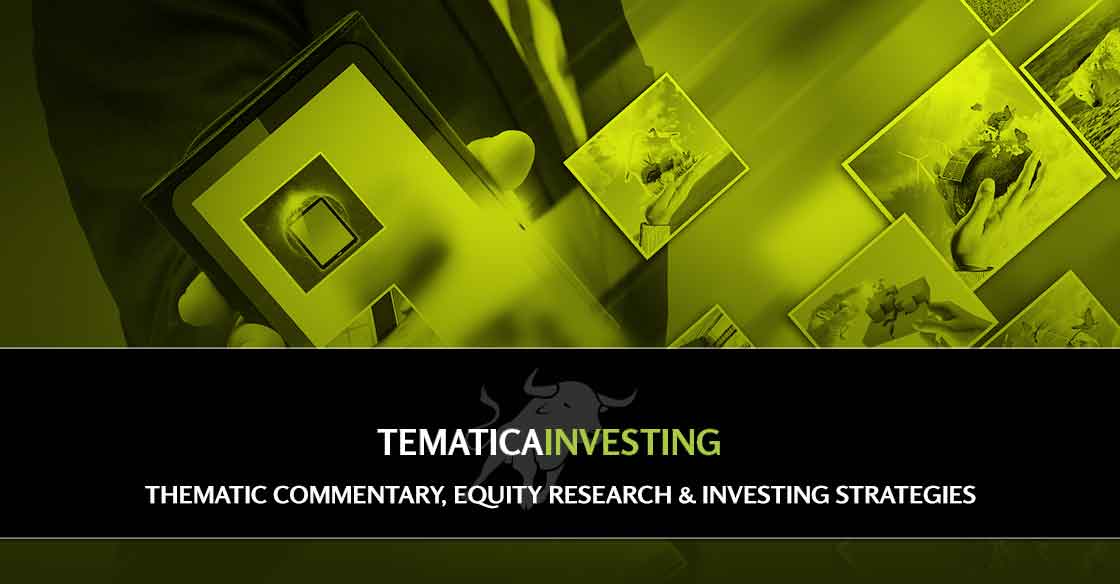 Key points inside this issue
Given the favorable upside to downside risk in AT&T (T) shares, the defensive mobile business and enviable dividend, we are adding T shares to the Select List with a $40 price target as part of our Digital Lifestyle investing theme.

For the stock market, uncertainty remains the name of the game

The stock market looked poised to rebound Friday following President Trump's prediction of a swift end to the trade war with China. However, the rally faded as investors and traders braced for potential weekend uncertainty on the trade front.
The fade in the stock market capped off a week in which all the major indices closed lower for the fifth consecutive time, pushing their quarter-to-date returns into the red. That has continued in this week as trade tensions escalated further complete with US Secretary of State Mike Pompeo saying the U.S. "may or may not" get a trade deal with China. As we all know, if there is one thing the stock market does not like it's uncertainty and currently, we have that in spades.
In addition to increasing trade concerns, which included fallout on technology suppliers from the Huawei ban, the latest round of economic data still points to a slowing global economy. Last week, the U.S. economy saw a slump on April core capital goods orders and continued declines in the May IHS Markit Flash U.S. PMI, with soft orders for the month. In response, the New York Fed's Nowcasting forecast for the current quarter fell to 1.4% on Friday from 1.8% on the prior one, very near the 1.3% forecast by the Atlanta Fed's GDPNow. We saw similar month-over-month declines in the April IHS Markit Flash Eurozone PMI and Nikkei Flash Japan Manufacturing PMI, which further points to a slowing global economy.
The bottom line: As we exited last week and entered this one, we have an uncertain outlook on the U.S.-China trade front as the global economy continues to slow.
This likely means the market will teeter totter on the latest trade talk comments in the near term. But, as we've seen in recent weeks, it will take real progress to convince us and other investors those negotiations are moving forward.
With the earnings season wrapping up, it also means we will soon be entering investor conference season, during which companies will share developments in their respective industries and businesses. Given the factors addressed above, we could very well see them revise their near-term forecasts to the downside. Should that come to pass it more than likely means the recent market declines will be added to.
From my perspective, it means examining and adding companies that sit at the intersection of our 10 investing themes and have defensive business models, preferably with a domestic focused business. It just so happens I have one in mind…

Tematica Investing
Ringing up AT&T shares to the Select List
As trade tensions have heated up and we continue to get more economic data pointing to a slowing domestic economy, we are adding to our position in AT&T given its sticky mobile service that is essentially a digital utility in today's world, the enviable dividend near 6.3%, and prospects for investors to revisit how they value the shares once the company launches its own streaming platform, WarnerMedia.
Digging into each of these reasons a bit further, in today's world in which people have an unquenchable thirst for mobile content be it streaming music, video, podcasts; messaging and emailing; shopping or paying bills, smartphones and other connected devices are increasingly "must-haves" in today's connected world. Plain and simple, AT&T's mobile business is a Digital Lifestyle access point for consumers.
In my view that not only makes for a sticky business model in today's connected world, but an inelastic one as well. This means which means there is a high probability those subscribers will pay those bills to keep themselves connected. This makes AT&T and other major mobile network companies rather defensive in today's environment.
With AT&T, the dividend yield, which is far higher than the 4.0% at Verizon (VZ:NYSE) infers modest downside but also implies upside to be had as the company continues to reassure investors it is right sizing its balance sheet with ample cash flow to remain a company that has been steadily inching up its quarterly dividend for more than 20 years. Recently AT&T sold its 10% stake in Hulu for $1.43 billion to Disney (DIS) and management has commented it has several other "asset monetization alternatives" underway.
The opportunity we see with AT&T shares in the coming months is a valuation transformation similar to the one we recently saw with Select List resident Walt Disney (DIS) that boosted its share price to $130-$135 from $110-$115. Similar to Disney and Disney+, AT&T is slated to launch its own streaming service later this year that will leverage the Time Warner library. Unlike Disney, AT&T exited March with a mobile subscriber base that tallied 79.7 million in size, which offers a target-rich platform for service bundling. As we saw with the final episode for Game of Thrones, which had a reported 19.3 million viewers, people will flock to content they want to watch. Odds are AT&T will offer standalone subscriptions to WarnerMedia rather than an AT&T mobile service bundle only, if only to address how it will AT&T monetize WarnerMedia outside of markets it offers mobile service.
To us that makes AT&T shares a near-term safe harbor stock that is on the cusp of changing how investors value it. That valuation transformation is likely to unlock the share value associated with the synergies to be had with the AT&T-Time Warner merger. And we haven't even touched on its advertising and analytics business, Xandr, that also stands to benefit from the WarnerMedia launch. More on that as we better understand the relationship to be had between the two business units.
Over the 2011-2018 period, AT&T shares traded in a dividend yield range from a low of 4.9% to a high of 6.1% vs. the current 6.3%. Again, this suggests limited downside from the current share price provided the company continues to make its quarterly dividend payments to shareholders, something the management team has committed to. That historical range established potential peak and trough price levels for AT&Ts' shares between $34-$42 based on its expected 2019 dividend payment of $2.05 per share.
Given the favorable upside to downside risk in AT&T (T) shares, the defensive mobile business and enviable dividend, we are adding T shares to the Select List with a $40 price target as part of our Digital Lifestyle investing theme.