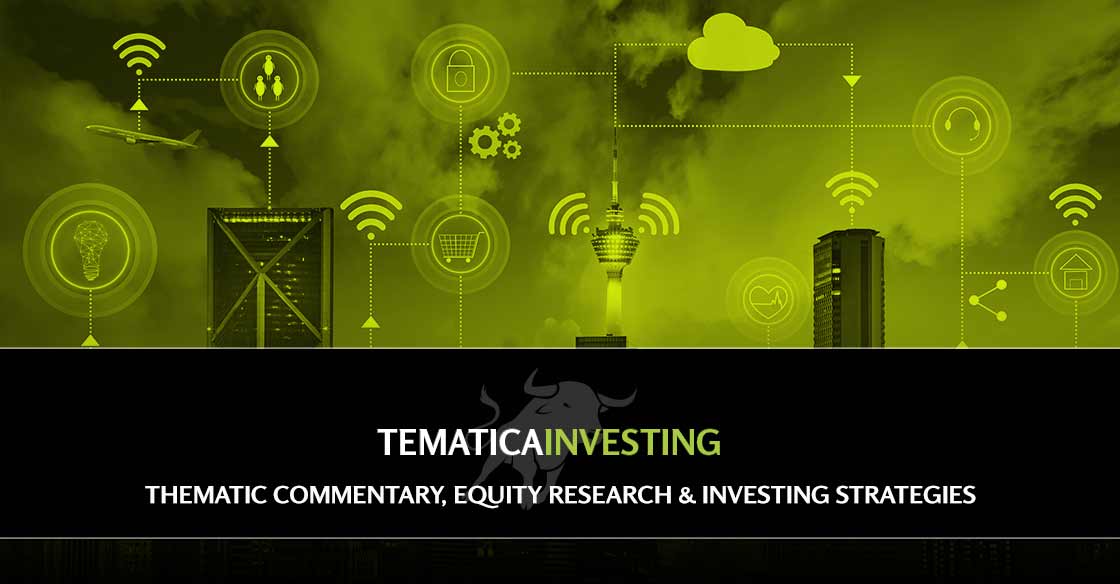 Key Points from this Alert:
Our theme recasting continues as we combine the Connected Society, Cashless Consumption and Content is King themes into a new theme we call The Digital Lifestyle. 
We are adding Netflix (NFLX) shares to the Tematica Investing Select List as part of the Digital Lifestyle investment theme with a Buy rating and a $500 price target.
As part of constantly revisiting and testing our investing themes, from time to time we will make changes and enhancement to them. As part of that ongoing effort, we've recently recast our Middle Class Squeeze and New Middle Class investing themes, which entailed splitting a few themes apart and reconstituting them to make them clearer and more focused. Today, we're combining Connected Society, Content is King and Cashless Consumption to form our Digital Lifestyle investing theme, which reflects a consumer's existing and increasingly digital footprint.
In his 2018 shareholder letter, Jeff Bezos credited many people over Amazon's successes and milestones, including what he called "divinely discontent customers." As Bezos explained:
"People have a voracious appetite for a better way, and yesterday's 'wow' quickly becomes today's 'ordinary'. I see that cycle of improvement happening at a faster rate than ever before. It may be because customers have such easy access to more information than ever before – in only a few seconds and with a couple taps on their phones, customers can read reviews, compare prices from multiple retailers, see whether something's in stock, find out how fast it will ship or be available for pick-up, and more. These examples are from retail, but I sense that the same customer empowerment phenomenon is happening broadly across everything we do at Amazon and most other industries as well. You cannot rest on your laurels in this world. Customers won't have it."
What Bezos is correctly describing is the shifting landscape that underpins the consumer lifestyle to one that is increasingly connected and digital, and empowers the consumer. Enabling this shift is the confluence of high-speed data networks, computing power, and falling storage costs, which has led to a change in how consumers interact, share, shop, transact, game, pay and consume content. This, in turn, has upended existing business models, anointing companies that have been able to ride the tailwinds of this digital transition as consumers embrace the digital lifestyle. At the same time, ones such as newspapers and other publishers, brick & mortar retailers, travel agencies and other industries have been confounded by the headwinds associated with not responding to this evolving digital consumer lifestyle.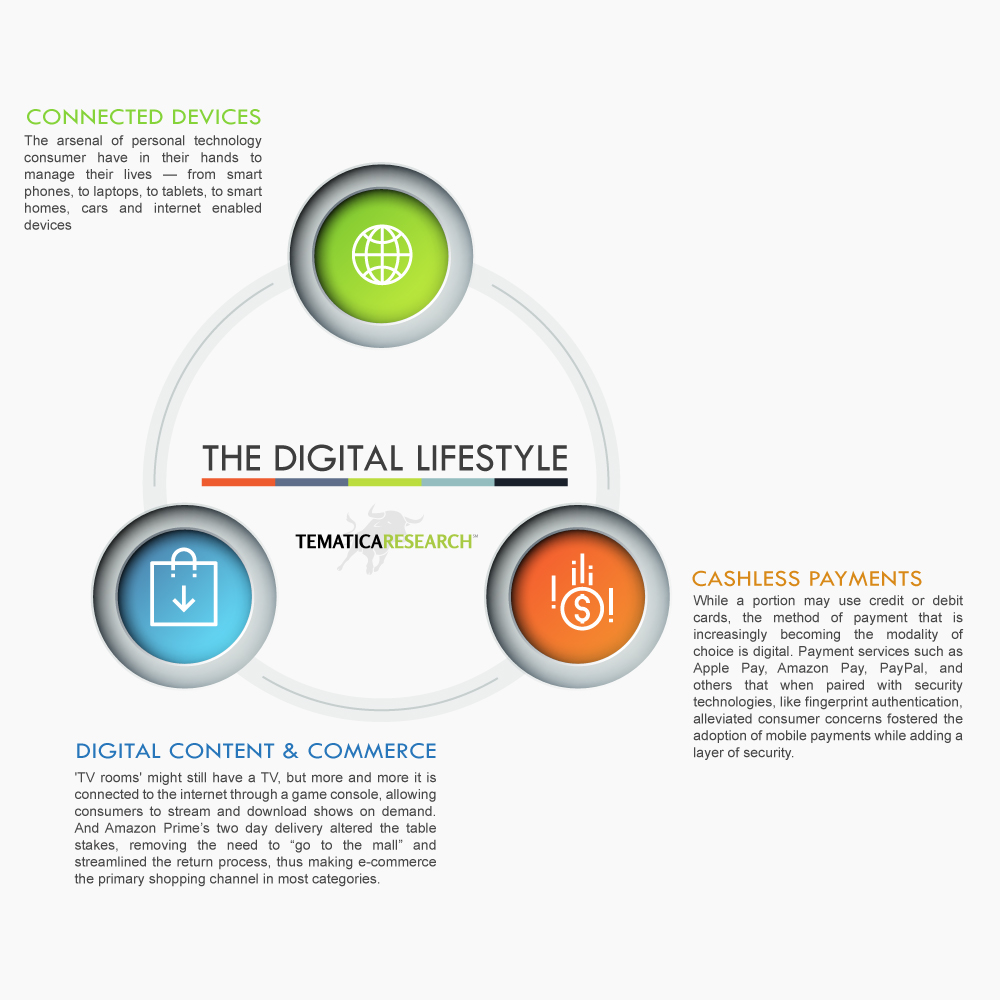 The Digital Lifestyle Transformation
If we accept the definition of the word "lifestyle" put forth by Merriam Webster that is "the typical way of life of an individual, group, or culture" there is little debate to be had over the differences between today's' digital lifestyle and its implications compared to consumer behavior 5, 10, 15, or even 20 years ago.
Consumers used to buy vinyl records, listen to music on the radio, read newspapers and watch TV, occasionally going to the movie theater and usually paid with cash.
Today consumers stream music and video (TV, movies or other) from over the top services such as YouTube, Netflix (NFLX), Hulu and Amazon Prime Video, consume news content, print or video, on their smartphones, tablets or Apple TV.
Instead of calling on a landline, people will message or video call their friends or family as they walk down the street.
While a portion may use credit or debit cards in store, the method of payment that is increasingly becoming the modality of choice is digital in nature be it on one's tablet, smartphone or desktop.
Advertising has shifted from print, radio and increasingly TV to digital, fueling the business models of Google, Facebook (FB), Amazon, Twitter (TWTR), and others.
Today's digital consumers have in their pockets, on their laps and in their cars an arsenal of personal technology to manage their lives. In the US, over 80% of consumers carried smart phones in 2017 vs. just 6% a decade earlier according to Comscore. These devices have more computing power than the mainframes used by NASA to launch Apollo 11 and their usage has altered the playing field like almost no other device before it.
Nearly half of these consumers use touch screen tablets, usually at home, to browse social networks, play games, and do a bit of window shopping or, increasingly, actual shopping. 'TV rooms' have a TV but more and more it is connected to the internet through a game console, allowing consumers to stream and download shows on demand. Consumers send messages to their oven to set the temperature. Wearable gadgets automatically send fitness statistics to the cloud. Vacuum robots respond to a smartphone and begin cleaning the house. Automatic door lock systems, garden watering systems, and connected thermostats are all available today.
Those are examples behind The Digital Lifestyle investment theme, but the following data summarizes the size and scope of it:
Each day in 2017, 269 billion emails were sent and received worldwide and that is expected to reach more than 333 billion in the next 5 years.
Messaging service WhatsApp has more than 1 billion daily active users across the globe that send more than 55 billion messages, and share in excess of 4.5 billion photos and 1 billion videos per day.
At the end of 1Q 2018, Netflix announced that its more than 121 million users watching more than 140 million hours of content per day, or 1 billion hours per week
According to eMarketer, in 2018 the average adult in China is set to spend 2 hours and 39 minutes per day on a mobile device this year, up 11.1 percent on 2017. Watching TV, meanwhile, is set to fall by two percent, to reach 2 hours 32 minutes daily. Adults in China are expected to spend 58 minutes per day watching video in 2018, up nearly 26% year over year, making up more than a quarter of their digital time. By 2020, adults in China will spend almost a third of their daily digital time watching video.
FTI Consulting expects U.S. online retail sales will top $600 billion by 2020 and surpass $1 trillion in 2027 compared to $445 billion in 2017 — representing a compounded annual growth rate (CAGR) of 12% through 2020 and 9% over the next decade.
Exiting 2017, Amazon Prime had 100 million subscribers – almost 27 million more than Apple Music, Sirius XM, Hulu, Pandora, New York Times, Tinder, CBS All Access and MoviePass combined.
People around the world are expected to make 726 billion transactions using digital payment technologies by 2020, according to a study from Capgemini and bank BNP Paribas. The study goes on to predict that tech innovations such as connected homes, contactless bank cards, wearable devices and augmented reality will drive cashless transactions in the future.
The global mobile payment segment has experienced exceptional growth in the last five years, establishing a $600 billion market in 2017. Mind Commerce estimates a $3 trillion mobile payment market by 2023.
In 2018, the mobile games industry is expected to generate revenue of $42 .2 billion in 2018 up from $36 billion in 2016, the year in which it first outperformed PC and console gaming for the first time in history. Mobile gaming continues to account for approximately half of the revenue earned by the global games industry, which is expected to stand at $108.9 billion by the end of this year. The estimated figure for the movie industry, meanwhile, is a little more modest, standing at $41.2 billion – less than the amount mobile gaming should earn in its own right.
This always on, always connected ready to transact evolution has reshaped industry dynamics giving rise to a number of companies that have not only ridden those tailwinds but in many ways have helped shaped them.
Apple (AAPL) first with the iPod then digital commerce platform that would become iTunes followed by the iPhone, iPad, and AppleTV as well as services like ApplePay and FaceTime as well as Siri, Apple's intelligent assistant.
Amazon (AMZN)'s Prime offering continues to wreak havoc on brick & mortar retail even as the company continues to expand the scope of goods and services, including its private label offering. With its recent acquisition of PillPack, Amazon is flexing its world-class Prime logistics to disrupt the pharmacy industry while it is leveraging its purchase of Whole Foods to disrupt the grocery business.
Underneath it all, Amazon is quietly expanding its payments presence with Amazon Pay as well as its intelligent assistant, Alexa, that has inked deals with automotive as well as appliance companies. But the real powerhouse inside Amazon is Amazon Web Services (AWS), which is the key differentiator vs. other retail facing companies as it delivers the bulk of Amazon's operating profit and cash flow allowing it to fund these other disruptive initiatives.
The core business models at Facebook (FB) and Alphabet (GOOGL) are both benefitting from the shift in advertising spend to digital and mobile across their various platforms from print, radio TV and other media. Both are also moving into original content with Watch at Facebook and YouTube Red as well as into the payments space. Like Amazon, Google also has its own intelligent assistant dubbed Google Home and there is speculation that Facebook could follow suit.
Those companies along with streaming video service and original content Netflix (NFLX) form what is commonly referred to as the FAANG stocks. Each of these has various tailwinds that comprise The Digital Lifestyle investment theme powering their businesses, but as much as people may think of Amazon as The Digital Lifestyle theme company, the reality is Amazon Web Services is the clear profit and EPS generator at the company. Both Facebook and Alphabet are facing potential revenue and profit pressure associated with compliance with the EU's General Data Protection Regulation (GDPR) that began in late May. With Apple, while it will have yet another round of new iPhones in the back half of 2018 the reality is the company's next significant iPhone upgrade cycle won't be had until 5G devices go mainstream.
There are other companies that are riding The Digital Lifestyle tailwind and range from GrubHub (GRUB) to Yelp (YELP), Spotify (SPOT), Twitter (TWTR), and PayPal (PYPL) while some like Snap (SNAP) and Blue Apron (APRN) are trying to. Survey findings from Cowen confirm what many have shared anecdotally, that Netflix is the platform consumers turn to most not only for its rich content library but increasingly for its new, original and proprietary content.
When Netflix announced its third-quarter earnings in mid-October, it predicted it would spend between $7-$8 billion on content in 2018. According to The Economist, citing data from Goldman Sachs, it appears  Netflix will spend $12-$13 billion on its films and shows this year. By comparison, Amazon Studios is expected to spend  $4 billion-plus and Apple a mere $1 billion plus on original content.
What is Netflix getting for all that spending? 
While Warner Bros. and Disney (DIS) will respectively release 23 and 10 films, Netflix is expected to roll out more than 80 films with the streaming service producing or acquiring 700 new or exclusively licensed programs, at least 100 of which are scripted dramas and comedies. These programs are being made in 21 countries, among them Brazil, India, and South Korea. That content is being created to help Netflix replicate its success outside the US. In 2016, the company's global membership grew 48% and then in 2017 another 42%. By the end of March 2018, Netflix had reached 125 million worldwide subscribers, 57 million of whom are Americans.
As that subscriber base grows so too does the company's subscription revenue and corresponding cash flow, which in our view offers predictability and lends itself to a premium valuation. It also helps the company continue to invest in its original content, which in turn feeds the streaming service. Given its sticky nature with consumers, we suspect that like Disney the company has some room to increase prices. Recently, the company shared that it is testing a new top-tier subscription plan that would redistribute current benefits while raising prices. Of course, Netflix will have to be careful not to gauge customers, but higher prices amid a growing global consumer base means higher revenue, profits and cash generation. That also helps assure investors with the company's interest coverage metrics.
Netflix recently traded at 87x expected 2019 EPS of $4.69, which is up several fold, compared to the EPS of $0.46 the company reported in 2016. That's a staggering EPS compound annual growth rate of roughly 220%, which means Netflix shares are trading Gt a P/E to growth (PEG) ratio of 0.4x. That's a significant discount to Amazon and Facebook PEG multiples and a modest improvement in that metric to 0.5x delivers a price target of $525 for NFLX shares, more than 25% higher than current levels. The current valuation helps explain the sharp move higher in NFLX shares thus far in 2018, while the company's robust content plans pave the way for more upside in the shares over the coming quarters. Should Netflix push through a new premium plan or boost its average price point in another fashion, given our comments above, we would see that as a positive catalyst for the shares.
As we enter the seasonally strong second half of the year for the company's EPS generation, we are issuing a Buy on Netflix (NFLX) shares and adding them to the Tematica Investing Select List with a price target of $500.
Examples of companies rising The Digital Lifestyle Tailwind
Activision/Blizzard (ATVI)
Alphabet/Google (GOOGL)
Amazon (AMZN)
Apple (AAPL)
AT&T (T)
Facebook (FB)
GrubHub (GRUB)
MasterCard (MA)
Netflix (NFLX0
PayPal (PYPL)
United Parcel Service (UPS)
Yelp (YELP)
Examples of companies hitting The Digital Lifestyle Headwind
Barnes & Noble
Kroger (KR)
Saga Communications (SGA)
Simon Property Group (SPG)
Target (TGT)
Western Union (WU)
Again, those are short lists of EXAMPLES, not a full list of the companies benefitting or getting hit.