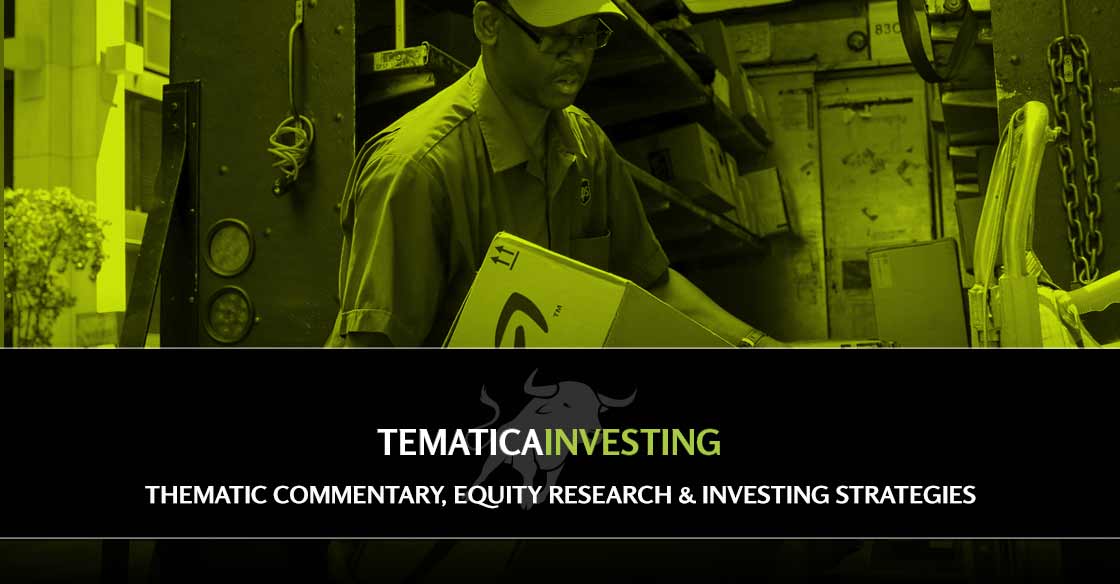 Key Points from this Post:
We are boosting our price target on United Parcel Service (UPS) shares to $130 from $122. Our new price target is a tad below the high end of the price target range that clocks in at $132, and offers an additional 7.6% upside from current levels.
As additional holiday sales shopping forecasts are published, we'll be double and triple checking our UPS price target for additional upside.
Our price target on Amazon (AMZN) shares remains $1,150.
Our price target on Alphabet (GOOGL) shares remains $1,050
We have long said that United Parcel Service shares are the second derivative to the accelerating shift toward digital shopping. Whether you order from our own Amazon (AMZN), Nike (NKE), Wal-Mart (WMT), William Sonoma (WSM) or another retailer, odds are UPS will be one of the delivery solutions.
As we enter 4Q 2107 this week, we're seeing rather upbeat forecasts for the soon to be upon us holiday shopping season. We'd note that most of these forecasts focus on the period between November and December/January, more commonly known as the Christmas shopping and return season that culminates in post-holiday sales that have retailers looking to make room for the eventual spring shopping season. With Halloween sales expected to reach $9.1 billion this year up 8.3% year over year per the National Retail Federation, we suspect there will be plenty of costumes, candy, and other items for this "holiday" that are purchased online.
Now let's review the 2017 holiday shopping forecasts that have been published thus far:
Deloitte: Deloitte expects retail holiday sales to rise as much as 4.5% between November and January of this year, vs. last year's rise of 3.6%, to top $1 trillion. In line with our thinking, Deloitte sees e-commerce sales accelerating this year, growing 18%-21% this year compared to 14.3% last year, to account for 11% of 2017 retail holiday sales.
eMarketer is forecasting total 2017 holiday season spending of $923.15 billion, representing 18.4% of U.S. retail sales for the year, 0.1% decline from last year. Parsing the data from a different angle, that amounts to nearly 20% of all 2017 retail sales. Digging into this forecast, we find eMarketer is calling for US retail e-commerce sales to jump 16.6% during the 2017 holiday season, driven by increases in mobile commerce and the intensifying online battle between large retailers and digital marketplaces. By comparison, the firm sees total retail sales growing at a moderate 3.1%, as retailers continue to experience heavy discounting during the core holiday shopping months of November and December.
As we saw above, a differing perspective can lead to greater insight. In this case, eMarketer's data puts e-commerce's share of this year's holiday spending at 11.5% with the two months of November and December accounting for nearly 24% of full-year e-commerce sales.
AlixPartners: Global business-advisory firm, AlixPartners, forecasts 2017 US retail sales during the November-through-January period to grow 3.5%-4.4% vs. 2016 holiday-season sales. Interestingly enough, the firm arrives at its forecast using some mathematical interpolation – over the past seven years, year-to-date sales through the back-to-school season have accounted for 66.1% to 66.4% of retail sales annually, with holiday sales accounting for 16.9% to 17.0%.
NetElixir: Based on nine years of aggregate data from mid-sized and large online retailers, NetElixir forecasts this year's holiday e-commerce sales will see a 10% year-over-year growth rate. NetElixir also predicts Amazon's share of holiday e-commerce sales will reach 34%, up from the 30% last year.
These are just some of the holiday shopping forecasts that we expect to get, including the barometer that most tend to focus on – the 2017 holiday shopping forecast from the National Retail Federation. What all of the above forecasts have in common is the acceleration of e-commerce sales and the pronounced impact that will have in the November-December/January period.
In looking at revenue forecasts for UPS's December quarter, current consensus expectations call for a 5.8% year over year increase vs. $16.9 billion in the September quarter. We suspect this forecast could be conservative, and the same holds true for EPS expectations, which likely means there is upside to be had vs. the $6.01 per share in consensus expectations for 2017. Over the 2014-2016 period, UPS shares peaked during the holiday shopping season between 19.3-23.5x earnings, or an average P/E ratio of 21.3x. Applying that average multiple to potential 2017 EPS between $6.01-$6.15 derives a price target between $127-$131.
As consumers continue to shift disposable spending dollars to online and mobile platforms, we continue to see Amazon, as well as Alphabet (GOOGL), benefiting as consumers embrace this shift and Cash-Strapped Consumers look to stretch the spending dollars they do have this upcoming holiday shopping season.
We are boosting our price target on United Parcel Service (UPS) shares to $130 from $122, an additional 7.6% upside from current levels.
Our price target on Amazon (AMZN) shares remains $1,150.
Our price target on Alphabet (GOOGL) shares remains $1,050