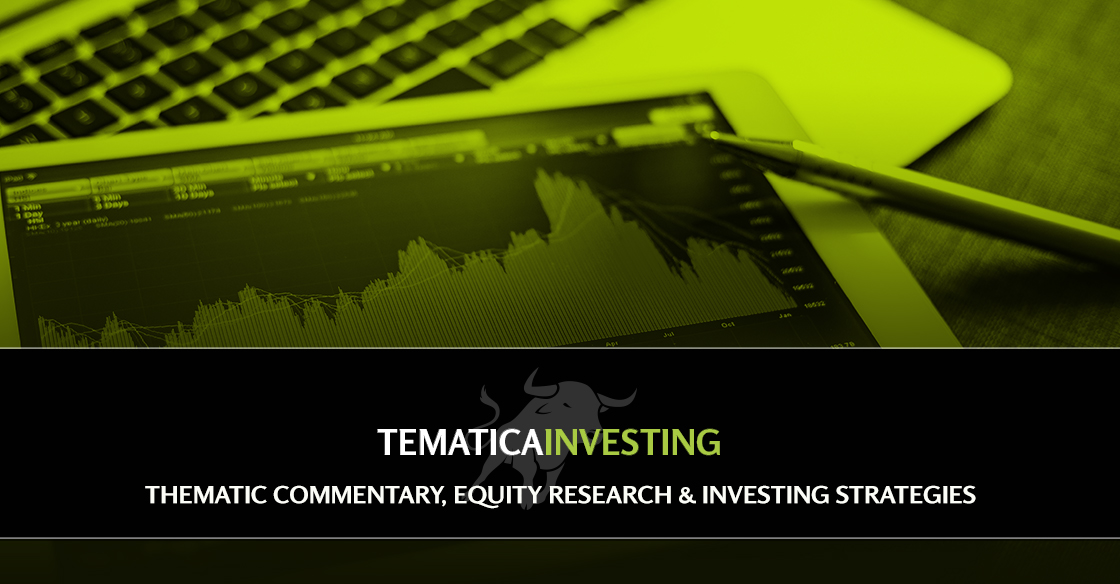 Tags:

Alphabet (GOOGL), Amazon (AMZN), Amplify Snacks (BETR), Apple (AAPL), Applied Materials (AMAT), AT&T (T), Dycom Industries (DY), Facebook (FB), MGM International (MGM), Nike (NKE), USA Technologies (USAT)
note: no comments
In this Week's Issue:
Thematic Data Points Revealed in Earnings Thus Far

What We Expect from Thematic Poster Child Company Amazon

Shifting USAT and BETR shares to Hold from Buy

Some Quick Tematica Select List Hits on AXTI, MGM, OLED, AMAT and DY
With all many plates spinning on sticks this week, thus far we've seen a mixed reaction from investors on the most recent developments coming out of Washington, D.C. amid the Affordable Care Act debate and the onslaught of earnings report. As those many details are digested, the market is also weighing what the Fed will say this week when it comes to the tone of the economy as it concludes its latest monetary policy meeting.
As we shared in this week's Monday Morning Kickoff, we see a low to no probability of the Fed boosting rates near-term, especially given the pending September unwinding of its balance sheet – something we've never experienced before. Given that Fed Chairwoman probably doesn't want to be the one to send the domestic economy into a tailspin, we strongly suspect she and the rest of the Fed heads will stand pat as they offer clues for what is to be had in the coming weeks.
Thematic Data Points Revealed in Earnings Thus Far
As we parse through the onslaught of quarterly earnings reports coming at us this week, we continue to find confirming data points for our investing themes. We saw those in spades yesterday as we reviewed Alphabet's (GOOGL) 2Q 2017 earnings report. If you missed that commentary, you can find it here, but the skinny is Alphabet continues to ride the tailwinds of the Connected Society investment theme and the shares are a core holding on the Tematica Select List.
We expect the same to be true when Facebook (FB) reports its quarterly results after tonight's market close. Over the last several quarters, Facebook has been incrementally expanding its monetization efforts across all its various platforms and we see more benefits ahead. Just last week the company announced it would be expanding its advertising platform to the company's Messenger app for smartphones. We expect more details on this, as well as its pending foray into subscription services with newspapers, magazines, and other publishers during the company's 2Q 2017 earnings conference call. Also on that conference call and earnings release, we'll be scrutinizing subscriber metrics as well as average revenue per user figures. One of the keys to Facebook's continued revenue and profit growth will be monetizing non-US users in the coming quarters. Consensus expectations for 2Q 2017 sit at EPS of $1.12 on revenue of $9.2 billion.
Even though FB shares have moved past our formal $160 price target, we'll be putting it under the microscope to determine potential upside to be had based on 2Q 2017 results and the company's outlook beyond the first half of 2017.
Those revisions may not lead to a table pounding "buy" conclusion, but Facebook's position in our Connected Society investing theme, along with its growing monetization efforts, keep FB shares as a must own for the foreseeable future.
What We Expect from Thematic Poster Child Company Amazon
Also later this week, we'll be getting earnings from the poster child company when it comes to thematic investing – Amazon (AMZN). If you missed our latest Thematic Signals posting that explains this, you can find it here.
Where do we begin with Amazon this week? First, there was the move by Sears (SHLD) to partner with Amazon with regard to selling Kenmore appliances online (including the smart-home ones that include Amazon Alexa). Then there was Amazon debuting its Amazon Pay Places feature, which allows users to utilize their Amazon account like a mobile wallet for a real world version of one-click shopping. Or perhaps you saw the launching of Spark, which allows Prime members to shop a feed of social media-inspired product suggestions. The key takeaway is Amazon continues to flex its muscles, many of which have solid thematic drivers behind them, and it is doing so at a blistering pace. As Tematica Chief Macro Strategy Lenore Hawkins chimed in on a recent episode of Cocktail Investing, "how much coffee does Jeff Bezos drink?"
While we are on the subject of Amazon, late last week, the Federal Trade Commission announced it is investigating Amazon's discounting policies following a Consumer Watchdog complaint. Candidly, as Amazon continues to expand its footprint, we expect more of such complaints and suspect that will serve only as a distraction. Moreover, given its balance sheet, should any fines be awarded it has ample funds to comply. More sizzle than steak, as it were.
We do NOT expect Amazon to say much with regard to this FTC non-event event when it reports its earnings tomorrow night. Consensus expectations have the company delivering EPS of $1.42 on revenue of $37.18 billion.
We would call out one key concerns ahead of that quarterly report and usually tight-lipped conference call — it seems investors think Amazon can do no wrong and that mindset can lead to excessive whisper expectations. There we said it.
Our concern in the short term remains the potential for Wall Street to have underestimated Amazon's investment spending in the near term. As we saw above, it has a number of initiatives under way, and given the accelerating shift to digital commerce and potential partnership to be had on top of those with Nike (NKE) and Sears, Amazon may step up its investment spending ahead of the year-end holiday shopping season, thus cutting into its EPS projections.
If we are right, we could see the shares have a cool post-earnings reception. From our perspective, we see that spending as a long-term investment to grow its services and geographic footprint. Any meaningful pullback in the stock would be an opportunity for investors to increase their foothold in the stock in our view.
We will remain patient investors with Amazon (AMZN), especially as we enter the holiday spending filled second-half of 2017.
Our price target remains $1,150.
Shifting USAT and BETR shares to Hold from Buy
Over the last few weeks, shares of Food with Integrity company Amplify Snacks (BETR) and Cashless Consumption play USA Technologies (USAT) have been melting higher.  Amplify Snacks, on the back of merger-and-acquisition interest focused on the "food that is good for you" space, and USAT, following its recent stock offering and bullish transaction volume commentary from Visa (V), JP Morgan (JPM) and others so far this earning season.
Those moves either have put BETR and USAT shares over and above or very close to our price targets.
We will be mindful of these targets ahead of respective earnings reports, but for now, we are downshifting them to Hold from Buy on the Tematica Select List.
And as a reminder, our Hold rating, it is literally just that, a recommendation for those that own the shares to hold them for the time being. For subscribers who missed these recommendations, we'd be more inclined to revisit this BETR shares below $9.50 given our $11 price target. With USAT shares and our $6 target, we are more inclined to revisit USAT shares at lower levels, and in this case, that means closer to $5.
As we move through this earnings season over the next two weeks, we continue to think we will see opportunities emerge that allow us to capture thematically well-positioned companies at better prices.
Some Quick Tematica Select List Hits
AXT Inc. (AXTI)

Following an upbeat report for key customer Skyworks (SWKS) last week, we expect solid results this week from Disruptive Technology company AXT Inc. (AXTI). On its earnings call, Skyworks shared it is still in the early innings of a data explosion that is expected to grow sevenfold over the 2016-2021 period, which should benefit wireless semiconductor demand. Connecting the dots, this bodes extremely well for AXT's substrate business.
Consensus expectations for AXTI sit at EPS of $0.05 on revenue of $22.55 million
Our price target remains $9 for AXT shares.
MGM Resorts International (MGM)
We're happy to share that Guilty Pleasure company MGM Resorts International (MGM) will be added to the S&P 500 when that index rebalances later today. That should spur incremental buying among mutual funds as well as exchange traded funds that are based on that index.
Getting back to earnings and expectations, the consensus for MGM is EPS of 0.30 on revenue of $2.67 billion. Data of late for gaming in both Las Vegas and Macau have been quite favorable and we view the company's recent initiation of a quarterly dividend as underscoring management's confidence in the business over the coming quarters.
Given favorable prospects over the medium term, we would look to use any pronounced weakness in MGM shares following the company's earnings report to scale further into the shares.
Our price target remains $37.
Universal Display (OLED)
Many investors are focused on Apple's (AAPL) adoption of organic light emitting diode (OLED) displays for its next iteration of the iPhone, but as subscribers know there is far greater adoption across other smartphone vendors as well as those for TVs, wearables and other applications. That adoption, which is resulting in companies that had previously invested in liquid crystal display technologies shifting their investments to organic light emitting diodes ones.
We've seen the ramping demand for OLED equipment at Applied Materials (AMAT), and this week we saw another layer added to the OLED demand/capacity profile when LG Display shared its plan to invest $13.5 billion to boost output of OLED screens over the next three years. Now let's add that context we always talk about — the investment is roughly 25 percent more than LG Display's annual capital spending, which likely means it intends to be an aggressive force in the OLED display market. Given that LG is one of Universal's key customers, with the other being the OLED industry leader Samsung, we see LG's upsized commitment to OLEDs as a strong tailwind for Universal's chemical and high margin IP licensing business.
Our formal price target of $125 for Universal Display (OLED) shares is under review with a bias to moving it upwards.
The company will report its 2Q 2017 results on August 3 and we will adjust that target after that announcement.
Applied Materials (AMAT)            
The next catalysts for Applied Materials (AMAT) will be earnings from competitor Lam Research (LRCX) later today and Intel (INTC) tomorrow. Inside Lam's results, we'll be watching new orders, as well as backlog levels on both a product and geographic basis. In particular, we'll look for confirmation of data coming out of the recent SemiCon West industry event that pointed to solid memory demand, which bodes well for additional semi-cap equipment demand.
With Intel's results, we'll be paying close attention to its capital spending plans for the back half of 2017. Also too, as we mentioned with Universal Display above, LG's plan to spend $13.5 billion over the next 3 years to ramp its organic light emitting diode capacity bodes rather for Applied's order book and back log levels over the coming quarters.
Our price target on AMAT shares remains $55, which offers ample upside from current levels.
Dycom Industries (DY)
This week and next will see several of Dycom's key customers report their earnings, including AT&T (T), Verizon (VZ) and Comcast (CMCSA). Inside those reports, we'll be looking at not only overall capital spending levels, but in particular, those targeted to mobile and wireline network capacity additions.
Given the continued adoption of streaming services, audio as well as video, we see commentary that networks capacity levels are running at exorbitantly high capacity utilization levels as being very good for Dycom. While we don't expect any specifics on 5G timetables, we do expect to hear more about testing and beta launches. As Dycom's key customers issue their quarterly reports, we'll have much more to say on what it means for DY shares.
We continue to rate Dycom (DY) shares a Buy with a $115 price target.