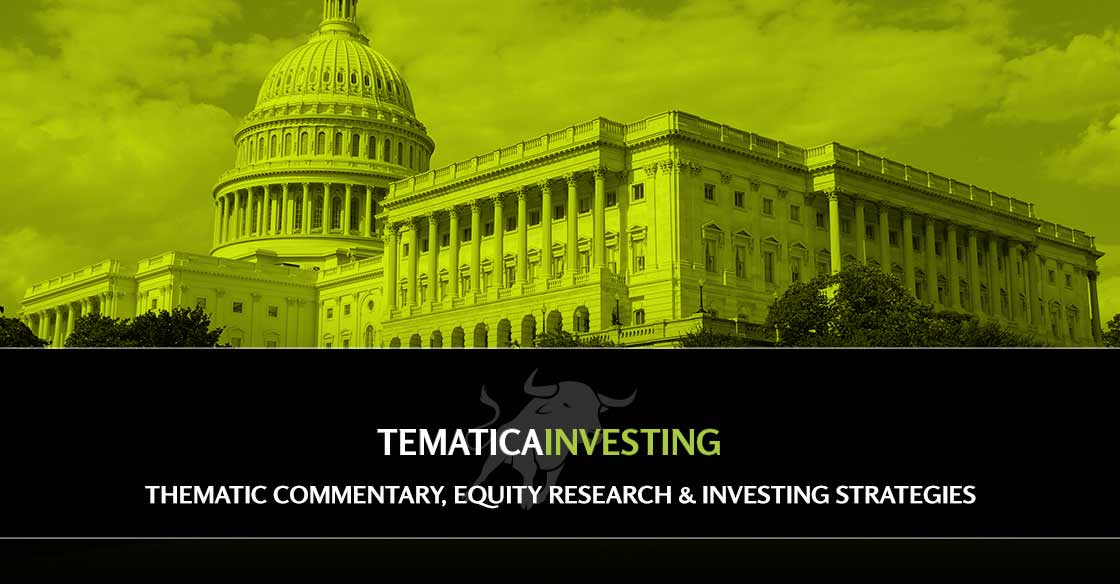 Tags:

Amazon (AMZN), Apple (AAPL), AT&T (T), Axon Enterprises, China, Chipotle Mexican Grill, Costco Wholesale (COST), Disney (DIS), Dycom Industries (DY), Earnings, Netflix (NFLX), Tariffs, Trump, USA Technologies (USAT)
note: no comments
Key points inside this issue:
The Fed, Trump, tariffs and the data bring uncertainty back to the market
What it means for investors
We will continue to hold Disney (DIS), Apple (AAPL), Amazon (AMZN) and AT&T (T) shares.
What to watch this week
The Fed, Trump, tariffs and the data bring uncertainty back to the market
Between the number of S&P 500 companies reporting last week to the Fed's FOMC meeting and the pieces of economic data coming at us, we knew it was going to be a busy and potentially volatile week. What few saw coming was the attempt by Fed Chairman Powell to give the market the 25 basis point rate cut it was expecting and regain the position of the market not knowing exactly what the Fed's next move might be. But then we received the July ISM Manufacturing Index and the July IHS PMI data for the four global economic horsemen (China, Japan, the eurozone and the US). In aggregate those data points signaled the continued slowdown in the global manufacturing economy.
Granted, the sequential pick up in the July ADP Employment Report fostered the view the domestic economy hasn't frozen over just yet, but Friday's July Employment Report reveled slower job creation month over month.
Normally, economic data like we've received in the back half of last week would be enough to ignite the market doves and stoke the view that another rate cut by the Fed was more likely before we exit 2019. And it was that view that led the major market indices higher on Thursday, that was until President Trump did something that arguably next to no one saw coming – announced another layer of tariffs on China that would go into effect on September 1. The implications of that move, which would likely lead to yet another trimming of forecasts for both the economy and earnings, pulled the market lower on Thursday afternoon.
And on Friday morning, China responded by saying while it does not want a trade war, its not afraid to fight one. Soon thereafter, President Trump is "open to delaying or halting the 10% tariff on September 1" if China were to take action between now and then. Remember, we shared our concern that trade talks could devolve into playground taunting and fighting. Well, we are there and sticking with the analogy, it's likely going to keep the stock market on the uncertainty teeter totter for the next few weeks.
If some were hoping for a more normal August for stocks following this week's Fed meeting, we're sorry to say that's not likely to happen. In the past we've shared several analogies about investing – it's not crock pot cooking, you can't fix it and forget it or investing is not a like a photo, i.e. snapshot in time, but much like a good film it's an evolving story. As this latest chapter begins to unfold, it will be mean assessing and re-assessing expectations as new developments are had and their ripple effects determined.
What it means for investors
Odds are this will uncertainty will result in the usual back and forth for the market in the coming weeks, which will also see the usual end of summer low trading volumes. While a good chunk of Wall Street is at the beach, I'll remain vigilant and continue to leverage our thematic lens.
More than likely, we will see the herd once again focus on domestically focused as well as inelastic business models as it looks for ports of safety. We've have a number of these among the Thematic Leaders and the Tematica Select List – Chipotle Mexican Grill (CMG), Dycom Industries (DY), Costco Wholesale (COST), Axon Enterprises (AAXN), AT&T (T), and USA Technologies (USAT). Unlike the shoot from the hip go to choice of the herd that tends to zero in on electric utilities that group of six have the added benefit of thematic tailwinds propelling their respective businesses.
As August drips by, I'll continue to look for thematically well positioned companies that offer favorable risk to reward tradeoffs in terms of share prices as I look to position us for what lies ahead. In the meantime, I would recommend subscribers catch the August 5, 2019 issue of Bloomberg Businessweek as the cover story focuses the coming streaming video war that I've talked about both here and on the Thematic Signals podcast. The author likens it to "The Hunger Games", and in many respects I can see why that is a good comparison.
While we were recently stopped out of Netflix (NFLX), I'll remind you that among the Thematic Leaders and Tematica Select List we have several companies — Disney (DIS), Apple (AAPL), Amazon (AMZN), and AT&T in particular – that are focusing on this market. Each brings their own particular set of strengths ranging from content to addressable customer base, but all three have other businesses besides streaming video to drive profits and cash flow that can fund their respective streaming businesses.
We will continue to hold Disney (DIS), Apple (AAPL), Amazon (AMZN) and AT&T (T) shares.
What to watch this week
After all the happenings for last week that I described above, this week looks to be yet another frenetic one for corporate earnings with more than 1,100 reports to be had, but the pace of June quarter earnings begins to slow and we face a lighter economic data schedule as well. And to be clear, even though we will face a plethora of June quarter reports, let's remember that exiting this week roughly 78% of the S&P 500 has reported and next week another 13% of that group will be doing so. What this means is the vast majority of reports next will have far less of an impact on the market. This doesn't diminish them from an ownership of data and information perspective, but rather a smaller impact is likely on earnings revisions and trading ranges.
Corporate earnings to watch
In terms of which reports I'll be focusing on this week, it should come as little surprise that they are the ones touching our various investment themes. Here's my short list:
Monday, August 5: Tyson Foods (TSN), International Flavors & Fragrances (IFF), Insulet (PODD) and ShakeShak (SHAK).
Tuesday, August 6: Tenneco (TEN), ADT (ADT), AMN Healthcare (AMN), Comscore (SCOR), LendingClub (LC), Disney (DIS),
Wednesday, August 7: CVS Health (CVS:NYSE), CyberArk (CYBR), Physicians Realty Trust (DOC), Darling Ingredients (DAR), Skyworks (SWKS), Tivity Health (TVTY),
Thursday, August 8: Activision-Blizzard (ATVI:), Alarm.com (ARLM), Dropbox (DBX), Synaptics (SYNA:Nasdaq), Uber (UBER)
Friday, August 9: US Concrete (USCR)
Economic data to watch
Before we tackle the coming week's economic data, I'll mention GDP expectations from the Atlanta Fed and New York Fed started last week off between 2.0%-2.2% and as we exited the week those expectations sat at 1.6%-1.9%. As I touched on above, the employment data we received last week pointed to a still growing economy but the take on the manufacturing economy per the July ISM Manufacturing Index and the July US IHS Markit PMI data pointed to a slowing domestic manufacturing one.
We have only a handful of meaningful economic data coming at us this week in the form of the July inflation reports and ISM's July reading on the US service economy. Given our pension for looking at other data set in addition to the formal economic data, we here at Tematica will be on the lookout for the last Cass Freight Index and other truck tonnage figures as well as the weekly railcar loading data. Those have been signaling the slowdown we've seen in the government produced economic data, and as such we'll keep a close watch on them in order to stay one step ahead of the herd.
Should the coming economic data be continue to disappoint relative to expectations and signal the vector and velocity of the domestic economy is down and even slower than recent revisions suggest, odds are the market will increasingly expect another Fed rate cut sooner than later. Our concern, however, is the intended effect of this week's rate cut and another one should it come to pass on business investment could be muted by the continued trade uncertainty and weakening global economy. As we've seen with falling mortgage rates that didn't stimulate demand earlier this year, in the near-term businesses may stay on the sidelines given the trade and economic uncertainties despite more favorable interest rates.