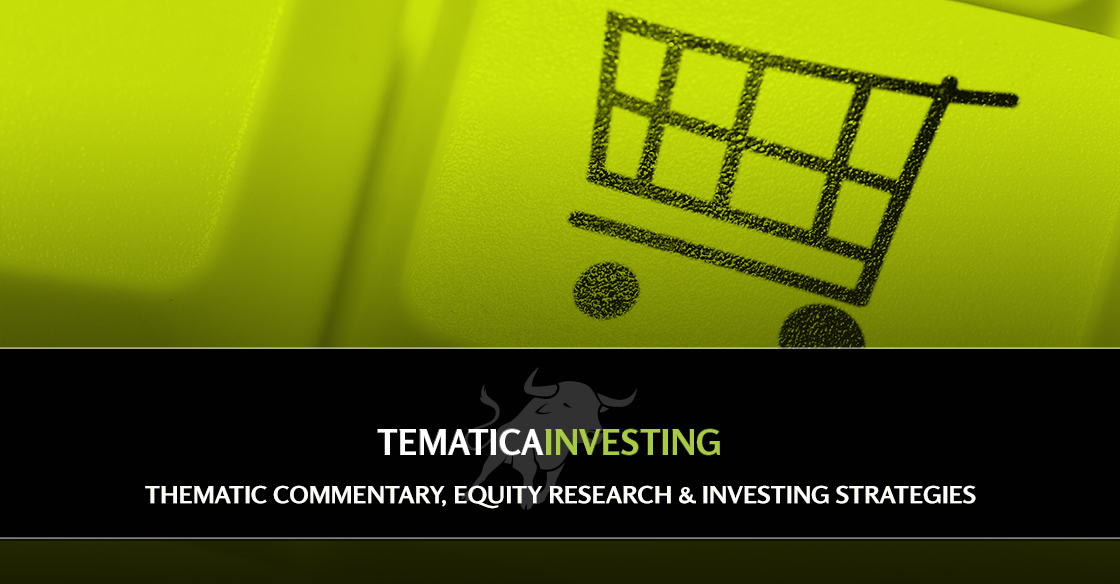 In this Week's Issue:
Disney Delivers an EPS Beat, But Reaffirms 2017 is a "Transitional" Year
Amplify Snacks Serves Up a Healthy Quarter
USA Technologies: Riding the Cashless Consumption Wave
March JOLTS Report Confirms Our Stance on AMN Healthcare (AMN) Shares
As we noted in the Monday Morning Kickoff a few days ago, this week was going to be yet another barn burner in terms of activity, with yet another 1,000 companies reporting earnings. We've gotten some incremental economic data points, but the main ones for the week – the April reports for PPI, CPI and Retail Sales – all come later in the week.
As we sifted through hundreds of earnings reports over the last two days, we also saw further downward revisions by both the Atlanta Fed and the New York Fed for their respective 2Q 2017 GDP forecasts. Hardly surprising, given the readings from ISM and Markit Economics as well as the April data supplied by regional Fed banks, but once again here we are. What made headlines yesterday was the comments from Commerce Secretary Wilbur Ross that the US economy "won't achieve the Trump administration's 3 percent growth goal this year and not until all of its tax, regulatory, trade and energy policies are fully in place."
Given Ross's comments that the growth target "ultimately could be achieved in the year after all of President Donald Trump's business-friendly policies are implemented" but that "delays were possible if the push for tax cuts was slowed down in Congress," odds are there is some DC-style politicking going on. Even so, the reality is without a jolt to the system odds are the US economy will remain in low gear.
As we've shared previously, the economy is facing several headwinds associated with our Aging of the Population and Cash-strapped Consumer investing themes that are likely to keep it's growth range bound. As such, we continue to see current GDP expectations as somewhat aggressive for the coming quarters, and the same holds true for S&P 500 earnings expectations. That said, we are not buyers of the stock market, but rather those companies that are well suited to capitalize on the tailwinds associated with our investing themes. You'll see confirmation of that in our comments below on Disney (DIS), Amplify Snacks (BETR), USA Technologies (USAT) and AMN Healthcare (AMN), as well as Amazon (AMZN) and Alphabet (GOOGL) in the next paragraph.
As a quick reminder, later this week we'll get the April Retail Sales Report, which could see favorable comparisons year over year given the late Easter holiday. As usual, we'll be digging in below the headlines to get a better sense of consumer spending for not only what they are buying, but where. We once again suspect the report will confirm the accelerating shift toward digital commerce that is power our Amazon (AMZN) and Alphabet (GOOGL) shares. We continue to rate both Buy with $1,100 and $1,050 price targets, respectively.
Now let's dig into the earnings reports for several positions on the Tematica Select List…
Disney delivers an EPS beat, but reaffirms 2017 is a "transitional" year.
Last night Disney (DIS) reported March 2017 results, which included better than expected EPS, revenue that came in a tad shy of expectations and sober forward guidance, which reminded investors that 2017 is a transitional year for the company as it targets better growth in 2018. EPS for the quarter came in at $1.50, $0.09 ahead of consensus expectations as revenue rose 2.8 percent compared to the year-ago quarter hitting $13.34 billion, shy of the $13.44 billion that was expected.
Heading into 2017, we noted the first half of the year would likely be a more subdued one and so far that is proving to be exactly the case. As we enter the company's fiscal second half of 2017, Disney has a far stronger movie lineup, which should continue into 2018 and beyond. Higher costs at ESPN and investments in new park attractions, however, are likely to be gating factors over the next few quarters. We see Disney as investing today to leverage its vast array of characters and tentpole films that will drive incremental business at its parks, for its merchandise and other businesses in the coming quarters.
Our price target remains $125, but we'll continue to revisit that target based on box office strength in the coming months. Odds are the quarter's results will take some of the wind out of Disney's sails, but with the company set to continue to leverage its Content is King strategies, we're inclined to be patient.
Breaking down the company's segment results from the March quarter we find:
Cable Networks revenues for the quarter increased 3 percent to $4.1 billion and operating income decreased 3 percent to $1.8 billion. The decrease in operating income was due to a decrease at ESPN due to higher programming costs because of the timing between College Football Playoff (CFP) bowl games and NBA programming, which was partially offset by increases at the Disney Channels and Freeform. Programming costs are expected to be 8 percent higher this year due in part to the new NBA contract.
On a positive note, Disney continues to make progress in transitioning ESPN by expanding its reach into streaming services like those from Sling TV, Sony's (SNE) PlayStation Vue, YouTube TV (GOOGL), Hulu and DirecTV Now from AT&T (T). While Disney is seeing favorable momentum, it's still not enough to totally offset the slide it is seeing in cable subscriptions. As we discussed recent, Disney is focusing on live mobile content, which should help drive incremental viewing compared to the 23 million unique users who collectively spent 5.2 billion minutes engaging with ESPN on its mobile platforms in the March quarter.
Parks and Resorts revenues for the quarter increased 9 percent to $4.3 billion and segment operating income increased 20 percent to $750 million. We'd note that segment benefited from price increases taken in prior months, but this was offset by the later than usual Easter holiday this year.
As expected construction is underway on Star Wars attractions at both Disney World and Disney Land, a great example of how the company's film content will drive park attendance and merchandise sales. Management commented that in a few days the 10 millionth guest will pass through Shanghai Disney and the park is tracking to break even this year as Disney downshifts investing in the park compared to year-ago levels.
Studio Entertainment revenues for the quarter decreased 1 percent to $2.0 billion and segment operating income increased 21 percent to $656 million. Despite having two films that grossed more than $1 billion each during the quarter – Rouge One from the Star Wars franchise and remake of Beauty and the Beast – the quarter faced stiff year over year comparisons given the success of last year's Star Wars: The Force Awakens and Zootopia and in essence making them a victim of their own success. On the earnings call, as expected management talked up Friday's Guardians of the Galaxy 2 release, which took the top spot at the box office and raked in more than two times the first installment of the Guardians franchise. Disney reminded investors it has four Marvel films coming over the next 14 months, as well as the next installment of the Pirates of the Caribbean franchise and Cars 2 dropping in the next few months before The Last Jedi lands in December. Longer-term, there will be more Marvel, Pixar and Lucasfilm tentpole properties, but on the call Disney shared that Frozen 2 will be released in 2019.
Broadcasting revenues for the quarter increased 3 percent to $1.9 billion and operating income increased 14% to $344 million led by greater sales of Marvel TV programming content to Netflix (NFLX) and others.
Consumer Products & Interactive Media revenues for the quarter decreased 11% to $1.1 billion and segment operating income increased 3 percent to $367 million.
On the housekeeping front, during the March quarter, Disney repurchased about 18.6 million shares for about $2 billion. Over the last two quarters (better known as the company's fiscal year-to-date), its repurchased 41.5 million shares for approximately $4.4 billion. Citing lower than expected capital spending needs and improved operating cash flow, Disney once again increased its share repurchase target by $2 billion to $9 billion to $10 billion for the year. As the company chews through this program, it should help improve year over year EPS comparisons, but we'll still be monitoring both operating profit as well as net income growth when contemplating how to best value the shares.
The bottom line on DIS shares:
Given the appreciation in the shares price over the last five months, we would not add to positions in the Walt Disney Co (DIS) at current levels and thus are changing our rating to a Hold at this point in time.
Rather, we would look to commit fresh capital to DIS shares between $100-$105 if the shares pull back in the coming days, while over the longer term we still maintain a price target of $125 for the shares.
Amplify Snacks Serves Up a Healthy Quarter
After last night's market close, Foods with Integrity theme company Amplify Snacks (BETR) reported 1Q 2017 results that included EPS of $0.06 vs. the expected $0.06 on revenue of $87.2 million vs. the consensus expectation of $87.6 million and up more than 60% compared to $54.3 million in the year-ago quarter. The one wrinkle in the quarter was the company's gross margin line that contracted year over year, which we attribute to short-term initiatives to grow the company's business further. For example, during the quarter the company launched its SkinnyPop Ready-to-Eat popcorn in the U.K., carried a full quarter of both the Oatmega and Tyreell acquisitions, and introduced new SkinnyPop product extensions (popcorn cakes, popcorn mini-cakes and microwave popcorn).
As these initiatives bear fruit over the coming months and longer term as Amplify brings Tyrrell chip products to the US in the back half of 2017 and 2018, the good news is the company continues to expand its distribution. Exiting the quarter, its ACV (a widely recognized distribution measure) hit 81 points up from 73 in the same period last year. The year over year improvement reflects new distribution across grocery, mass and convenience channels as those companies embrace our Foods with Integrity investing theme and expand their healthy snacking alternatives.
Given stronger prospects for the domestic business, Amplify amended its tax guidance which has led to a modestly higher tax rate than previously expected. This, in turn, has led the company to ever so so slightly trim its 2017 EPS outlook to $0.42-0.50 versus our prior expectation of $0.43-0.51., which in our view is a very minor change relative to the growth prospects to be had over the coming quarters.
Exiting the company's quarterly earnings report, we continue to rate BETR shares a Buy with a $10.50 price target.
USA Technologies: Riding the Cashless Consumption Wave
Yesterday, USA Technologies (USAT) reported inline EPS expectations for the March quarter on better than expected revenue. USA Technologies 1Q 2017 revenue rose 30 percent year over year as the company continued to grow the number of connected to its ePort services, up 26 percent to 504,000 connections. As the adoption of mobile payments continues to spread, USA expanded its customer base by another 500 to reach 12,400 exiting the quarter, a 15 percent increase year over year. The company also issued a more upbeat outlook calling for 2017 revenue of $95-$100 million, a tad higher than the $95-$97 consensus expectation derived from the three Wall Street analysts following the shares.
On the earnings call, the company shared a number of confirming data points for investment thesis on USAT shares including:
USAT is working with Ingenico to provide customers with more hardware options and where Ingenico will be able to leverage USA's quick connect service as well as ePort Connect platform for use with its NFC/contactless unattended payment solutions. As way of background, Ingenico was the first international multi-billion-dollar mainstream payments hardware company that have entered the unattended retail market.
During the quarter, USA also launched an alliance with vending company Gimme Vending as also announced a stand-alone loyalty program that integrates with Apple's (AAPL) Apple Pay.
Digging into 1Q 2017 revenue, the company had 105 million total transactions representing 203 million in transaction volume increases of 28% and 34% respectively from last year.
License and transaction fees rose 19% year over year to $17.5 million compared to $14.7 million last year. We call this out because the segment includes recurring monthly service as well as transaction processing fees, which offer good visibility and predictability. As the percentage revenue derived from license and transaction continues to climb from 66% of total revenue in 1Q 2017, the company's visibility should similarly improve.
With the continued migration toward a cashless society, we continue to rate USAT shares a Buy with a $6.00 price target.
March JOLTS Report Confirms Our Stance on AMN Healthcare (AMN) Shares
Yesterday we received the March Job Openings and Labor Turnover Survey and once again it showed not only a strong year over year increase in healthcare job openings, but also the number of open healthcare jobs significantly outweighs the number of positions filled. Granted the data lags by a month, but given the April jobs data, we rather doubt there has been any meaningful change in the metrics over the last month. We continue to see the far greater number of healthcare job openings compared to the available talent pool as driving demand for AMN Healthcare's (AMN) healthcare workforce solutions.
With more than 20% upside to our $47 price target, we continue to rate AMN shares a Buy.