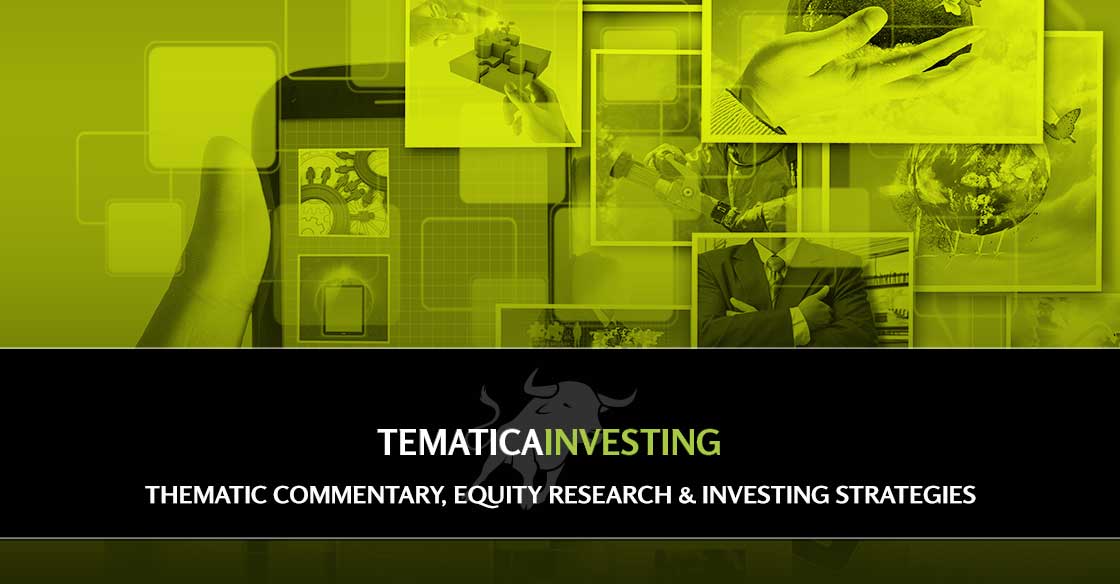 In this Week's Issue:
Boosting Amazon and Alphabet Price Targets on Blockbuster Earnings
Intel's Capital Spending Bodes Well For Applied Materials
Facebook Earnings Due After Today's Market Close
Universal Display and AMN Healthcare Earnings On Tap for Thursday
As we noted in our Monday Morning Kickoff out just a few days ago, this week is by far one of the busiest with more than 1,000 companies reporting, a slew of economic data and the Fed's latest FOMC meeting. The Fed meeting culminates today at 2 PM ET, and soon thereafter we'll learn if the Fed has once again boosted interest rates. As we have been pointing out here at Tematica in an almost broken drum-like fashion, the domestic economy cooled rather dramatically during 1Q 2017, with GDP clocking in around 0.7 percent vs. 2.1 percent in 4Q 2016.
While that is in the rear view mirror, the initial data for 2Q 2017 found in the April data from ISM Manufacturing, Markit Economics and several regional Fed indices all point to a continuation of that slow speed. That compares to the current consensus expectation that has GDP clocking in at 2.8 percent according to The Wall Street Journal's Economic Forecasting Survey. At least, for now, that view looks rather aggressive and with inflation data rolling over as year over year comparisons ease, it looks to us like the Fed is likely to stand pat on interest rates later today. Of course, there will be the usual slicing and dicing of the Fed policy statement to get a better sense if the Fed will look to boost rates at its next meeting in June or in the back half of this year. As a reminder, coming into 2017 the Fed shared that it was looking to boost rates three times. Following one hike already earlier this year, the growing question could very well be will they get around to all three?
Turning to the Tematica Select List, we've seen a number of strong moves over the last week as we've journeyed through 1Q 2017 earnings season. Examples include our Amazon (AMZN), Alphabet (GOOGL) and PowerShares Exchange-Traded Fund Trust (PNQI) shares, but we've still yet to hear from a number of Select List companies. Luckily (yes that was sarcasm), we've got several reporting later this week, including Facebook (FB) after today's close, followed by Universal Display (OLED) and AMN Healthcare (AMN) tomorrow night. In the coming paragraphs, we've set the table for what is expected from these companies and we also share our price target updates for Amazon and Alphabet, which even after their respective moves over the last week still keeps the shares in the Buy zone.
In case you were afraid the earnings fun would be over soon, that's certainly not the case as we have several others Select List companies, including The Walt Disney Co. (DIS) and International Flavors & Fragrances (IFF) reporting next week. Don't worry, we'll be here to guide you through it, using our thematic lens to lead the way.
Boosting Amazon and Alphabet Price Targets on Blockbuster Earnings
Last week, Amazon reported blowout earnings of $1.48 per share for the first quarter, well ahead of the $1.10 consensus expectation for the quarter. Revenue for the quarter rose 23 percent, year over year, to $35.71 billion, ahead of the $35.31 billion consensus number with double-digit improvement across all three businesses — North America, 23.5%; International, 15.6%; and Amazon Web Services (AWS), 42.7%. The revenue beat, alongside better-than-expected operating income of $1 billion vs. the $900 million consensus and Amazon's own guidance for the quarter of $250 million-$900 million, led to the positive earnings surprise.
Sifting through the segment results, AWS continues to be the key profit generator for the company as it delivered the vast majority of the company's overall operating profit, with operating losses at International offsetting profits in North America. As impressive as that was, we'd note that despite the segment's revenue growth, its operating margin only improved to 24.3 percent in 1Q 2017 vs. 23.5 percent in the year-ago quarter. Once again Amazon offered forward guidance that one could drive a truck through, but even though it was not specifically shared, we find there is a growing comfort following the quarter that Amazon can deliver profits even as it continues to expand its footprint.
From our perspective, Amazon is riding the pole position of not only our Connected Society investing theme, but increasingly our Content is King, Cashless Consumption, and Asset-Lite Business Model as well. Talk about the power of four thematic tailwinds… as we have said before, Amazon is a stock to own and we see no signs of that changing anytime soon.
Also last week, Asset-Lite Business Model company  Alphabet (GOOGL) delivered knockout earnings and revenue despite concerns for advertising weakness at YouTube. For the March quarter, Alphabet delivered an impressive EPS of $7.73, $0.35 ahead of consensus expectations as revenue for the quarter rose more than 22 percent year over year to 424.75 billion. Without question Alphabet's business – Search, Advertising and YouTube — are all benefitting by the shift to mobile from the desktop; launches thus far of the company's TV streaming service, YouTube TV have been favorable and demand for its cloud business, much like that at Amazon, remains strong.
As we have shared for some time, we see no abatement in the tailwinds that are driving the two business, which includes the migration to online shopping, cloud adoption, streaming content and migration of advertising dollars to digital platforms. If anything, we continue to see prospects for those winds to blow even harder as the two companies continue to position themselves better than well for our increasingly connected society.
Those winds, along with solid execution and a focus on profits at both companies, are behind our revised price targets for both companies:
Our new price target on Amazon (AMZN) shares is $1,100, up from the prior $975, which offers just over 17 percent upside and keeps our Buy rating intact.
Our new price target for Alphabet (GOOGL) shares is $1,050, up from $975, and that equates to roughly 12 percent upside, which also keeps our Buy rating intact.
Intel's Capital Spending Bodes Well For Applied Materials
Also last week, Intel (INTC) reported its quarterly earnings and reiterated its outlook for capital spending of $12 billion this year, which would be up from $9.6 billion in 2016. While not new information, the confirmation serves as a reminder of the tailwind driving the business at Applied Materials (AMAT). We expect similar data points as earnings season progresses in light of demands not only for memory and other chips but also organic light-emitting diode capacity. with regard to the latter, we'll look for similar comments on OLED industry display capacity constraints and expansion when Universal Display (OLED) reports earnings after tomorrow's market close (more on that below).
Our price target on AMAT shares remains $47.
Facebook Earnings Due After Today's Market Close
On the heels of Alphabet's stronger- than-expected quarterly results, expectations are running for Facebook (FB), a Connected Society company that like Alphabet is benefitting from the accelerating shift to digital advertising across its various properties. Even though Facebook has a track record of beating Wall Street expectations when it reports its quarterly results, from time to time whisper expectations that are above published forecasts can get the better of a company. Given the strong quarterly results coming out of Alphabet, odds are Wall Street is expecting Facebook to deliver at least several pennies better than the consensus forecast for 1Q 2017 that calls for EPS of $1.12 on revenue of $7.83 billion. We acknowledge the strong price move year to date as well as Alphabet's quarterly results likely mean anything other than a blowout earnings report is likely to result in the shares pulling back.
In our view, any post-earnings pullback is a likely opportunity for those who have missed out previously.
We've been reviewing our $150 price target, which is modestly below the $161 consensus target on the shares, and expect to update it following Facebook's earnings report out after today's market close. 
Universal Display and AMN Healthcare Earnings On Tap for Thursday
The earnings fun continues tomorrow when we have both Universal Display (OLED) and AMN Healthcare (AMN) reporting results after the market close. First, with AMN, expectations are far the healthcare workforce solutions company to deliver EPS of $0.60 on revenue of $493 million. Recent JOLTs reports have confirmed the discrepancy between healthcare workers job openings and the viable candidate pool, which bode rather well for AMN's workforce placement business. Longer-term, the Aging of the Population and capacity constrained nursing schools are a powerful combination that provides a longer-term tailwind for AMN's business.
Our price target on AMN heading into the earnings report remains $47.
Turning to Universal Display, this Disruptive Technology investment theme company is expected to deliver EPS between -$0.05 per share and $0.02 on revenue between $31.8-$36 million, vs. $29.7 million achieved in the year-ago quarter. We'd remind subscribers the key to the Universal Display's investment narrative is the expanding number of applications for organic light emitting diode displays, including prospects for Apple's (AAP) next iteration of the iPhone.
On last night's earnings call for Apple, the company's iPhone volumes missed expectations and even CEO Tim Cook called out the culprit — "rumors around future products" — that is likely pushing out the current upgrade cycle. In our view, what's bad for Apple today is very good news for Universal Display.
On the Universal Display earnings call, we expect to get an update on industry capacity expansion plans that bode well for our Applied Materials shares, as well as one for recent expansions being switched on. Without question, there will be much chatter over new applications, the next iPhone, and rising manufacturing levels, all of which points to rising demand for Universal's chemicals and IP licensing business.
We continue to rate OLED shares a Buy and heading into the earnings call our price target remains $100.