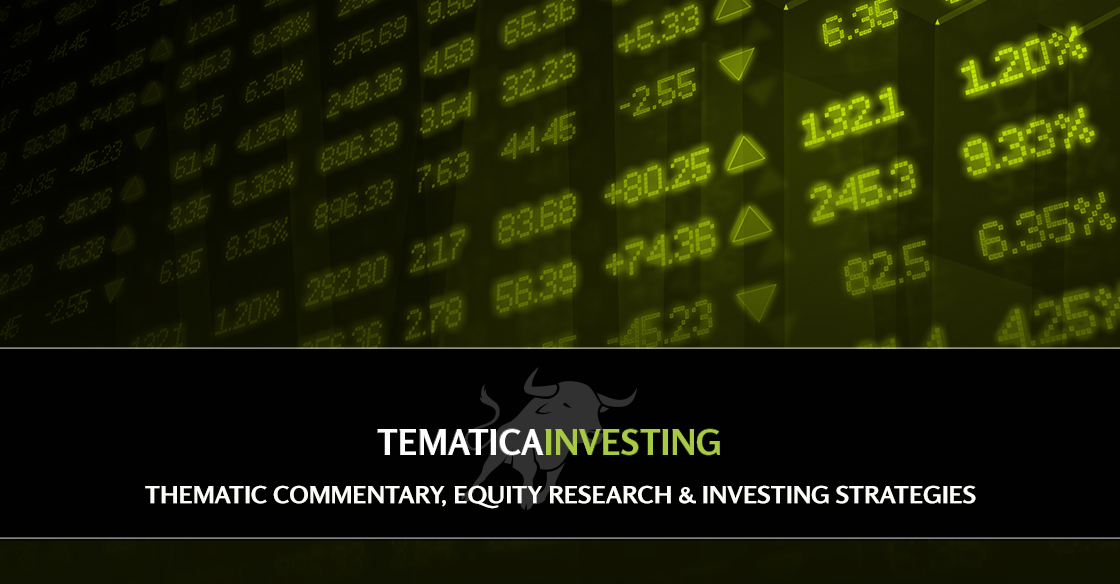 Throwing in the Cards on Dycom (DY)
Before we get things started this week, early this morning Connected Society company Dycom (DY) reported an EPS beat for the quarter but issued a weaker than expected outlook for the current quarter. Of late, we've noticed stock price fatigue when a company beats expectations and raises its outlook, and that likely means Dycom's report will be met with investors shedding the shares. In recent years, we've seen similar reports from companies met with sharp moves lower, and given the current environment, we see the odds of that happening with DY shares rather likely.
We expect the management team to discuss the rationale and drivers behind its recast guidance on the earnings call this morning. As investors, we'll want to cap the potential pullback in the shares on the Tematica Select List and that has us exiting the position. As Wall Street analysts parse the data and lower their EPS expectations we see target price cuts being set lower as well.
We are issuing a Sell rating on Dycom (DY) shares.
As we do this, we will shift DY shares to the Tematica Contender List because it will only be a matter of time before mobile operators pony up to expand existing network capacity and build out their 5G as well as gigabit fiber networks.
No Shortage of Confirming Thematic Data Points this Week
While last week ended on a high note with all the major stock indices finished higher, this week we've seen a return of volatility to the market thanks to North Korea at the same time Texas grapples with one of the worst hurricanes in recent memory. The people of Houston are certainly in our thoughts this week and in the coming ones as we assess the impact to be had on the both the Texas economy and that of the overall country.
Exacerbating the markets move has been the usual seasonally low trading volume we tend to find at the tail end of the summer. As we called out in this week's Monday Morning Kickoff, there are a number of reasons to think September, which is usually one of the most volatile months for stocks, is likely to be so once again.
As we prepare that amid the usual end of the month, start of the new month data flow, we'll continue to take our cues and investment moves from our thematic lens. Even amidst the political tension of the last few weeks, once again there has been no shortage of confirming data points for our 17 investment themes. Earlier this week we shared comments our initial findings on the Amazon (AMZN)-Whole Foods Market (WMF) tie up, but also what the Mayweather vs. McGregor bout meant for Las Vegas and our MGM Resort (MGM) shares as well as how we found positive confirmation for our Applied Materials (AMAT) shares in a filing made by Samsung.
We also shared out take on a recent upgrade to Starbucks (SBUX) shares made by Wedbush following prospects for stronger than expected U.S. same-store-sales. As temperatures start to cool, and holiday shopping season thoughts begin to form we recognize that Starbucks will once again have its semi-addictive seasonal beverage — the Pumpkin Spice Latte — and when matched with its expanded food offering we see the recent trend of better than expected same-store sales continuing.
We've also uncovered more signs that brick & mortar retail remains in a worrisome place. First, Simon Property Group (SPG), the nation's largest mall operator, is asking an Indiana court to issue an injunction to put the brakes on Starbucks phasing out of its 379 Teavana locations over the coming twelve months. No doubt Simon Property Group is feeling the headwind associated with the shift toward digital commerce in a big way, but we have to say this move reeks of desperation. We certainly understand the difficult position Simon Property Group is with its business at risk as more retailers embrace digital commerce solutions on their own or pair with Amazon to leverage its logistics capabilities.
The thing is, while Simon Property Group may try to fight one set of retail closures, in reality, it is a game of "whack-a-mole" as others are popping up to take their place. Over the weekend Affordable Luxury candidate Perfumania Holdings (PERF), which sells discounted perfumes from high-end brands, such as Dolce & Gabana and Burberry, filed for Chapter 11 bankruptcy and intends to close 64 of its 226 stores. We blame the adoption of our digital commerce aspect of our Connected Society theme not only at Amazon, but also Ulta Beauty (ULTA) and Sephora. Sephora, in particular, has focused on digital commerce and has embraced augmented reality, a component of our Disruptive Technology theme, to improve the customer experience.
Sephora is not alone in making cosmetics shopping even easier. Shopping platform FaceCake has partnered with brands like NARS Cosmetics to let online shoppers try on everything from makeup to handbags. Another example is IKEA as its new Catalog App uses augmented reality to allow customers to virtually place and view 200 different IKEA products in their homes. All you need is a smartphone (unfortunately, no Swedish meatballs are included in the online app). As more retailers embrace augmented reality in their apps, we question the need for consumers to visit physical store locations.
Connecting the dots, however, we find the growing usage of augmented reality will speed the shift toward digital commerce, and that bodes very well for our shares of United Parcel Service (UPS) as we head into the seasonally strongest time of the year for the company.
Our price target on United Parcel Service (UPS) shares remains $122; given the 10% move in the position, subscribers should continue to hold the share.
Those that missed our initial recommendation should look to revisit the shares closer to $105.
Restaurants Too Are Feeling the "Retail-Mageddon" Pinch
On a related note to the pains retailers are feeling we covered earlier, the restaurant industry is suffering from many of the same woes afflicting retailers – plain and simple, there are too many physical locations, and customers increasingly prefer to have everything delivered to their door.
That's why pizza chains, especially Domino's (DPZ) and Papa John's (PAPA) have been able to gain an edge. Roughly 60% of Papa John's orders are digital from not only its own app, but also via Facebook (FB)'s name product as well as its Messenger product. As the restaurant industry looks for solutions by leveraging our Connected Society, Disruptive Technology, and Cashless Consumption themes, we see Facebook (FB) and its multi-tiered platform offering benefitting. This along with its move into original content that bodes well for additional advertising, as well as its overall monetization efforts across those platforms keeps us bullish on Facebook shares.
Our price target on Facebook (FB) shares remains $200
Looking Ahead to the Coming Weeks
As we put the summer behind us in the coming days and absorb the litany of economic data to be had, our intention is to use whatever market volatility emerges to our advantage. This means revisiting recent additions to the Tematica Contender List like Nokia (NOK) and Innovative Solutions (ISSC), but also examining new potential positions for the select list as well.