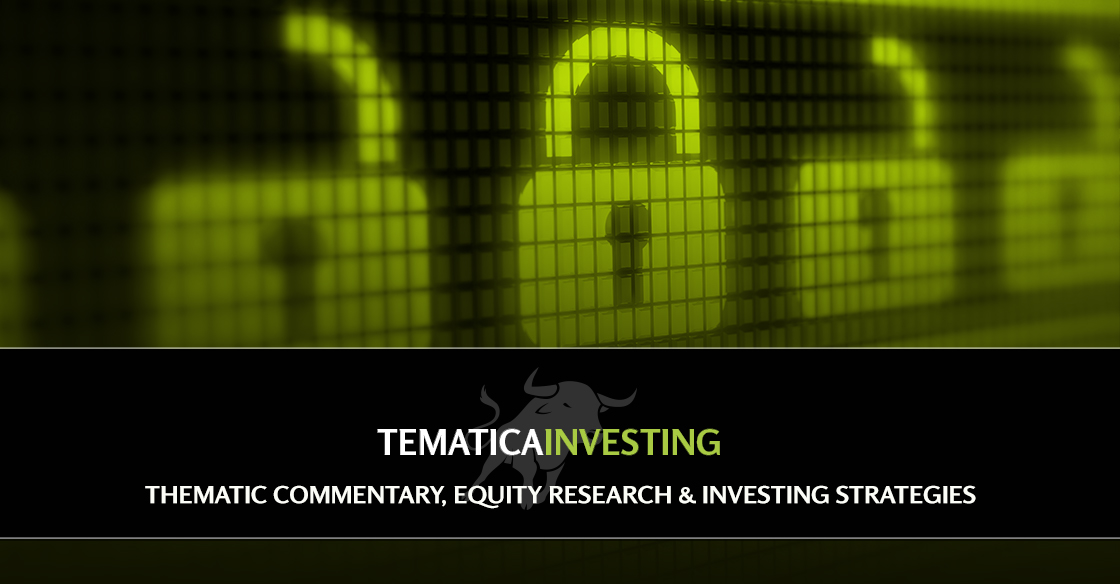 In this Week's Issue:
Checking the data, the economic data that is
WannaCry makes HACK shares jump for joy
Disney (DIS) held movie hostage?
Alphabet (GOOGL) and Lyft team to commercialize self-driving cars
Amazon's (AMZN) at it again, this time with furniture
Getting ready for earnings from Applied Materials (AMAT) and what it means for Universal Display (OLED)
It's been a much welcomed slower week of economic data and corporate earnings, but Mother Nature sensing we might like the lull after the last few weeks, many across the globe had to contend with the WannaCry ransom ware cyber attack – more on that below and what it means for our Safety & Securityinvestment theme position in PureFunds ISE Cyber Security ETF (HACK) shares. We've also got a number of updates to share, so away we go…
Checking the data, the economic data that is
Before we dish on WannaCry, let's recap the economic data received this week, which included the May reading on manufacturing under the purview of the NY Fed, as well as April data for Housing Starts and Industrial Production. Let's start with the good news, which was manufacturing activity per the April Industrial Production report ticked higher month over month, but even though this took a bite out of excess manufacturing capacity, manufacturing capacity remains underutilized. Moving over the April Housing Starts, single-family homes were flat month over month, while multifamily units fell more than 9 percent compared to March.

On the back of that data, the Atlanta Fed boosted its 2Q 2017 GDP reading to 4.1 percent from the prior 3.6 percent reading. Then we received the Empire Manufacturing Index for May, which clocked in at -1.0, well below the expected 7.5 reading and down compared to April's 5.2 showing. Not exactly supportive of the Atlanta Fed's revised forecast, and candidly more in line with the slowing evidenced in the majority of the economic data.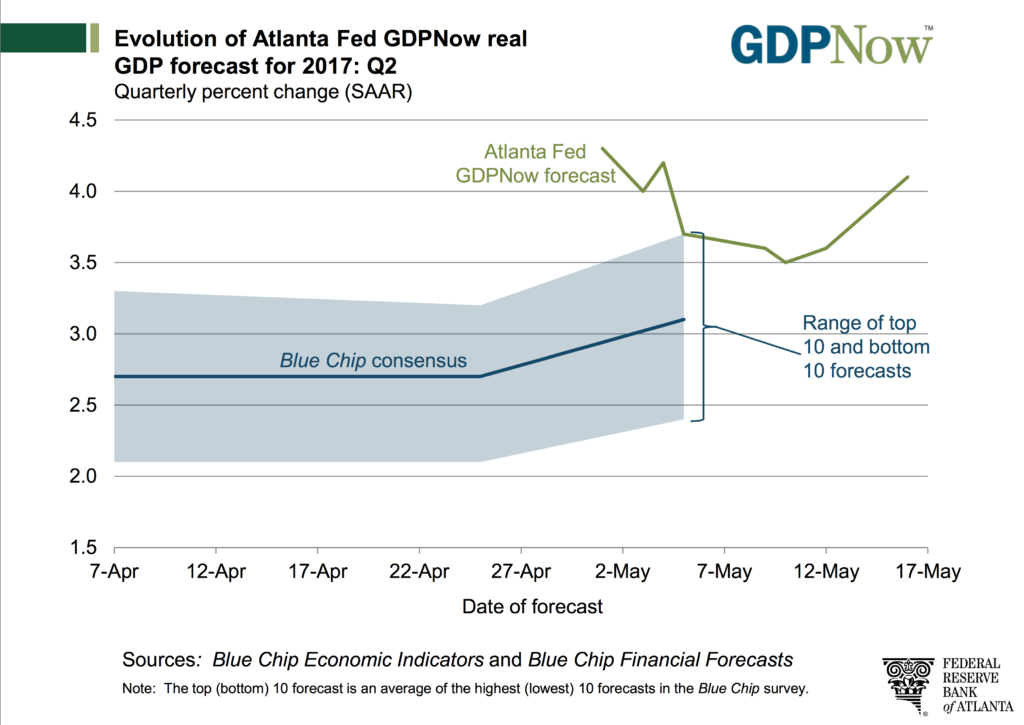 Tomorrow (Thursday), we'll get the Philly Fed Index and we'll be matching the May figure against 22.0 in April and consensus forecast of 18.5 for May. As we digest that data point, we'll be looking for the next 2Q 2017 GDP update from the NY Fed and its Nowcasting model. As a reminder the most recent Nowcasting reading pegged 2Q 2017 GDP at 1.9 percent, down from 2.9 percent at the end of March.

WannaCry makes HACK shares jump for joy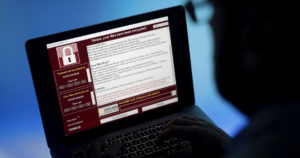 Over the last five days, shares of the PureFunds ISE Cyber Security ETF (HACK)rose more than 2 percent bringing the position return to more than 6 percent since being added to the Tematica Select List in early February. As we saw over the last few days, we are seeing a pronounced pick-up in cyber attacks, which include WannaCry and the more than 300,000 computers across over 150 countries that it violated as well as other attacks on hospitals and even clothing retailer Brooks Brothers.
From time to time, we tend to settle in following a headline-worthy cyber attack and complacency returns. We've seen this several times, and it tends to result in a demand spike for cyber security stocks, only to see them level off over the coming months. By comparison, we continue to see a growing frequency of cyber attacks both large, medium and small, which is fueling demand and driving revenue for cyber security companies. If one were to postulate, this demand is one downside to our Connected Society investing theme. We would agree, as one company's tailwind can be another's headwind, and that pain point can create an opportunity for others. Pretty much what we see here, and it keeps us bullish on HACK shares given our $35 price target.
We'll be doing a deeper dive on this week's Cocktail Investing Podcast when Tematica's Chief Macro Strategist, Lenore Hawkins, and I talk with Yong-Gon ("Young Gun") Chon, the CEO of Focal Point Data — consulting firm that advises CEOs and Boards on cyber risk.  Be sure the check the website for when the podcast is posted, or subscribe on iTunes to automatically receive each and every episode. While the Cocktail Investing podcast is free – it is, unfortunately, a "BYOB" event.
Disney (DIS) held movie hostage?
During a town hall meeting with employees, Bob Iger CEO of The Walt Disney Co (DIS) shared "hackers have claimed to have stolen a movie and are threatening to release it in segments until their demands, which include a pirate-like ransom paid with Bitcoin, are met." While Iger did not identify the would-be stolen film, chatter suggests it to be the new "Pirates of the Caribbean" sequel, which is set to open on May 26. This is the latest film in a franchise that has grossed grossing nearly $3.73 billion worldwide. Disney is currently working with federal authorities to investigate the attack, and we'll continue to monitor developments and what they may means for the company's film business in the near-term.
The recent post-earnings pullback offers 16 percent upside to our $125 price target at current levels.
With a robust movie slate, declining capital spending and a super-sized $10 billion buyback program, we continue to favor the House of Mouse.
Alphabet (GOOGL) and Lyft team to commercialize self-driving cars
Amid its skirmish with Uber over self-driving technology that it is developing at Waymo, this week Alphabet's (GOOGL) partnership with ride-hailing startup Lyft took a new turn as they agreed to work together to develop products and technology for autonomous autos. While terms and other details of the arrangement were not disclosed, there are several thoughts on what this could mean for Alphabet's Waymo. The most obvious of which is a path to commercialization. Even Warren Buffett commented on the threat that driverless cars and trucks pose to several of Berkshire Hathaway's businesses at the annual shareholder meeting this year, couching his remarks with "at some point."
As we see it, the arrangement with Lyft has the potential to bring Waymo's driverless technology to commercialization as it leverages Lyft's network of taxis operating in more than 300 cities across the United States. What's Lyft's motivation in this? Reducing its largest cost, which are the drivers that get as much as 80 percent of fares, not to mention cash subsidies to retain those drivers. With other companies ranging from Apple (AAPL) to Mobileye (MBLY)vying for a slot in the driverless car market, we'll continue to watch developments.
Our price target on GOOGL shares remains $1,050, which offers just under 10 percent upside from current levels.
With the market trading at stretched valuations, we would hold off adding to GOOGL positions at current levels.
That said, GOOGL shares are ones to own as we move deeper into the Connected Society.
Amazon's (AMZN) at it again, this time with furniture
Turning to Amazon, there were two announcements that caught our eye – the first deals with Amazon's expanding into furniture, while the other is the dismal brick & mortar retail landscapes. We commented on the later in last week's Roundup, but we're seeing reminders of retail-megaddon this week in TJX Companies (TJX) dismal earnings report. Our view remains Amazon is net share gainer as it expands its product and geographic footprint. That brings us back to our first point, the expansion of its furniture offering. While Amazon has sold furniture online for years, much like apparel, it is it stepping up its game as it offers a wider variety of selection — Ashley Furniture sofas and chairs and Jonathan Adler home decor. What Amazon is looking to do is tap into the growth prospects for online furniture sales, which eMarketer sees growing to more than $55 billion by 2020, up from $36 billion this year.
Our AMZN price target remains $1,100, which offers just under 14 percent upside from current levels. As with GOOGL shares.
AMZN shares are one to buy and hold, and that's exactly what we aim to do.
Getting ready for earnings from Applied Materials (AMAT) and what it means for Universal Display (OLED)
Applied Materials (AMAT) will report its quarterly earnings after Thursday's (May 18) market close. Heading into the weekend consensus expectations call for the company to deliver EPS of $0.76 on revenue of $3.54 billion. As we digest the company's earnings, we'll be focusing on bookings and backlog with an eye for potential upside to our price target. With that report, we'll get another take on ramping OLED industry demand. All signs point to rising capacity, and we'll be listening to Applied's comments not only for incremental capacity additions but the timing for those new facilities going from beta to commercial production. With more applications ranging from smartphones to TVs and wearables embracing OLEDs in the coming quarters and ramping industry capacity to meet that demand, the outlook for Universal Display's (OLED)chemicals and licensing business looks very bright.
We'd note the price moves in these two shares have been strong, and both have continued to encroach on our respective price targets. While we anticipate an upbeat quarter and outlook from Applied, we also think expectations are running high into the earnings report. In our view, to justify the Buy ratings on both stocks, we would need to see upside to $52 for AMAT shares and near $135 for OLED shares, respectively, from current levels. We'll dial into AMAT's quarterly report and make our next move based on those findings. With OLED shares, we suspect we're likely to see a series of rising price targets over the coming months as we wait for the initial sales data on Apple's next iPhone. Odds are Apple will once again under-produce relative to demand, resulting in the headlines touting yet again another new iPhone selling out. Up over 120 percent as of last evening's close, we will continue to hang onto our OLED shares for the ride that is to come.