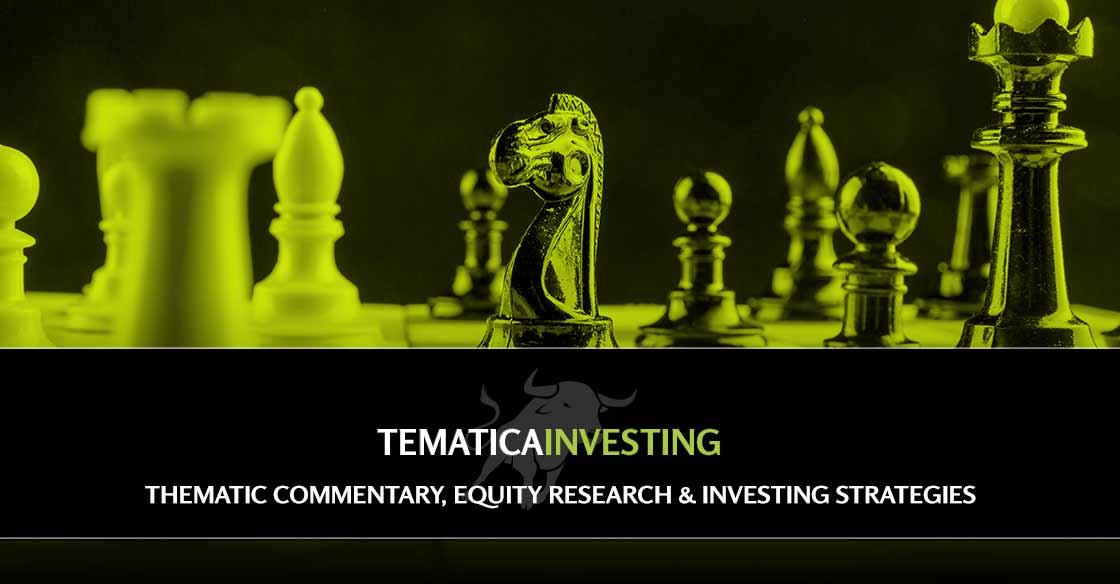 Key points inside this issue
The G20 meeting will set the stage for what the Fed does next
Earnings expectations have yet to follow GDP expectations lower
We are implementing a $340 stop loss on Digital Lifestyle Thematic Leader Netflix (NFLX).


Over the last few days several economic data points have reinforced the view that the domestic economy is slowing. Meanwhile, the continued back and forth on the trade front, between the U.S. and China as well as Mexico, has been playing out.
What has really captured investors' focus, however, is the Federal Reserve and the comments earlier this week from Fed Chair Jerome Powell that the Fed is monitoring the fallout from trade issues and eyeing the speed of the economy. Powell said the Fed will "act as appropriate to sustain the expansion, with a strong labor market and inflation near our symmetric 2 percent objective."
This has led to a pronounced shift in the market, from bad economic data is bad news for the market, to bad news for the economy and trade is good news for the Fed to take action and cut interest rates.
In other words, after the disappointing one-two punch of the IHS Markit US PMI and May ISM Manufacturing Index data, combined with the sharp uppercut that was the May ADP Employment Report, "hopium" has returned to the market.
Over the weekend, we received signs the potential trade war with Mexico will be averted, though few details were shared. China is up next, per comments from U.S. Treasury Secretary Mnuchin, who warned Beijing of tariffs to come if it does not "move forward with the deal … on the terms we've done."
"If China doesn't want to move forward, then President Trump is perfectly happy to move forward with tariffs to re-balance the relationship," Mnuchin said.
Near-term, we're likely to see more "bad news is good news" for the stock market as evidenced by Friday's market rally following the dismal May jobs report that fell well short of expectations. More economic bad news is being greeted as a positive right now by the market under the belief it will increase the likelihood of the Fed cutting rates sooner than expected.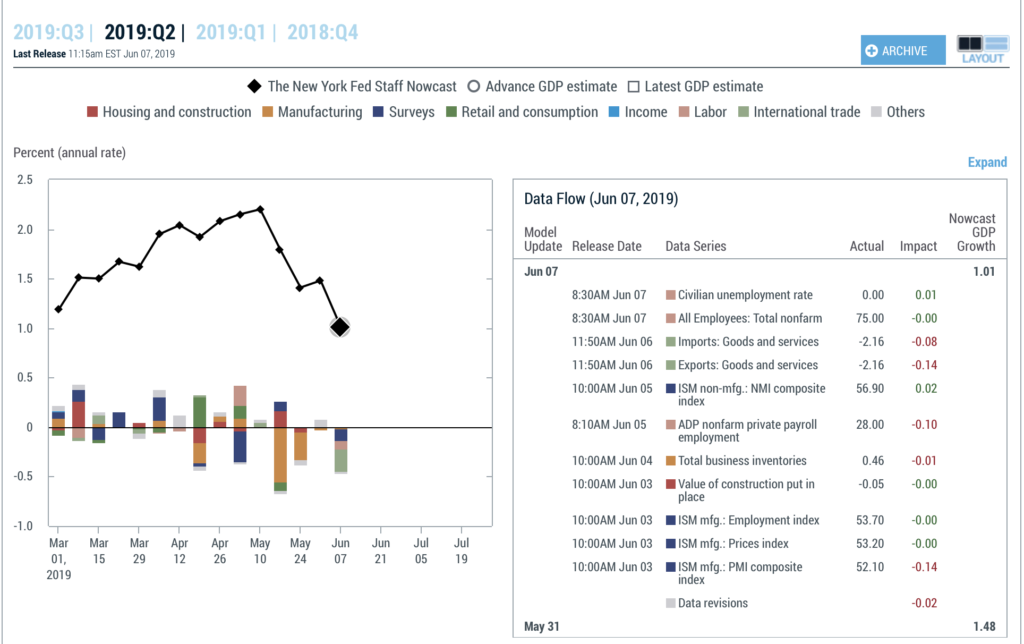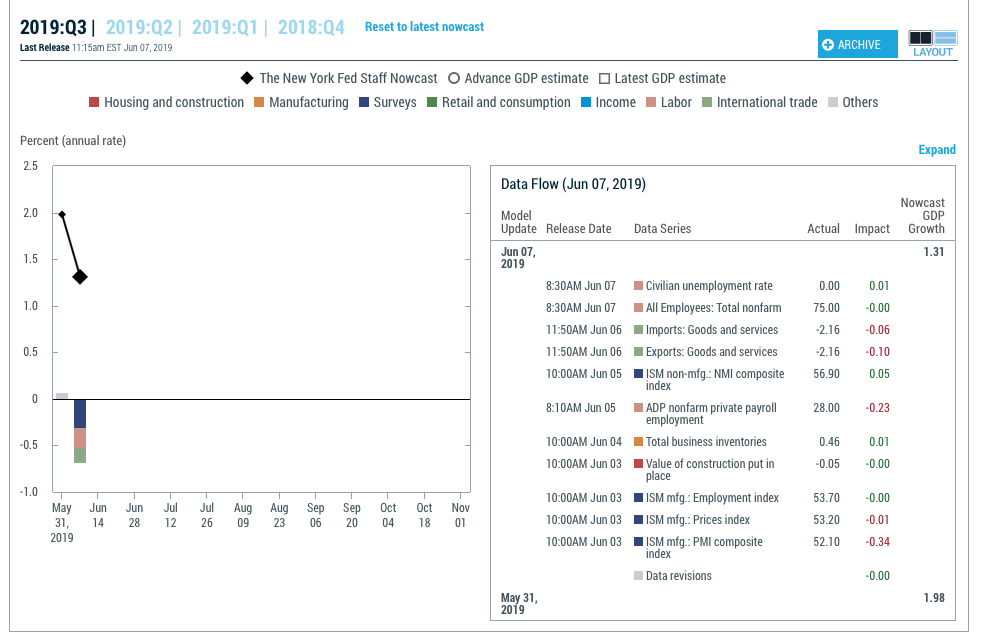 While that data has indeed led to negative GDP expectation revisions for the current quarter as well as the upcoming one, this new dynamic moved the market higher last week and helped reverse the sharp fall in the market in May, when the major stock indices fell between 6.5% and 8.0%.
As I see it, while the Fed has recently done a good job of telegraphing its moves, the new risk is the market over-pricing a near-term rate cut.
The next Fed monetary policy meeting is less than two weeks away and already expectations for a rate cut exiting that two-day event have jumped to around 21% from less than 7% just over a month ago, according to the CME FedWatch Tool.
Let's remember there are four more Fed monetary policy meetings — in July, September, October and December — and those give the Fed ample room to cut rates should the upcoming G20 Osaka Summit on June 28-29 fail to get U.S.-China trade talks back on track.
To me, this makes the next two weeks imperative to watch and to build our shopping list. If there is no trade progress coming out of the G20 meeting, it increases the potential for a July rate cut. If trade talks are back on track, we very well could see the Fed continue its current wait-and-see approach.
And what about that potential for over-pricing a rate cut into the market? Anyone who has seen the Peanuts cartoons knows what happens when Lucy yanks the football out from under Charlie Brown at the last minute as he goes to kick it. If you haven't, we can assure you it never ends well, and the same is true for the stock market when its expectations aren't fulfilled.
I talk much more about this on this week's Thematic Signals podcast, which you can listen to here.
Earnings expectations have yet to follow GDP expectations lower
Here at Tematica our view is that one of the clear-cut risks we face in the current market environment is the over- pricing in of a Fed rate cut at a time when profit and EPS expectations are likely to be revised lower for the second half of 2019. When we see falling GDP expectations like those depicted in the two charts above, it stands to reason we will likely see, at a minimum and barring any substantial trade progress at the G20 summit, companies adopt a more cautious tone for the back half of the year in the coming weeks as we enter the June quarter earnings season.
If that proves to be the case, we are likely to see negative revisions to EPS expectations for the second half of the year. Despite the slowing economic data and impact of tariffs, current expectations still call for an 11% increase in earnings for the S&P 500 in the second half of the year compared to the first half. Viewed a different way, those same expectations for the second half of 2019 call for mid-single digit growth on a year over year basis. To me, given the current backdrop there seems to be more downside risk to those expectations than upside surprise.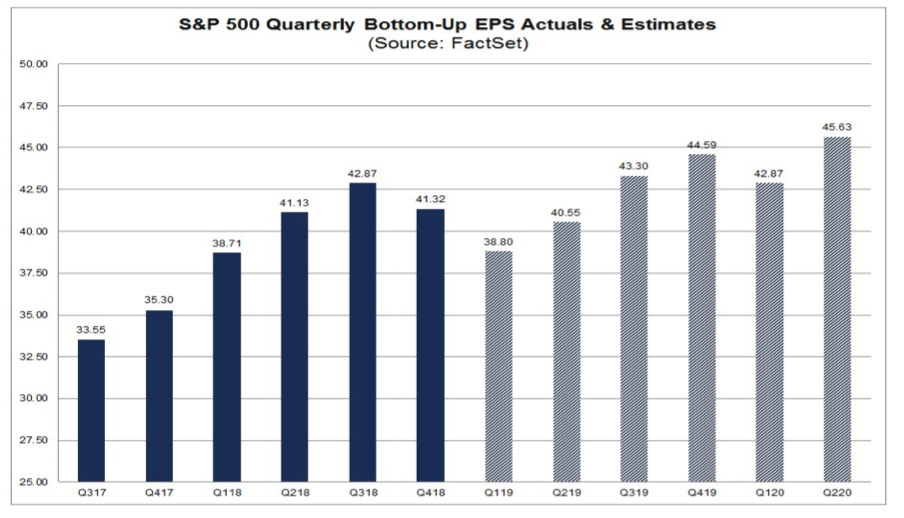 Between now and then, we should be listening closely as management teams hit the investor conference circuit this week and next. This week alone brings the Stifel Inaugural Cross Sector Insight Conference 2019, Morgan Stanley U.S. Financials Conference 2019, JP Morgan European Automotive Conference 2019, UBS Asian Consumer, Gaming & Leisure Conference 2019, Deutsche Bank dbAccess 16th Global Consumer Conference 2019, Nasdaq 40th Investor Conference 2019 and the Goldman Sachs 40th Annual Global Healthcare Conference 2019, to name just a few. What we'll be listening for is updated guidance as well as industry comments, including any tariff impact discussion.
In my view, the conferences and the information spilling out of them will reveal what we are likely to see and hear from various industry leaders in the upcoming June- quarter earnings season.

Tematica Investing
The June rebound in the stock market propped up a number of the Thematic Leaders, most notably Cleaner Living leader Chipotle Mexican Grill (CMG) and Safety & Security leader Axon Enterprises (AAXN). Digital Infrastructure Leader Dycom Industries continues to tread water on a year to date basis, but with 5G deployments accelerating I see a more vibrant landscape for it as well as Disruptive Innovator Leader Nokia (NOK). 
In recent weeks, we've gotten greater clarity and insight into forthcoming streaming video services from Apple (AAPL) and Disney (DIS), which are likely to make that market far more competitive than it has been to date. Disney's rumored $6.99 per month starter price recently led Comcast (CMCSA) to not only abandon its own streaming initiative due in 2020 but to also sell its stake in Hulu to Disney. That to me is a potential game changer depending on how Disney folds Hulu's streaming TV service into Disney+.
One of our key tenants is to observe the shifting landscape, and with regard to streaming video we are seeing the beginning of such a shift. For that reason as well as the risk of a challenging June quarter earnings season in the coming weeks, we are implementing a $340 stop loss on Digital Lifestyle Thematic Leader Netflix (NFLX). That will lock in a profit of just over 27% for NFLX shares.
Later this week, we'll get the May Retail Sales report, which should once again showcase the accelerating shift to digital shopping. In my view, it's just another positive data point to be had for Thematic King Amazon (AMZN)… as if all the UPS and other delivery vehicles aren't enough proof.