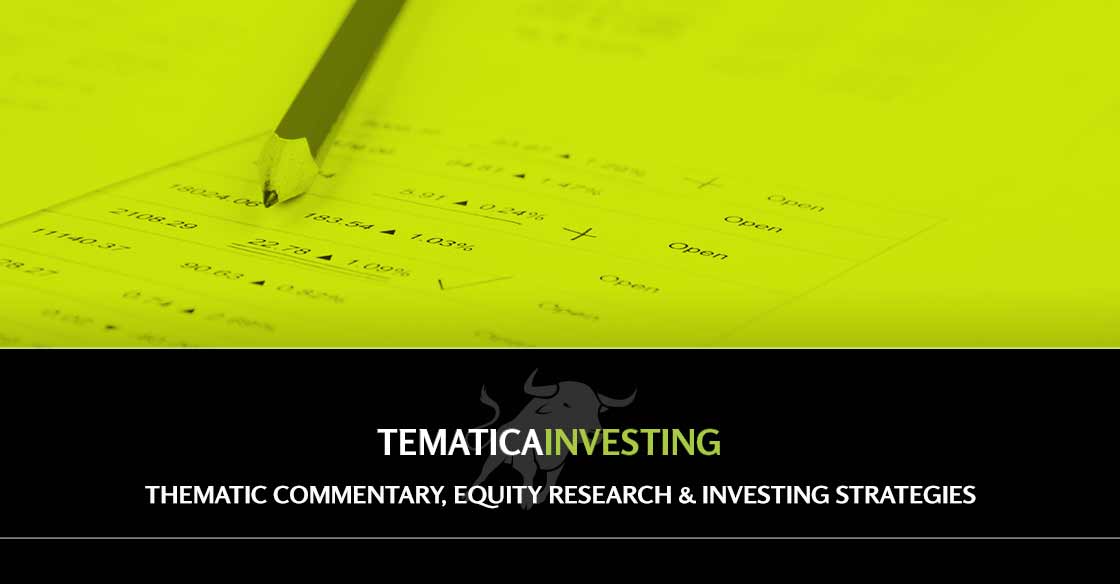 Key points inside this issue
Trade and geopolitical issues make for a less than sleepy August 2019
What to watch this week
Earnings this week
Economic data this week
The Thematic Aristocrats?
Uncertainty continued to grip the stock market last week as the U.S.-Chinese trade dispute once again took center stage. After the return of tariff talk week prior, the battle expanded this week to include a war of words between Washington and Beijing over the Chinese yuan's devaluation.
The market ultimately shook that off, in part due to the renewed thought that the Federal Reserve could accelerate interest-rate cuts. But then stocks closed lower week over week after President Trump suggested Friday that trade talks with China set for next week might be canceled.
There's also renewed geopolitical uncertainty — not just Britain's Brexit process, but also a looming no-confidence vote against Italian Prime Minister Giuseppe Conte that's once again plunging Italy into political turmoil. And as if that wasn't enough, over the weekend escalating tensions between Chinese authorities and protesters in Hong Kong were added to the mix, making for one big ball of uncertainty even bigger.
Meanwhile, global economic data continue to soften. This gives some credence to the notion that the Fed could become more dovish than Chairman Jerome Powell suggested during his July 31 press conference following the Federal Open Market Committee's decision to cut rates. While I don't expect anything near-term, down below we have a calendar date to mark even though I don't think it will mean much in the way of monetary policy.
We're seeing confirming signs for the economic data in oil and copper prices, both of which have been mostly declining of late. Not exactly signs of a vibrant and growing global economy.
Odds are that as we head into summer's final weeks, stocks will be range-bound at best as they trade based on the latest geopolitical headlines. And odds are there won't' be any newfound hope to be had on the earnings front. With 90% of S&P 500 stocks already reporting second-quarter results, it looks like we'll see another year-over-year decline in quarterly average earnings. For the full year 2019 those earnings are only growing at a 2.5% annual rate, but if President Trump goes forth with the latest round of announced tariffs, odds are those expectations could come down in the coming weeks – more on that below.
All in all, barring any meaningful progress on US-China trade, which seems rather unlikely in the near-term, at best the stock market is likely to be rangebound in the coming weeks. Even though much of Wall Street will be "at the beach" the next few weeks, odds are few will be enjoying their time away given the pins and needles discussed above and further below.
What to watch this week
We have three weeks until the Labor Day holiday weekend, which means we're entering one of the market's historically slowest times. There's typically lower volume than usual, as well as low conviction and wishy-washy moves in the market.
Traditionally, a more-sobering look emerges once Wall Street is "back from the beach" following the Labor Day holiday. This tends to bring a sharper picture of the economy. There are also ample investor conferences where companies update their outlooks as we head into the year's last few months.
But as we saw this past week, geopolitical and trade tensions could make the next few weeks much more volatile than we've seen in the past. As we navigate these waters, we'll continue to assess what this means for earnings — particularly given that analysts don't expect the S&P 500 companies to see year-over-year earnings-per- share growth again until the fourth quarter. In my view that puts a lot of hope on a seasonally strong quarter that could very well be dashed by President Trump's potential next round of tariffs. I say this because retailers now face the 10% tariffs set to go into effect on September 1, which will hit apparel and footwear, among other consumer goods.
The risk is we could very well see 2019 turn into a year with little to no EPS growth for the S&P 500, and if factor out the impact of buybacks it likely means operating profit growth had at the S&P 500 is contracting year over year. We'll know more on that in the coming weeks, but if it turns out to be the case I suspect it will lead many an investor to question the current market multiple of 17.6x let alone those market forecasters, like the ones at Goldman Sachs, that are calling for 3,100 even as their economists cut their GDP expectations.
Earnings this week
This week will have the slowest pace of earnings releases in about a month, with only some 330 companies issuing quarterly results. That's a sharp drop from roughly 1,200 such reports that we got last week.
Among those firms reporting numbers next week, we'll see a sector shift toward retail stocks, including Macy's (M), J.C. Penney (JCP) and Walmart (WMT). Given what I touched on above, I'll be listening for their comments on the potential tariff impact as well as comments surrounding our Digital Lifestyle and Middle-class Squeeze investing themes, and initial holiday shopping expectations.
This week's earnings reports also bring the latest from Cisco Systems (CSCO), Nvidia (NVDA), and Deere (DE). Given how much of Deere's customer base sells commodities like U.S. soybeans (which China has hit with tariffs), we'll carefully listen to management's comments on the trade war. There could be some tidbits for our New Global Middle-class theme from Deere as well. With Cisco, we could hear about the demand impact being generated by 5G network buildouts as well as the incremental cyber security needs that will be needed. These make the Cisco earnings conference call one to listen to for our Digital Infrastructure and Safety & Security investing themes.
Economic data this week
On the economic front, we'll get July reports for retail sales, industrial production and housing starts, as well as the August Empire Manufacturing and Philly Fed surveys. Given the importance of the consumer, the July Retail Sales will be one to watch and I for one expect it to be very bullish for our Digital Lifestyle investing theme if and only if because of Amazon' 2019 Prime Day and all the other retailers that tried to cash in on it. I suspect, however, the report will reveal more gloom for department stores. All in all the week's economic data points will help solidify the current quarter's gross domestic product expectations, which are sitting at 1.6%-1.9% between the New York and Atlanta Fed.
Based on what we've seen of late from IHS Markit for Japan, China and the Eurozone, that still makes America the best economic house on the block. Granted, the U.S. vector and velocity are still in the down and slowing positions, but we have yet to see formal signs of a contracting domestic economy. As Tematica's Chief Macro Strategist Lenore Hawkins pointed out in her most recent assessment of things, we'll need to keep tabs on the dollar for "The deflationary power of a strengthening US dollar strength in the midst of slowing global trade and trade wars just may overpower anything central banks try."
Odds are that as the latest economic figures hit, especially if they keep the economy's recent vector and velocity intact, we will see more speculation on what the Fed might do next. While there's no Fed interest-rate meeting scheduled for August, the Kansas City Fed will hold its widely watched annual Jackson Hole symposium Aug. 22-24 in Wyoming. The central bank doesn't usually discuss monetary-policy plans at this event, but as noted above, we aren't exactly in normal times these days.
The Thematic Aristocrats?
Given the recent market turbulence as prospects for more of the same in the coming weeks, I'm sitting back and building our shopping list for thematically well-positioned companies. Given the economic data of late and geo-political uncertainties as well as Lenore's comments on the dollar, I'm focusing more on domestic-focused, inelastic business models that tend to spit off cash and drive dividends. In particular, I'm looking at companies with a track record of increasing their dividends every year for at least 10 years. And of course, they have to have vibrant thematic tailwinds at their respective back.
Perhaps, we can informally call these the "Thematic Aristocrats"?
I'll have more as I refine that list.