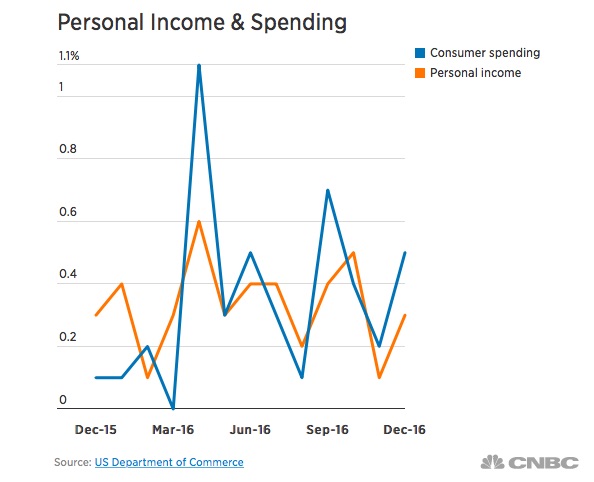 Tags:

Amazon, consumer debt, Direct to Consumer, eBay, Fed, holiday sales, Interest Rates, Kohl's, Macy's, Nike, NRF, Personal Income, Personal Spending, Sears, Target, Under Armour, United Parcel Service
note: no comments
This morning the US Bureau of Economic Analysis published its take on Personal Income & Spending for December. We're rather fond of this monthly report given the data contained within and the implications for several of our investment themes, including Cash-strapped Consumers as well as Affordable Luxury and the Rise & Fall of the Middle Class. 
So what did the December report show?
Personal Income rose 0.3 percent, far faster than in November, but still below the 0.4-0.5 percentage gains registered in September and October. We saw the same pattern with Disposable Income (which is a better barometer for discretionary spending), as one would expect to see during the holiday shopping laden month of December.
That's as good a segue as any to remind our readers that holiday shopping during November and December came in stronger than the National Retail Federation had forecasted. The final tally was a year over year increase of 4.0 percent compared to the NRF's 3.6 percent forecast.
Now you're probably saying to yourself, "How can that be given all the bad news that we've been hearing from Macy's (M), Target  (TGT), Kohl's (KSS), Sears (SHLD) and other brick and mortar retailers?"
To be honest, we doubt the average person would have thrown in the "other brick and mortar retailers" part, but we know our readers are smarter than the average bear.
The answer to that question is that non-store sales, Commerce Department verbiage for e-tailers like Amazon (AMNZ), eBay (EBAY) and digital Direct to Consumer business like those found at Macy's, Under Armour (UAA), Nike (NKE) and other retailers, rose 12.6 percent year over year to $122.9 billion. We certainly like those stats as they confirm several aspects of our Connected Society investing theme, but we would argue a more telling take on the data is that non-store sales accounted for 19 percent of holiday shopping in 2016, up from 17 percent the year before. Nearly one-in-five shopping dollars was spent through online or mobile shopping.
We'll get a better sense of this shift, which we only see as accelerating, later this week when both United Parcel Service (UPS) and Amazon report their quarterly results for the December quarter. Team Tematica will also be listening to Direct to Consumer comments from Under Armour and other apparel and footwear companies as they too report quarterly results over the next few weeks.
Now let's take a look at December Personal Spending – it rose 0.5 percent, a tick higher than was expected. Given the NRF data above, it was rather likely we were going to get a better print vs. expectations.
In combining both the income and spending data for the month, we get the savings rate, which fell to 5.4 percent, a five-month low. Compared to a few years ago, that savings level looks rather solid even though it's well below the longer-term trend line. What we do find somewhat disconcerting, given the prospects for the Fed to boost interest rates up to three times this year after only doing so just two times in the last two years, is the amount of revolving consumer debt outstanding. As evidenced in the graph below, those levels have continued to climb steadily higher during 2015 and 2016.


Should interest rates move higher in 2017, the incremental interest expense could crimp consumer wallets, reducing their disposable income in the process. To us, that could mean less Affordable Luxury or even Guilty Pleasure spending as more become Cash-strapped Consumers.