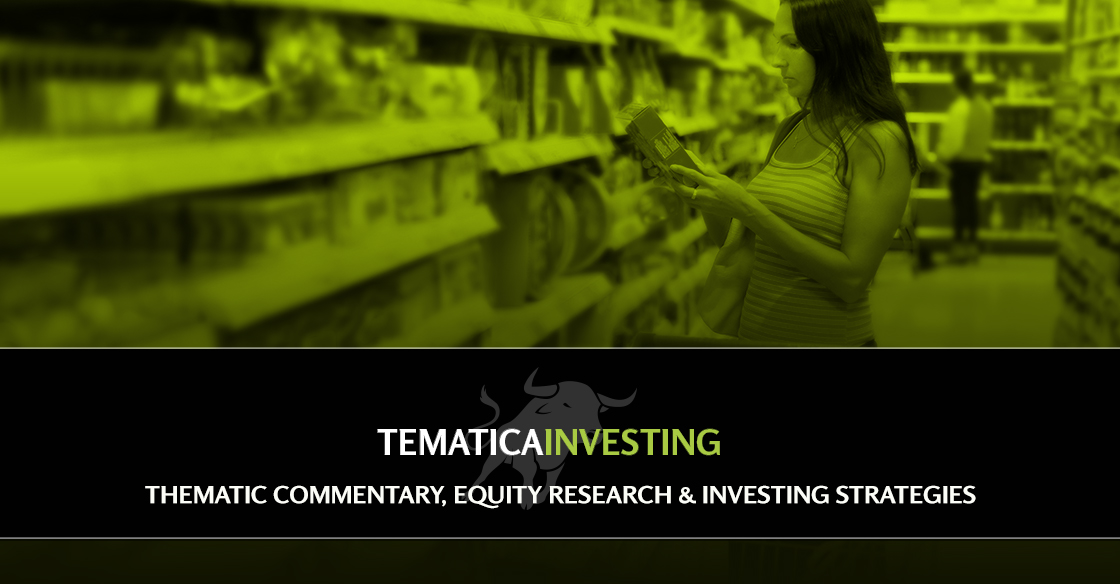 Tags:

Amazon, Amplify Snacks, Cheesecake Factory, Costco, deflation, FreshDirect, guidance, Ignite Restaurants, Kroger, market share, MyFresh, natural, organic, restaurant, Target, United Natural Foods, Wal-Mart
note: no comments
While many have been focused on the retail environment —and we count ourselves among them here at Tematica — we've also been watching the painful restaurant environment over the past few months. It's been one characterized by falling same-store-sales and declining traffic – not a harbinger of good things when paired with rising minimum wages.
For those that are data nut jobs like we are, per TDn2K, same-store sales for restaurants fell 1.1 percent in May, a decline of 0.1 percentage points from April. In May, same-store traffic growth was -3.0 percent. Now for the perspective, the industry has not reported a month of positive sales since February 2016 – that's 15 months! One month shy of the bad streak the May Retail Sales Report has been on. Clearly not a good operating environment, nor one that is bound to be friendly when it comes to growing revenue and earnings.
Reading those tea leaves, we've avoided that the restaurant aspect of our Fattening of the Population investing theme, and with Ignite Restaurant Group filing bankruptcy, Cheesecake Factory (CAKE) warning about its current quarter outlook we confident we've made the right decision.
But people still need to eat, and we've seen consumers increasingly flock back to grocery stores in 2017. Year to date, grocery retail sales are up 1.7 percent through May. Breaking down the data, we find that in recent months those sales have accelerated, with March to May 2017 grocery sales up 2.8 percent year over year and standalone May grocery store sales up 2.2 percent year over year.
Yet, when grocery company Kroger (KR) reported in-line earnings for its latest quarter, it lowered its 2017 EPS outlook, cutting in the process to $2.00-$2.05 from the prior $2.21-$2.25, with the current quarter to be down year over year. Aside from price deflation in the protein complex and fresh foods, the company cited its results continue to be pressured by rising health care and pension costs for employees, as well as the need to defend market share amid "upheaval" in the food retailing industry. We see that as company-speak for Kroger and its grocery store competitors having to contend with our
We see that as company-speak for Kroger and its grocery store competitors having to contend with our Connected Society investment theme that is bringing in not only Amazon (AMZN), MyFresh, and FreshDirect into the fray, but also leading Wal-Mart (WMT), Target (TGT), and Safeway among others to expand their online shopping capabilities, which in some cases includes delivery. Another reason not to get off the couch when shopping.
Candidly, we're bigger fans of companies that focus on profits over market share given that short-term market share led strategies, often times with aggressive pricing, tend to sacrifice margins, but focusing on profits tends to lead to better market-share over the long-term. We've seen the "strategy" that Kroger is adopting many times in the past and while it may have short-term benefits, increasing prices later on, runs the risk of alienating customers.
Getting back to Kroger's guidance cut, that news sent Kroger's shares down almost 20 percent on Thursday and led to United Natural Foods (UNFI) shares to fall more than 3.5 percent, while Amplify Snacks (BETR) slumped by 2 percent. In our view, most of Kroger's bad news was likely priced into UNFI's mixed guidance last week when it reported its own quarterly earnings. Without question, 2017 has been a rough ride for UNIF shares despite the Food with Integrity tailwind, but despite Kroger's guidance cut, management shared on the company earnings call that it continues "to focus on the areas of highest growth like natural and organic products." Even Costco Wholesale (COST) recently shared it has room to grow in packaged organic food items, excluding fresh), which plays to the strengths at both United Natural Foods and Amplify Snacks.
Tightening Our Position in UNFI, But Staying the Course with BETR
With our Food with Integrity thematic tailwind still blowing and UNFI shares down just 7.5 percent relative to our blended cost basis on the Tematica Select List, we'll remain patient with the position. That said, from a technical perspective the shares are near support levels and if they break through $38.50 the next likely stop is between $33 and $34. Therefore, to manage potential downside risk, we're instilling a stop loss on UNFI shares at $38.50. As we do this, we'll acknowledge the tougher operating environment and reduce our UNFI price target to $50 from $65, which still offers upside of just over 25 percent from current levels.
We are keeping our Buy rating on United Natural Foods, but trimming our price target back to $50 from $65.
We are instilling a stop loss at $38.50 to manage additional downside risk near-term.
With regard to Amplify Snacks, with today's close the shares are down just 6 percent from our late April Buy recommendation. Generally speaking, these single digit stocks tend to be volatile and require some extra patience, and that's the tact will take with BETR shares. Our price target remains $11.
We continue to have a Buy on Amplify Snacks (BETR) shares and our price target remains $11.