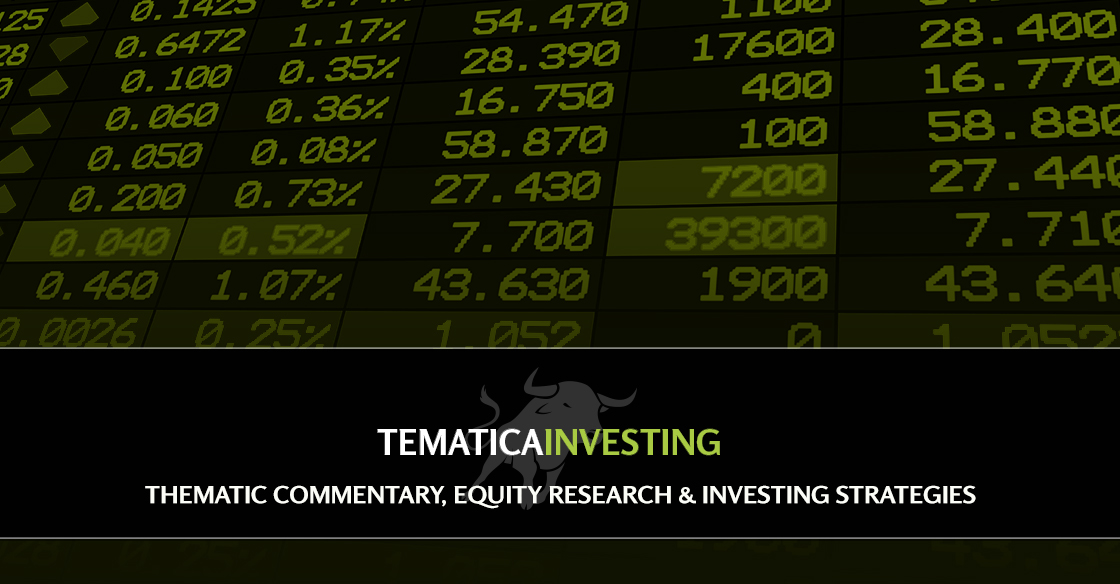 We are officially in the thick of earnings season with reports from AXT Inc. (AXTI) last night, and both Nokia (NOK) as well as United Parcel Service (UPS) this morning. Below we have comments on the better than expected results from AXT, share why we are going to be patient with Nokia shares for the long-term and how United Parcel Service confirms out thesis on the shares. We also have some thoughts on the recent share price pressure in Amplify Snacks (BETR), and explain why Amazon's (AMZN) comments and outlook on its Whole Foods business are what we'll be watching next for this position.
Many positives in AXT's 3Q 2017 earnings report and outlook
Last night compound semiconductor substrate and Disruptive Technology company AXT (AXTI) reported 3Q 2017 top and bottom line results that handily beat consensus expectations and delivered an in-line view on the current quarter. This popped the shares some 7% in aftermarket trading last night and sees the shares trading up nicely today.
More specifically, AXT delivered EPS of $0.11, $0.02 better than the consensus and up dramatically from $0.07 in the year-ago quarter on revenue that rose 29% compared to 3Q 2017. Higher substrate volumes revealed the operating leverage in the company's business model and led gross margins to soar to 39.5% in the quarter, up from 30.8% in the prior quarter. Other factors aiding the margin comparisons included raw material prices and vendor consolidation as well as product mix, both of which help margins in the coming quarters.
In terms of its outlook for the current quarter, AXT guided revenue and EPS in the ranges of $26-$27 million and $0.07-$0.09, respectively, which compares with the consensus forecast of $26.6 million in revenue with EPS of $0.08. What's not obvious in those ranges is expected growth at the midpoint of 22% and 47%, respectively. The current quarter, as well as the next one, tend to reflect the seasonal downtick compared to the third quarter 3Q 2017, which tends to house the RF semiconductor ramp for year-end smartphone sales. Given new smartphone models, continued growth in data traffic that is leading further data center investment, and new solar panel applications the outlook for continued year over year growth at AXT remains more than favorable.
For example, Audi and BMW are using solar panels on certain new models to provide power to the vehicle's climate control system fan without ruining the battery, even when the vehicle is turned off. In addition, Audi and Alta Devices recently announced their partnership to integrate solar cells into panoramic glass roofs of Audi models to generate solar energy that increases the range of Audi electric vehicles. The first of these car prototypes are expected to by the end of this year, and the solar cells utilize compound semiconductor technology that is built on AXT's substrates.
In the data center arena, companies such as Microsoft (MSFT), Intel (INTC), Cisco (CSCO), Broadcom (AVGO) and a number of others are driving the adoption of silicon photonics to drive data rates of 100 gigabits per second or better. This adoption bodes well for AXT's higher margin indium phosphide substrates.
Recognizing the seasonal downturn we will face in the coming months, we will continue to be patient with AXTI shares.
Our price target on AXT (AXTI) shares remains $11, which for now keeps the shares a Buy at current levels.
With regard to that rating, we'll be watching the $9.90 level, which offers roughly 10% upside to our price target.
Nokia: The market focuses on network infrastructure, but it's the licensing business that matters.
Early this morning Nokia (NOK) reported 3Q 2017 results of €0.09 per share in earnings, €0.03 ahead of expectations even though overall revenue fell 7% year over year to €5.54 billion, a hair shy of the €5.64 billion consensus forecast. In trading today, Nokia shares are getting hit hard given the guidance that calls for continued declines in its Networks Business. We are not surprised by this guidance as we continue to wait for deployments of 5G technology in 2018-2020. Despite that shortfall, continued focus on cost in the Networks Business, as well as ongoing customer wins bode well for the business as the 5G ramp begins.
What we found as rather confirming was the continued growth in its high margin Nokia Technologies business, which rose to 9% of 3Q 2107 sales and 22% of 3Q 2018 gross profits up from 6% and 15%, respectively, in the year-ago quarter. Despite the overall revenue shortfall for Nokia in 3Q 2017, Nokia Technologies led the company's consolidated margins higher and drove the EPS upside in the quarter. In other words, our thesis behind owning NOK shares was confirmed in this morning's earnings report. As 5G and other technologies contained in the company's intellectual property arsenal matriculate in the coming quarters, we see continued improvement ahead for this business and that bodes well for the company's overall margin and EPS generation.
One of our key strategies has been to use share price weakness to scale into a position on the Tematica Select List provided the underlying investment thesis remains intact. As we saw in Nokia's 3Q 2017 earnings report, that is the case. As we look for that opportunity, we'd note that Nokia's Board of Directors plans to propose a dividend of EUR 0.19 per share for 2017, which if history holds will be paid in the first part of 2018. Given the current share price, that is a hefty dividend yield to be had and adds both a layer of support to the shares and adds to the total return to be had.
Our price target on Nokia (NOK) shares remains $8.50
Quick thoughts on UPS's 3Q 2107 results
With United Parcel Service (UPS), the results and outlook were in line what we expected and simply put the company's outlook simply reinforces our shift to digital commerce predicated thesis on the shares. Case in point, UPS sees:
Record holiday delivery of about 750 million packages,
Deliveries between Black Friday and New Year's Eve forecasted to increase 5% from 2016
17 of 21 holiday delivery days before Christmas to exceed 30 million packages each.
This latest forecast echoes what we've already heard about this holiday shopping season from the National Retail Federation, E-Marketer, and others.
We'll dig through the UPS's earnings call in greater detail, but what we've heard thus far along with a price increase slated for December 24th keeps our Buy rating and $130 price target intact. As we do that, we'll also be looking at Amazon's forecast for the current quarter and its comments on the holiday shopping season.
Our price target on United Parcel Service (UPS) share remains $130.
Shares of Amplify Snacks under pressure, but Amazon/Whole Foods will be the guide
Finally, our Amplify Snacks (BETR) shares have been under pressure this past week. On the news front, things have been rather quiet and the shares could be coming under pressure as institutional investors being their tax loss selling. We'll look for confirmation on our thesis – consumers shifting toward food and snacks that are "healthy for you" in quarterly results out tonight from Amazon (AMZN) as it discusses recent performance and its outlook for recently acquired Whole Foods. As we do this, we'll also be revisiting the dollar's recent run-up and what it could mean for Amplify given its growing exposure to markets outside of the U.S.
With the shares approaching oversold levels, we are keeping a close eye on the shares. As we mentioned above with Nokia, we certainly like to improve our cost basis provided our investment thesis remains intact.