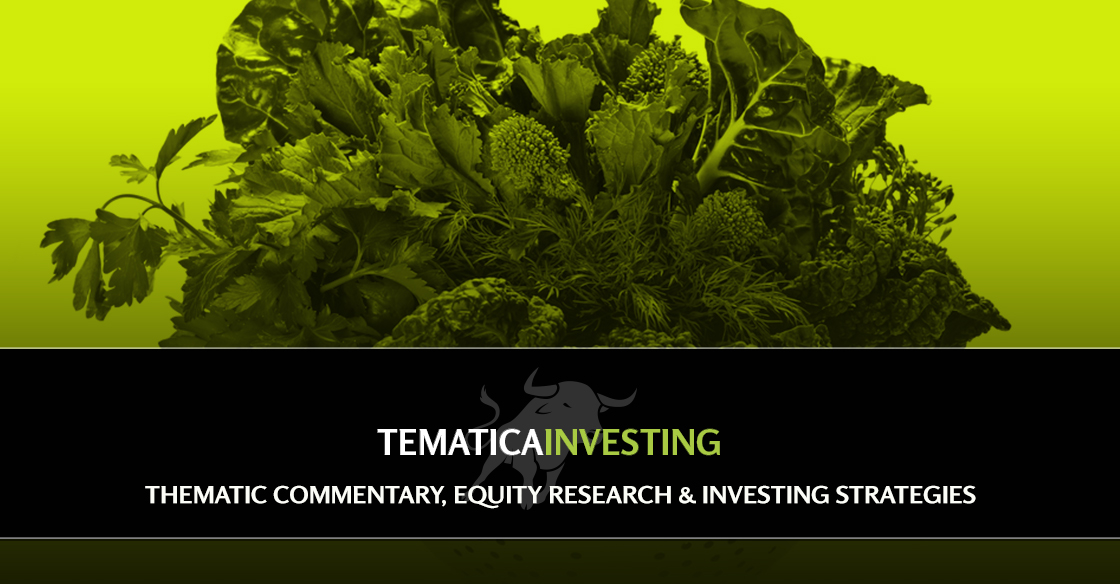 Tags:

Alphabet (GOOGL), Amazon (AMZN), Comcast (CMCSA), Disney (DIS), Dycom (DY), FedEx (FDX), LuluLemon (LULU), McCormick & Co. (MKC), Starbucks (SBUX), Time Warner (TWX), Verizon (VZN)
note: no comments
Welcome back and we hope you enjoyed any and all of the various holidays over the last ten days and didn't gorge on chocolate and jelly beans.
Since our last issue of Tematica Investing, we've seen a shift in market sentiment toward the disconnect between the speed of the economy and earnings expectations, something we've been discussing for what seems like more than several weeks. We'll chalk it up to the forward-looking nature of thematic investing. In our view, it's always best to be ahead of the market and well positioned than be late and caught with your pants down.
During our downtime last week, we've rolled up our thematic sleeves on several companies, and today we are adding two to the Tematica Select List as part of our Cashless Consumption and Food with Integrity investing themes (details further down). As we do this, we're mindful that 1Q 2017 earnings season is only now gearing up with more than 300 companies reporting this week, more than 975 next week and another 1,250 during the first week of May. Previously we've said and we continue to suspect these reports will lead to a reset in earnings expectations for the 2Q-3Q 2017 as economists reduce GDP forecasts and Trump initiatives get pushed into the back half of 2017 at best, with any likely impact not being seen until early 2018.
While that may seem like "Debbie Downer" outlook, we're hopeful any market pullback will provide the potential to either scale into existing Tematica Select List positions at better prices or begin new ones in well-positioned companies at better prices that we've seen in January and February.
Finally, we'd also remind you to head to the Tematica website, Apple's iTunes, Google Play or other podcast outlet to listen to our Cocktail Investing podcast. Recent episodes have included conversations with The Hartford Funds on its new bond ETFs, and Teucrium Trading on its commodity ETFs as well as the weekly dialog between Chris Versace, Tematica's Chief Investment Officer, and Lenore Hawkins, Tematica's Chief Macro Strategist. We'll have another new episode out this week so be sure to tune in — you don't want to miss it.
Brief Comments on Our Existing Positions
With two new positions on the Tematica Select List to dive into, we'll keep our larger portfolio comments to the vast majority of positions are little changed over the last two weeks. Of course, there are some exceptions like Dycom (DY) shares, which have climbed more than 8 percent over the last week. We're also keeping our eyes on AT&T (T) shares, which are hovering just over $40 and look rather tasty given the 4.9 percent dividend yield at current levels. We suspect that yield is bound to attract investors should market volatility ramp over the next three earnings filled weeks.
Oh wait, we'd said we wanted to get to those two new positions… be sure to check back to the Tematica website for additional comments on Facebook (FB), Applied Materials (AMAT), Dycom (DY) and CalAmp (CAMP) and other existing positions later this week.
Adding Cashless Consumption Company USA Technologies (USAT)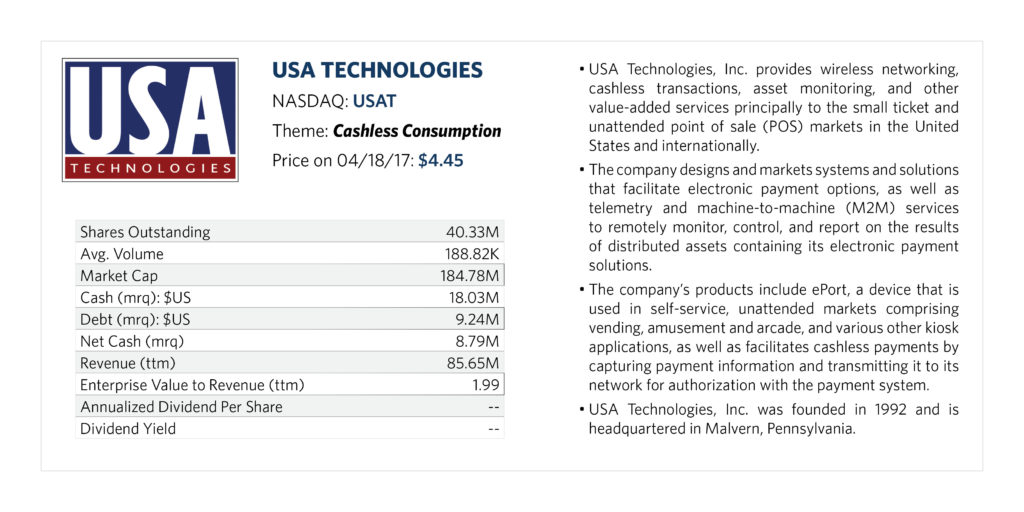 Over the last few days, we've been digesting one of Facebook's (FB) new moves, which is bringing digital payments to its WhatsApp app in India. From a fundamental basis, we see the shift toward digital payments expanding for a number of reasons both here at home as well as in the emerging markets. In the U.S., the proliferation of the smartphone and apps like Apple Pay (AAPL), Square (SQ) and PayPal (PYPL) as well as initiatives from American Express (AXP), Visa (V), MasterCard (MA) and Verifone (PAY), is fostering mobile payment adoption. Recently Chris Versace used Apple Pay to pay for gas at an Exxon Mobil (XOM) station.
We see this as a sign that more applications for mobile payments are coming beyond paying at the grocery store, like we've seen people do more frequently. One of the markets that is being tapped, no pun intended, is vending machines, which have already migrated from bills and coins to credit cards. One of the companies behind that shift is USA Technologies (USAT) and it is using its ePort acceptance technology to vending machines as well as kiosks, laundry, arcades and other self- serve and unattended retail applications.
All told, USA Technologies has 11,900 customers and over 500,000 point-of-sale cashless payment connections on the ePort Connect platform. In terms of its revenue stream, recurring monthly service plus transaction processing accounted for approximately 77 percent of fourth-quarter 2016 revenue. We like recurring revenue as it offers predictability as well as cash flow, which in turn tends to offer better valuation metrics. Recently, six Pepsi-licensed bottlers have agreed to bring USA's payment solutions to 2,000 machines, enabling the firms to track the acceptance of cash, credit/debit cards and contactless payments, including mobile wallet payments such as Apple, Android and Samsung Pay. The rollout includes 1,750 of USA's touch-screen-enabled ePort Interactive payment devices as well as 370 of its NFC-enabled G9 ePorts, for a total of 2,120 units.
What also caught our eye was that USAT's cloud-based interactive media and content delivery management system will serve up targeted advertising to consumers visiting these vending operators, including multimedia marketing campaigns, delivery of nutritional information and sampling. This media-content business could drive incremental revenue, with potentially far higher margins compared to USAT's reported gross margin of 29 percent.
With just four analysts covering the shares and institutional ownership near 45 percent, we suspect USAT shares remain largely undiscovered. Looking at the expectations of those four analysts, the consensus view is for revenue to grow almost 24 percent this year to $96 million before climbing to nearly $115 million in 2018. With Apple launching more banks and credit unions on Apple Pay both in and outside the U.S., as well as Alphabet (GOOGL) doing the same, odds are there is upside to be had with that 2018 revenue forecast, especially as more applications by Verifone and others are deployed. We'd note USA Technologies recently appointed a new chief financial officer, and when this happens there tends to be clearing of the decks, or as some call it, "throwing out everything and the kitchen sink," when it comes to guidance. In our view, should this come to pass it could allow us to scale into the position at better prices.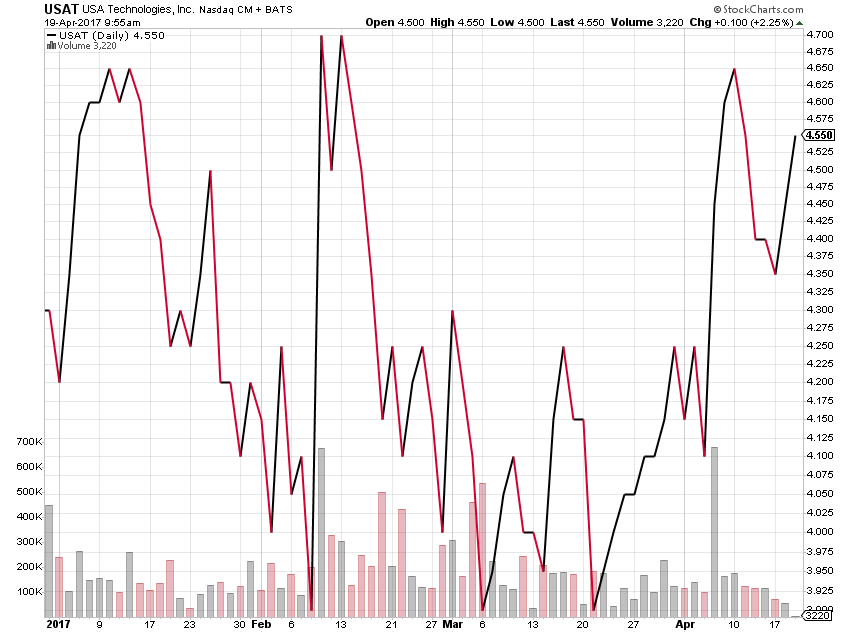 USAT shares are trading at between 1.3x and 1.5x enterprise value to consensus 2017-18 revenue, and the balance sheet is rather clean with net cash of more than $16 million. Year to date, the shares are up modestly and well off the 52-week high of $5.81, which in our view offers an opportunity to begin building a position for the long term. We see upside to $6 over the coming quarters as more mobile payment applications are deployed and acceptance rises. Given USA's position in self- serve retail and mobile payments, we would not be surprised if it was scooped up one day by Verifone, Par Technology (PAR) or another entity in the space.
The Bottomline on USAT Shares:
We are adding USAT shares to the Tematica Select List with a Buy rating and $6 price target.
Our intention is to build the position out on weakness, scaling into the shares between $3.50 and $3.85, or on signs mobile payment adoption is accelerating faster than expected.
We intend to be patient investors and hold the shares as mobile payment adoption grows.
---
BETR Shares are a Foods with Integrity Play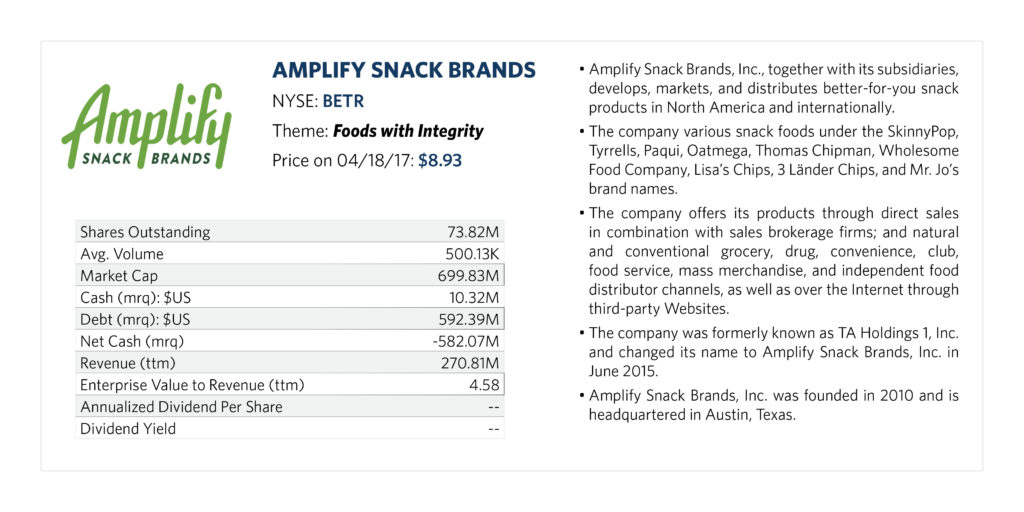 If you've wandered the aisles of your local grocery chain, odds are you've noticed more shelf space and end-caps increasingly giving way to natural, organic and "better for you" foods. Recent comments from Chipotle Mexican Grill (CMG) that it will shed all artificial additives and Darden Restaurants' (DRI) Olive Garden focusing on healthier recipes echo similar moves by Panera Bread (PNRA) to offer "cleaner" food to customers.
Beverage companies ranging from Coca-Cola (KO) to PepsiCo (PEP) and Dr. Pepper Snapple (DPS) are exploring ways to reduce sugar in their carbonated beverages, and the same is happening at candy companies. We see these moves as confirming signs for our Foods with Integrity investing theme that is also powering the Tematica Select List position in United Natural Foods (UNFI).
Industry forecasts call for the global organic food and beverage market to grow to $238.4 billion by 2022, up from $89.8 billion in 2015. There are a variety of factors fueling this growth, but the two major ones are growing consumer awareness and increasing interest of large retailers. Over the last several quarters, we've seen Costco Wholesale (COST) and Kroger (KR), among others, increase their natural, organic and fresh food offerings. Over the last few quarters, confirming comments from Kroger included "Natural, organic and health and wellness continued to be a food megatrend," "we continue to focus on the areas of highest growth like natural and organic products," and" Our natural and organic sales continue to outpace total sales growth."
This brings us to Amplify Snacks (BETR), a company whose primary product line is SkinnyPop, a market-leading better for you (BFY) ready-to-eat popcorn brand that uses simple, allergen-free and non-GMO ingredients. Other products include Crisps Topco, Paqui, Oatmega protein snack bars and Perfect cookie products. With the Crisps Topco acquisition that closed in the third quarter of 2016, Amplify acquired a foothold into the international better-for-you snack market, while the Oatmega purchase brings the company into the $6-billion bar category in the U.S.
In terms of customers, Amplify serves the natural, grocery, mass and food service markets across the U.S., with Costco Wholesale and Wal-Mart's (WMT) Sam's Club accounting for 22 percent and 12 percent of sales in 2016, respectively. We'd note those percentages have fallen over the last few years from 33 percent and 22 percent as Amplify has continued to grow its revenue from $55 million in 2013 to just under $271 million in 2016.
Current consensus forecast call for Amplify to deliver revenue of $405 million this year before climbing to just under $460 million in 2018. Continued consumer adoption of better-for-you foods, growing distribution both in and outside the U.S. and new product offerings are driving revenue expectations. In 2016, Amplify's sales in North America accounted for 85 percent of overall revenue, which reflected one quarter of Crisps Topco. Management targets launching SkinnyPop in international markets in the first half of 2017 and Crisps Topco products in the U.S. in early 2018.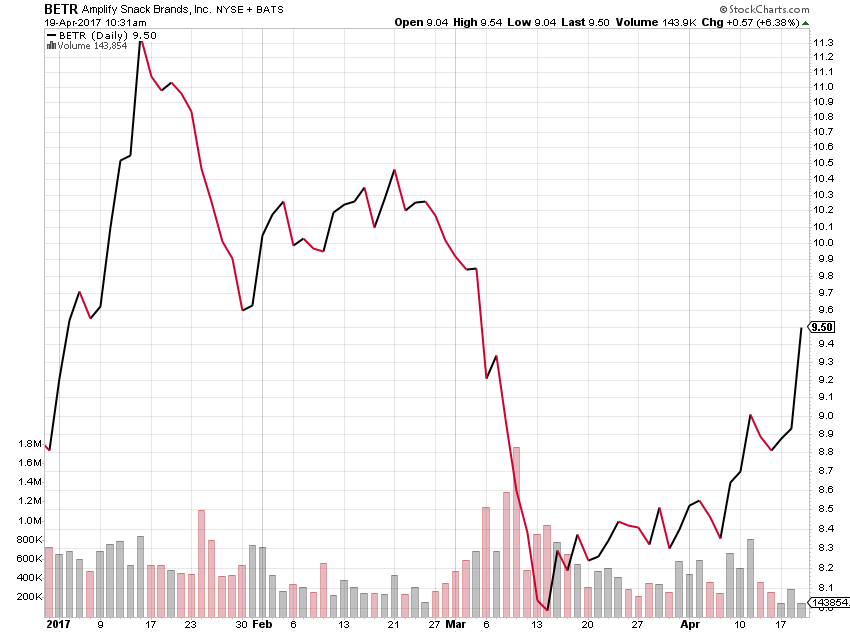 Our price target for BETR shares is set at $11, which offers roughly 23 percent from current levels. The shares recently bottomed out at $7.86, 12 percent below current levels, following a modest earnings miss in the fourth quarter. Our strategy for this Foods with Integrity stock will be to use either market weakness or signs that its products are gaining acceptance and incremental distribution faster than the market expects. Should shares fall below $8.50, we'd be inclined to scale into the position given the favorable risk-to-reward dynamics.
While we don't invest in companies simply on potential takeout speculation, given the trend of larger companies looking to tap into the growing organic/natural food market there is the possibility that Amplify is showing up on acquisition radar screens. Over the last several quarters we've seen
Hershey (HSY) acquire Krave to tap into the paleo and protein snack market,
Campbell Soup (CPB) bought Garden Fresh Gourmet,
Mondelez International (MDLZ) scooped up Enjoy Life Foods,
Danone (DANOY) acquired WhiteWave,
General Mills bought Annie's, and
PepsiCo attempted to acquire Chobani Yogurt.
As Amplify continues to expand its footprint and deliver continued revenue growth, odds are it will pop up on competitor radar screens that include PepsiCo, Kellogg, General Mills, Snyder's-Lance and other larger snack and food companies. Again, we are adding BETR shares to the portfolio given the fundamental drivers behind the business, but as investors, we certainly would not fight a premium takeout offer on the shares.
During the coming earnings season, we'll be listening to comments on the organic, natural and better-for-you food adoption from Wal-Mart, Sprouts Farmer Markets (SFM) and Costco as well as product mix data from PepsiCo, Kellogg (K), ConAgra (CAG), General Mills (GIS) and Snyder's-Lance (LNCE).
The Bottomline on Amplify (BETR) Shares:
We are adding BETR shares to the Tematica Select List with a Buy rating and a $11 price target.
We would look to scale into the position below $8.50