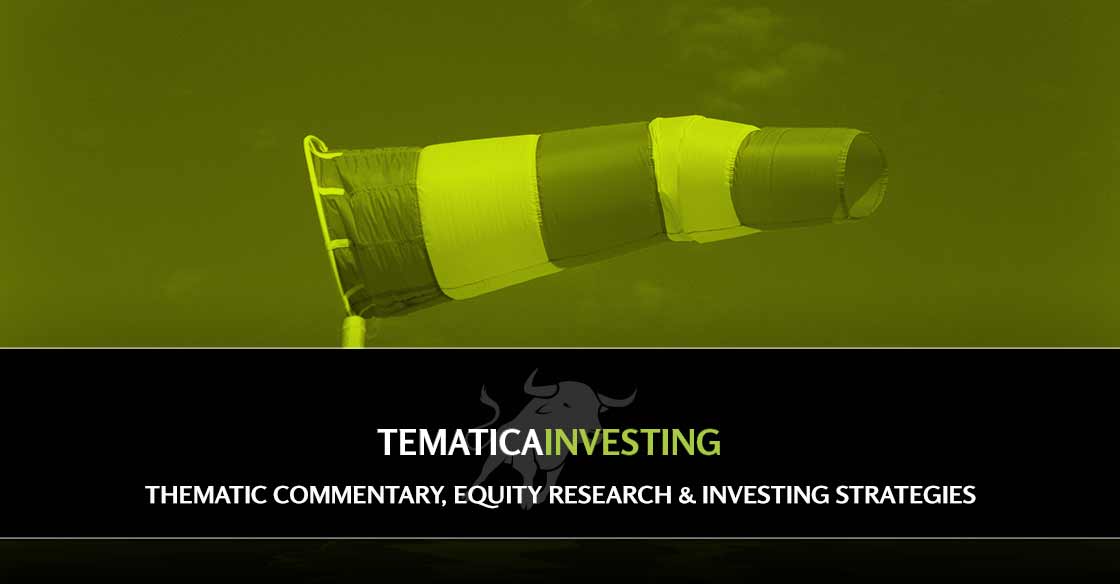 Tags:

Applied Materials (AMAT), China, Costco Wholesale (COST), Dycom Industries, Federal Reserve, Hershey Company, IFF, IHS Markit PMI, ISM Manufacturing, McCormick & Co. (MKC), netflix, USA Technologies (USAT), Veeco Instruements
note: no comments
Key points inside this issue
We are establishing a buy-stop level at 9.50 for shares of Veeco Instruments (VECO), which will lock in a profit of at least 13% on this short position.
The Hershey Company: Tapping into Cleaner Living with M&A

We ended a volatile August… 
Stocks rebounded from some of their recent losses last week as trade tensions between the U.S. and China appear to have cooled off a bit. For the month of August in total, during which there seemed to be one market crisis after another, most of the major stock market indices finished down slightly. The outlier was the small-cap heavy Russell 2000, which shed around 5% during the month.
Looking back over the last few weeks, the market was grappling with a number of uncertainties, the most prominent of which was the announced tariff escalation in the U.S- China trade war. There were other uncertainties brewing, including the growing number of signs that outside of consumer spending, the economy continues to soften. We saw that consumer strength in Friday's July Personal Income & Spending data, but also in the second June-quarter GDP revision that ticked down to 2.0% from 2.1%, even though estimates for consumer spending during the quarter rose to 4.7% from 4.3%. I would note that 4.7% marked the strongest level of consumer spending since the December 2014 quarter. We are, however, seeing a continued shift in where consumers are spending — moving from restaurants and department stores to quick-service restaurants and discount retailers as well as online. This raises the question as to whether the economy is prepared to meet head-on our Middle Class Squeeze investing theme?
Another issue investors grappled with as we closed out August was the yield curve inversion. While historically this does raise a red flag, it's not a foregone conclusion that a recession is around the corner. Rather it can be several quarters away, and there are several stimulative measures that could be invoked to keep the economy growing. In other words, we should continue to mind the data and any potential monetary policy tweaking to be had.
Closing out August, more than 99% of the S&P 500 have reported earnings for the June-quarter season. EPS for that group rose just under 1%, which was far better than the contraction that was lining up just a few weeks ago. Based on corporate guidance and other factors, however, EPS expectations for both the September and December quarters have been revised lower. Some of this no doubt has to do with the next round of tariffs that took effect on Sept. 1 on Chinese imports, but we can't dismiss the slowing speed of the global economy either.
That overall backdrop of uncertainty helps explain why the three best-performing sectors during August were Utilities, Real Estate and Consumer Staples. But as we saw in the second half of last week, a softer tone on the trade war led investors back into the market as China said it wished to resolve the trade dispute with a "calm" attitude.
Without question, investors and Corporate America are eager for forward progress on the trade war to materialize. While there have been several head fakes in recent months, we should remain optimistic. That said, we here at Tematica continue to believe the devil will be in the details when it comes to a potential trade agreement, and much like deciphering economic data, it will mean digging into that agreement to fully understand its ramifications. Those findings and their implications as well as what we hear on the monetary policy front will set the stage for what comes next. 

… and it looks like more ahead for September
This week kicks off the last month of the third quarter of 2019. For many, it will be back to work following the seasonally slow, but volatile last few weeks of summer. The question to be pondered is how volatile will September be? Historically speaking it is the worst calendar month for stocks and based on yesterday's performance it is adhering to its reputation.
As a reminder, on Sept. 1 President Trump authorized a tariff increase to 15% from 10% on $300 billion in Chinese imports, many of which are consumer goods such as clothing, footwear and electronics. As we saw, that line in the sand came and went over the holiday weekend and now Trump is once again rattling his trade saber, suggesting China should make a deal soon as it will only get worse if he wins the 2020 presidential election.
In addition to that, yesterday morning we received the one-two punch that was the August reading on the manufacturing economy — from both IHS Markit and the Institute of Supply Management. The revelation that manufacturing continued to slow weighed on stocks yesterday. The direction of Tuesday's official data, however, was not a surprise to us given other data we monitor such as weekly rail car loadings, truck tonnage and the Cass Freight Index.  But as I have seen many a time, just because we are aware of something in the data doesn't mean everyone is. 
What I suspect has rattled the market as we kick off September is the August ISM Manufacturing Survey, which showed the U.S. manufacturing sector declined to 49.1 in August. That is the lowest reading in about three years, and as a reminder, any reading below 50 signals a contraction. Data from IHS Markit also released yesterday showed the U.S. manufacturing PMI slowed to 50.3 in August, its lowest level since September 2009. Slightly better than the ISM headline print, but still down. Digging into both reports, we see new orders stalled, which suggests businesses are not only growing wary of the trade uncertainty, but that we should not expect a pickup in the month of September.
In my view, the more official data is catching up to the "other data" cited earlier and that more than likely means downward gross domestic product expectations ahead. It will also lead the market to focus increasingly on what the Fed will do and say later this month. I also think the official data is now capturing the weariness of the continued trade war. The combination of the slowing economy as well as the continued if not arguably heightened trade uncertainty will more than likely lead to restrain spending and investment in Corporate America, which will only add to the headwinds hitting the economy. 
Taking those August manufacturing reports, along with the data yet to come this week – the ISM Non-Manufacturing readings for August, and job creation data for August furnished by ADP and the Bureau of Labor Statistics — we'll be able to zero in on the GDP taking shape in the current quarter. I would note that exiting last week, the NY Fed's Nowcast reading for the September quarter was 1.76%, below the 2.0% second revision for June-quarter GDP. There is little question that given yesterday's data the next adjustment to those forecasts will be lower. 
Adding to that view, we'll also get the next iteration of the Fed's Beige Book, which will provide anecdotal economic commentary gathered from the Fed's member banks. And following the latest data, we can expect investors and economists alike will indeed be pouring over the next Beige Book.
No doubt, all of this global macro data and the trade war will be on the minds of central bankers ahead of their September meetings. Those dates are Sept. 12 for the European Central Bank (ECB) followed by the Fed's next monetary policy meeting and press conference on Sept. 16-17. Given the declines in the eurozone, the ECB is widely expected to announce a stimulus package exiting that meeting, and currently the CBOE FedWatch Tool pegs a 96% chance of a rate cut by the Fed. With those consensus views in mind, should the economic data paint a stronger picture than expected it could call into question those likelihoods. If central banker expectations fail to live up to Wall Street expectations, that would more than likely give the stock market yet another case of indigestion.
All of this data will also factor into earnings expectations. Earlier I mentioned some of the more recent revisions to the downside for the back half of 2019 but as we know this is an evolving story. That means effectively "wash, rinse, repeat" when it comes to assessing EPS growth for the S&P 500 as well as individual companies. And lest we forget, companies will not only have to contend with the effect of the current trade war and slowing economy on their businesses, but also the dollar, which as we can see in the chart below has near fresh highs for 2019.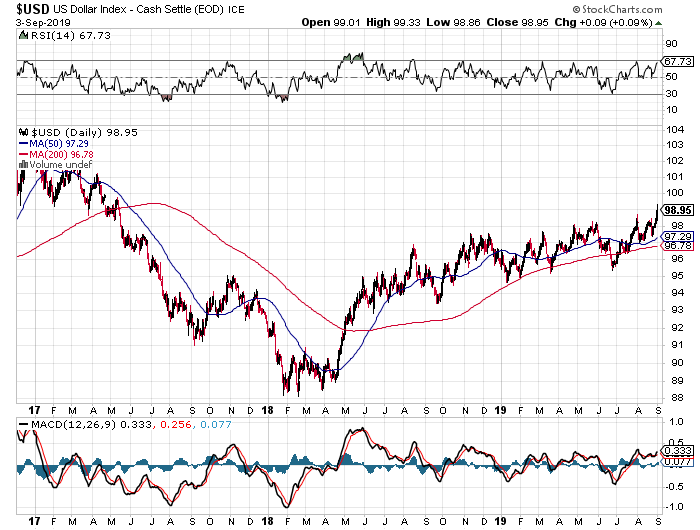 The biggest risk I see over the next few weeks is one of economic, monetary policy and earnings reality not matching up with expectations. Gazing forward over the next few weeks, the growing likelihood is one that points more toward additional risk in the market. We will continue to trade carefully in the near-term and heed what we gather from the latest thematic signals.

The Thematic Leaders and Select List
Over the last several weeks, the market turbulence led several positions, including those in Netflix (NFLX), Dycom (DY) and International Flavors & Fragrances (IFF) — on both the Tematica Leader board and the Select List to be stopped out. On the other hand, even though the overall markets took a bit of a nosedive during August, several of our thematic holdings, such as USA Technologies (USAT), AT&T (T), Costco Wholesale (COST), McCormick & Co. (MKC) and Applied Materials (AMAT) to name a few outperformed on both an absolute and relative basis.
Even the short position in Veeco Instruments (VECO) has returned nearly 18% since we added that to the Select List last March. That has been a particularly nice move, but also one that is playing out as expected. Currently, we have do not have a buy-stop order to protect us on our VECO position, and we are going to rectify that today. We are establishing a buy-stop level at 9.50 for shares of Veeco Instruments (VECO), which will lock in a profit of at least 13% on this short position. 
We are establishing a buy-stop level at 9.50 for shares of Veeco Instruments (VECO), which will lock in a profit of at least 13% on this short position.

The Hershey Company: Tapping into Cleaner Living with M&A
When we think of The Hershey Company (HSY) there is little question that its candy, gum and mints business that garnered it just over 30% of the US candy market lands its squarely in our Guilty Pleasure investing theme. Even the company itself refers to itself as the "undisputed leader in US confection" and we look at its thematic scorecard rankings, its business warrants a "5", which means nearly all of its sales and profits are derived from our Guilty Pleasure theme. 
Not exactly a shock to even a casual observer.
But as we've discussed more than a few times, consumers are shifting their preferences for food, beverages and snacks to "healthier for you" alternatives. These could be offerings made from organic or all-natural ingredients, or even ingredients that are considered to promote better health, such as protein over sugar. Recognizing this changing preference among its core constituents, Hershey hasn't been asleep at the switch, but rather it has been making a number of nip and tuck acquisitions to improve its snacking portfolio, which aligns well with our Cleaner Living investing theme. 
These acquisitions have played out over a number of years, starting with the acquisition of the Krave jerky business (2015);  SkinnyPop parent Amplify Snacks (2017), Pirate Brands, including the Pirate's Booty, Smart Puffs and Original Tings brands (2018). Then, just last month, Hershey acquired ONE Brands, LLC, the maker of a line of low-sugar, high-protein nutrition bars. August 2019 turned out to be a busy month for the executives of Hershey, as also in that month, the company announced minority investments in emerging snacking businesses FULFIL Holdings Limited and Blue Stripes LLC. FULFIL is a one of the leading makers of vitamin–fortified, high protein nutrition bars in the UK and Ireland, while Blue Stripes offers cacao-based snacks and treats instead of chocolate ones. 
Clearly the Hershey Company is improving its position relative to our Cleaner Living investing theme. The outstanding question is to what degree are these aggregated businesses contributing to the company's overall sales and profits? While it is safe to say Hershey has some exposure to the Cleaner Living theme, the answers to those questions will determine Hershey's overall theme ranking. That level of detail could emerge during the company's September quarter earnings call, but it may not until it files its 2019 10-K. 
As we wait for that October conference call, I'll continue to do some additional work on HSY shares, including what the potential EPS impact is from not only falling sugar prices but also the pickup in cocoa prices over the last six months. In a surprise that should come to no one, given the size and influence of the company's chocolate and confectionary business to its sales and profits, cocoa and sugar are two key inputs that can hold sway over the Hershey cost structure. 
In my mind, the long-term question with Hershey is whether it can replicate the nip and tuck transformative success Walmart (WMT) had when it used a similar strategy to reposition itself to better capture the tailwinds of our Digital Lifestyle investing theme? No doubt transformation takes time, but now is the time to see if a better business balance between our Guilty Pleasure and Cleaner Living themes emerges at Hershey.