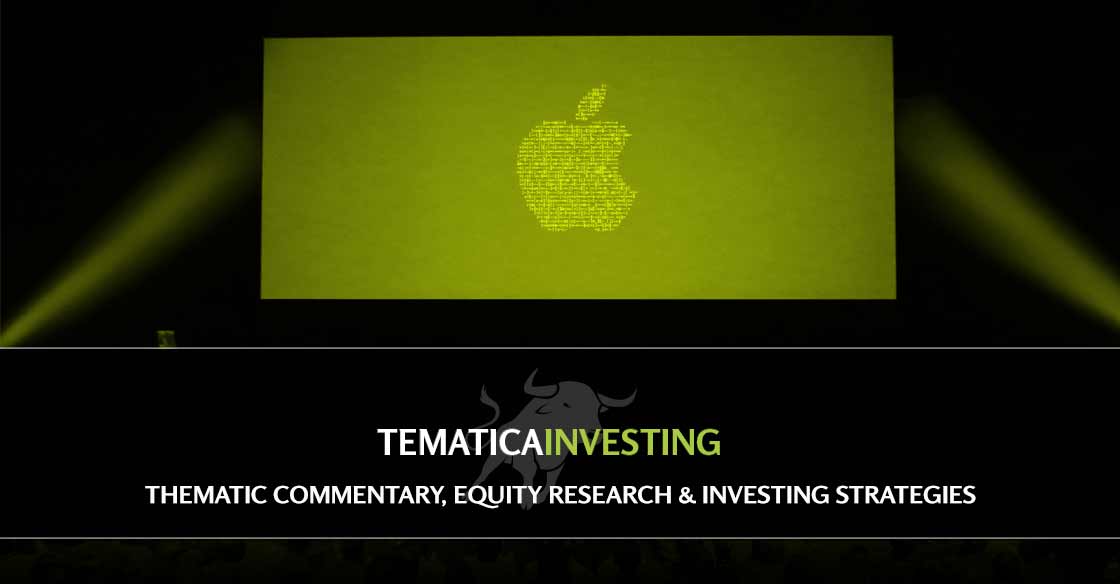 Tags:

AMAT, Apple, Apple Pay, Apple TV, Apple Watch, Applied Materials, AXT, AXTI, iPhone, iPhone X, LTE, NUAN, Nuance, OLED, OLEDs, Tim Cook, Universal Display, USA Technologies, voice
note: no comments
Several of the Disruptive Technologies investment theme companies currently on the Tematica Select List will play a key role in the Apple Special Event scheduled for Tuesday, September 12th. In all likelihood the companies themselves will never be mentioned during the event, but with expectations once again running high ahead the next generation iPhone, here's what we'll be watching for as it pertains to the Tematica Select List.
---
Early this afternoon, Connected Society and smartphone reliant Apple (AAPL) will hold its next special event that is widely expected to unveil a bevy of new products, including its latest iPhone models. Much has been made over the last few days of "leaked information" over these new models as well as new iterations for Apple TV and Apple Watch, but as exciting as those other new products may be because the iPhone is the majority of Apple's revenue and profits odds are investors will focus their attention on those new models.
While we don't own Apple shares, and we touched on at least one of those reasons yesterday, there are several companies on the Tematica Select List that will be affected by today's special event – Universal Display (OLED), Applied Materials (AMAT), and AXT Inc. (AXTI) as well as USA Technologies (USAT) and Nuance Communications (NUAN).
Universal Display (OLED) 
As subscribers should be aware, Universal Display is a Disruptive Technology investment theme company that supplies needed chemicals and intellectual property utilized in the manufacturing of organic liquid crystal displays (OLEDs). Over the last few months, there has been much talk of ramping demand in an industry that is capacity constrained as Apple begins to adopt the technology in the iPhone while other applications (other smartphone vendors, TVs, wearables and automotive interior lighting) continue to replace existing lighting and displays with OLEDs. There are now indications that Apple is likely to introduce OLEDs in its new premium iPhone, purportedly the iPhone X.
The issue, however, is that it is being reported that the manufacturing of iPhone X device is currently capped at around 10,000 units per day and may not begin shipping until next month. This could be due OLEDs supply constraints, but if this speculation over the iPhone X turns out to be true, we could see a pullback in our OLED shares, especially following the more than 18% move in the last month alone that has the shares bumping up against our $135 price target. We continue to think that as the adoption of OLEDs continues to ramp up, we will see a step-function higher in our price target for Universal Display shares, but in the near-term, our concern is that rapid climb in the share price could hit a "buy the rumor, sell the news" wall following Apple's event. If such an outcome occurs, our view is subscribers should continue to hold OLED shares for the long-term. If the shares retreated to the $110-$115 level, which would be a sharp pullback, we would view that as another bite at the apple for subscribers that have so far held off buying OLED shares.
Our price target on Universal Display (OLED) shares remains $135
For now, subscribers that have missed out on OLED shares should look to scoop them up between $110-$115.
Applied Materials (OLED) 
If the supposition that Apple's iPhone X production is capped because of capacity constraints for OLEDs, we see that being a resounding positive for shares of Disruptive Technology company Applied Materials (AMAT). As a reminder, Applied not only manufactures semiconductor capital equipment (the machines that make chips) it does the same for displays, including OLEDs. Applied has been rather frank about the robust demand for OLEDs, and it remains one of the reasons we are bullish on AMAT shares. Others include rising memory demand as well as ramping in-country semiconductor capacity in China.
Our price target on Applied Materials (AMAT) shares remains $55.
AXT Inc. (AXTI)
We would be surprised to hear Apple talk about 5G wireless technology, which would require several additional layers of RF semiconductors, largely because most wireless carriers like AT&T (T), Verizon (VZ) and T-Mobile USA (TMUS) are still testing the technology. If, however, the Apple Watch is updated to include LTE wireless technology, that would be a source of new demand for RF semiconductors, like those from Skyworks Solutions (SWKS) and Qorvo (QRVO). In turn, that means those companies, as well as other RF semiconductor suppliers of Apple's, would require additional compound semiconductor substrates from AXT Inc. (AXTI). While we still see the eventual deployment of 5G networks that will drive incremental RF semiconductor demand as the key driver longer-term for AXT's business, incremental demand from devices like Apple Watch is certainly welcome.
Our price target on AXT Inc. (AXTI) shares remains $10.50
USA Technologies (USAT) & Nuance Comm. (NUAN)
Finally, during today's presentations, we'll also be watching and listening for incremental news on USA Technologies (USAT), an Apple Pay partner, as well as Nuance Communications (NUAN). In iOS 11, Apple will continue to expand the services offered through Apple Pay, and we expect to hear at least some usage statistics from Apple CEO Tim Cook today. With Nuance, voice continues to become the new interface of choice across new applications from smart speakers to chat-bots, like those being rolled out by Google (GOOGL), Facebook (FB) and yes, Apple, and that keeps us bullish on NUAN shares.
Our price target on USA Technologies (USAT) shares remains $6
Our price target on Nuance Communications (NUAN) remains $21.