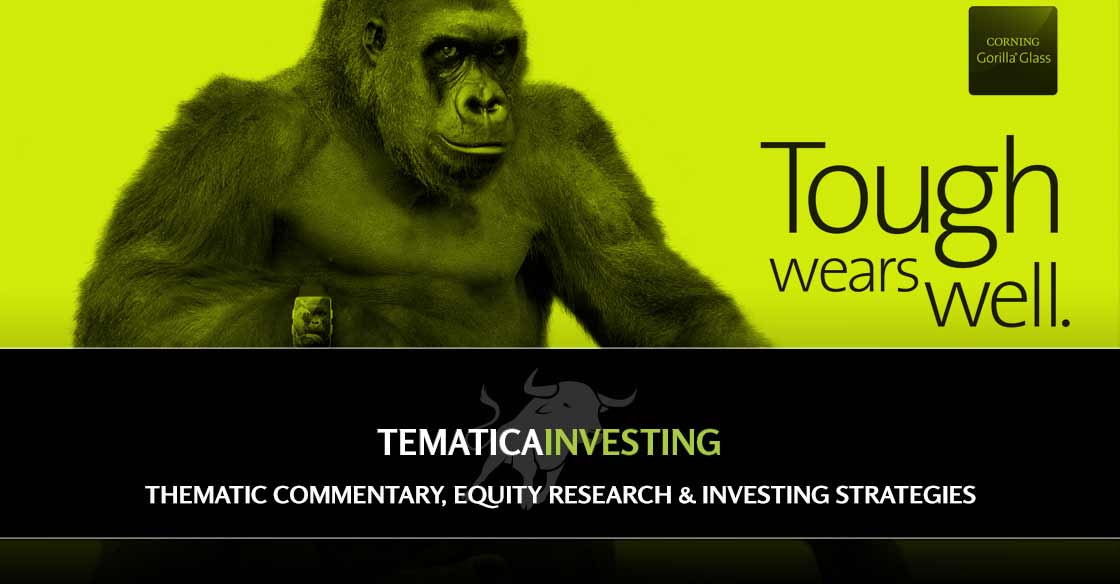 Amid a falling stock market open this Tuesday morning, which comes on the heels of a Monday that was the worst day thus far for stocks in 2018, Disruptive Technology company Corning (GLW) reported better than expected December quarter earnings, beating on both the top and bottom lines. The sparse release from the company showed positive results across the majority of its business and hinted at expectations for the company's top line to rise 5% this year. All in all, a solid report ahead of the company's 8:30 AM ET conference call, which should shed far more details on its quarterly results and outlook. It's that more granular view, especially for the smartphone market, that will determine how GLW shares will trade later today as well as those for Apple (AAPL) and Universal Display (OLED).
Piecing some comments together from its earnings press release, it appears Corning's Display Technologies business (31% of sales) will continue to benefit from larger screen sizes and better LCD glass pricing, while Optical Communications (34% of sales) is expected to grow 10% year over year due in part to a contract with Verizon (VZ) as well as ongoing backhaul demand. That year over year improvement at the Optical Communications segment is forecasted without any benefit to be had from the recently acquired 3M Communications Market Division. Two of the company's other segments – Life Sciences and Environmental Technologies – are slated to deliver positive sales gains, but there is some rather cryptic wording for the company's Specialty Materials business (14% of sales)
As I noted above, Corning is holding its December quarter earnings conference call this morning and we expect the dialog to be had to provide far more details on management's expectations as well as the dynamics, such as smartphone shipment expectations for the first half of 2018, that will impact product mix and profits. Current consensus expectations have the company delivering EPS near $1.80. Because the company's Display Technologies business accounted for 46% of earnings in the December quarter and 47% in all of 2017, we expect Wall Street to pepper the company with questions surrounding iPhone production levels in the coming quarters. Those answers will determine the likelihood of those 2018 EPS forecasts that fall between $1.64 – $1.98 per share. Quite a wide berth, and the answers will determine if there is upside to our $37 price target.
I have shared there is much speculation over iPhone X production levels to be had, but we would remind subscribers the iPhone X is just one of Apple's smartphone models. That said, given the rapid rise in the overall stock market year-to-date, up 6.7%-8.2% across the major market indices after yesterdays' performance, and the 7% increase in GLW shares over the same time frame, Corning's smartphone commentary could weigh on the shares if it indicates an overall weaker than expected smartphone market. It will also help chart the near-term direction for the Apple and Universal Display shares on the Tematica Investing Select List.
From my perspective, we are hearing reports of larger format smartphones from Apple and others hitting shelves later this year. Paired with the growing adoption of larger format organic light emitting diode (OLED) displays on both smartphones and TVs, as well as burgeoning demand for backhaul technologies that should grow in the coming quarters as 5G networks are built, we'll use any pullback to be had in GLW shares in the near-term to improve our long-term position.