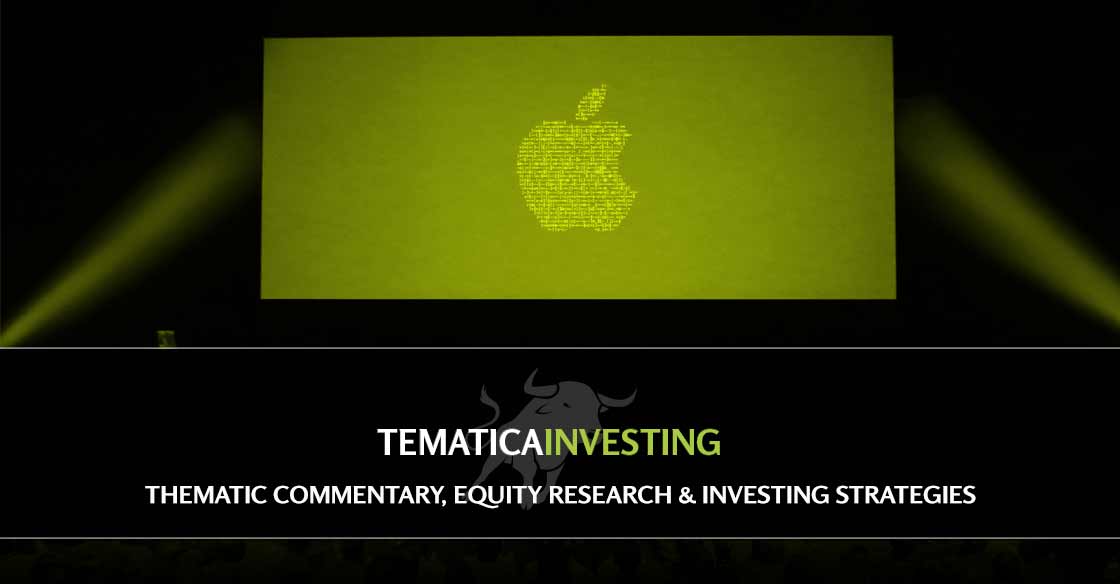 Tags:

Alphabet, Apple, Apple Arcade, Apple Watch, AppleTV+, AT&T, Comcast, Dycom Industries, Fitbit, GameStop, Garmin, iPhone, Microsoft, netflix, Sprint, T-Mobile USA, tesla, Verizon, Volkswagen, Walt Disney
note: no comments
Key points inside this issue:
Apple's 2019 iPhone event – more meh than wow
GameStop – It's only going to get worse
Elliot Management gets active in AT&T, but its prefers Verizon?
California approves a bill that changes how contract workers are treated
Volkswagen set to disrupt the electric vehicle market
I'm going to deviate from the usual format we've been using here at Tematica Investing this week to focus on some of what's happening with Select List residents Apple (AAPL) and AT&T (T) this week as well as one or two other things. The reason is the developments at both companies have a few layers to them, and I wanted to take the space to discuss them in greater detail. Don't worry, we'll be back to our standard format next week and I should be sharing some thoughts on Farfetch (FTCH), which sits at the crossroads of our Living the Life, Middle Class Squeeze and Digital Lifestyle investing themes, and another company I've been scrutinizing with our thematic lens. 
Apple's 2019 iPhone event – more meh than wow
Yesterday, Apple (AAPL) held its now annual iPhone-centric event, at which it unveiled its newest smartphone model as well as other "new", or more to the point, upgraded hardware. In that regard, Apple did not disappoint, but the bottom line is the company delivered on expectations serving up new models of the iPhone, Apple Watch and iPad, but with only incremental technical advancements. 
Was there anything that is likely to make the average users, not the early adopter, upgrade today because they simply have to "have it"? 
Not in my view. 
What Apple did do with these latest devices and price cuts on older models that it will keep in play was round out price points in its active device portfolio. To me, that says CEO Tim Cook and his team got the message following the introduction of the iPhone XS and iPhone XS Max last year, each of which sported price tags of over $1,000. This year, a consumer can scoop up an iPhone 8 for as low as $499 or pay more than $1,000 for the new iPhone 11 Pro that sports a new camera system and some other incremental whizbangs. The same goes with Apple Watch – while Apple debuted a new Series 5 model yesterday, it is keeping the Series 3 in the lineup and dropped its price point to $199. That has the potential to wreak havoc on fitness trackers and other smartwatch businesses at companies like Garmin (GRMN) and Fitbit (FIT). 
Before moving on, I will point out the expanded product price points could make judging Apple's product mix revenue from quarter to quarter more of a challenge, especially since Apple is now sharing information on these devices in a more limited fashion. This could mean Apple has a greater chance of surprising on revenue, both to the upside as well as the downside. Despite Apple's progress in growing its Services business, as well its other non-iPhone businesses, iPhone still accounted for 48% of June 2019 quarterly revenue. 
Those weren't the only two companies to feel the pinch of the Apple event. Another was Netflix (NFLX) as Apple joined Select List resident Walt Disney (DIS) in undercutting Netflix's monthly subscription rate. In case you missed it, Disney's starter package for its video streaming service came in at $6.99 per month. Apple undercut that with a $4.99 a month price point for its forthcoming AppleTV+ service, plus one year free with a new device purchase. To be fair, out of the gate Apple's content library will be rather thin in comparison to Disney and Netflix, but it does have the balance sheet to grow its library in the coming quarters. 
Apple also announced that its game subscription service, Apple Arcade, will launch on September 19 with a $4.99 per month price point. Others, such as Microsoft (MSFT) and Alphabet (GOOGL) are targeting game subscription services as well, but with Apple's install base of devices and the adoption of mobile gaming, Apple Arcade could surprise to the upside. 
To me, the combination of Apple Arcade and these other game services are another nail in the coffin for GameStop (GME). 
GameStop – It's only going to get worse
I've been bearish on GameStop (GME) for some time, but even I didn't think it could get this ugly, this fast. After the close last night, GameStop reported its latest quarter results that saw EPS miss expectations by $0.10 per share, a miss on revenues, guidance on its outlook below consensus, and a cut to its same-store comps guidance. The company also shared the core tenets of a new strategic plan. 
Nearly all of its speaks for itself except for the strategic plan. Those key tenets are:
Optimize the core business by improving efficiency and effectiveness across the organization, including cost restructuring, inventory management optimization, adding and growing high margin product categories, and rationalizing the global store base. 
Create the social and cultural hub of gaming across the GameStop platform by testing and improving existing core assets including the store experience, knowledgeable associates and the PowerUp Rewards loyalty program. 
Build digital capabilities, including the recent relaunch of GameStop.com.
 Transform vendor and partner relationships to unlock additional high-margin revenue streams and optimize the lifetime value of every customer.
Granted, this is a cursory review, but based on what I've seen I am utterly unconvinced that GameStop can turn this boat around. The company faces headwinds associated with our Digital Lifestyle investing theme that are only going to grow stronger as gaming services from Apple, Microsoft and Alphabet come to market and offer the ability to game anywhere, anytime. To me, it's very much like the slow sinking ship that was Barnes & Noble (BKS) that tried several different strategies to bail water out. 
Did GameStop have its time in the sun? Sure it did, but so did Blockbuster Video and we all know how that ended. Odds are it will be Game Over for GameStop before too long.
Getting back to Apple, now we wait for September 20 when all the new iPhone models begin shipping. Wall Street get your spreadsheets ready!
Elliot Management gets active in AT&T, but its prefers Verizon?
Earlier this week, we learned that activist investor Elliot Management Corp. took a position in AT&T (T). At $3.2 billion, we can safely say it is a large position. Following that investment, Elliot sent a 24-page letter telling AT&T that it needed to change to bolster its share price. Elliot's price target for T shares? $60. I'll come back to that in a bit. 
Soon thereafter, many media outlets from The New York Times to The Wall Street Journal ran articles covering that 24-page letter, which at one point suggested AT&T be more like Verizon (VZ) and focus on building out its 5G network and cut costs. While I agree with Elliot that those should be focus points for AT&T, and that AT&T should benefit from its spectrum holdings as well as being the provider of the federally backed FirstNet communications system for emergency responders, I disagree with its criticism of the company's media play. 
Plain and simple, people vote with their feet for quality content. We've seen this at the movie box office, TV ratings, and at streaming services like Netflix (NFLX) when it debuted House of Cards or Stranger Things, and Hulu with the Handmaiden's Tale. I've long since argued that AT&T has taken a page out of others' playbook and sought to surround its mobile business with content, and yes that mobile business is increasingly the platform of choice for consuming streaming video content. By effectively forming a proprietary content moat around its business, the company can shore up its competitive position and expand its business offering rather than having its mobile service compete largely on price. And this isn't a new strategy – we saw Comcast (CMCSA) do it rather well when it swallowed NBC Universal to take on Walt Disney and others. 
Let's also remember that following the acquisiton of Time Warner, AT&T is poised to follow Walt Disney, Apple and others into the streaming video service market next year. Unlike Apple, AT&T's Warner Media brings a rich and growing content library but similar to Apple, AT&T has an existing service to which it can bundle its streaming service. AT&T may be arriving later to the party than Apple and Disney, but its effort should not be underestimated, nor should the impact of that business on how investors will come to think about valuing T shares. The recent valuation shift in Disney thanks to Disney+ is a great example and odds are we will see something similar at Apple before too long with Apple Arcade and AppleTV+. These changes will help inform us as to how that AT&T re-think could play out as it comes to straddle the line between being a Digital Infrastructure and Digital Lifestyle company.
Yes Verizon may have a leg up on AT&T when it comes to the current state of its 5G network, but as we heard from specialty contractor Dycom Industries (DY), it is seeing a significant uptick in 5G related construction and its top two customers are AT& T (23% of first half 2019 revenue) followed by Verizon (22%). But when these two companies along with Sprint (S), T-Mobile USA (TMUS) and other players have their 5G network buildout competed, how will Verizon ward off subscriber poachers that are offering compelling monthly rates? 
And for what it's worth, I'm sure Elliot Management is loving the current dividend yield had with T shares. Granted its $60 price target implies a yield more like 3.4%, but I'd be happy to get that yield if it means a 60% pop in T shares. 
California approves a bill that changes how contract workers are treated
California has long been a trend setter, but if you're an investor in Uber (UBER) or Lyft (LYFT) — two companies riding our Disruptive Innovators theme — that latest bout of trend setting could become a problem. Yesterday, California lawmakers have approved Assembly Bill 5, a bill that requires companies like Uber, Lyft and DoorDash to treat contract workers as employees. 
This is one of those times that our thematic lens is being tilted a tad to focus on a regulatory change that will entitle gig workers to protections like a minimum wage and unemployment benefits, which will drive costs at the companies higher. It's being estimated that on-demand companies like Uber and the delivery service DoorDash will see their costs rise 20%-30% when they rely on employees rather than contractors. For Uber and Lyft, that likely means pushing out their respective timetables to profitability.
We'll have to see if other states follow California's lead and adopt a similar change. A coalition of labor groups is pushing similar legislation in New York, and bills in Washington State and Oregon could see renewed momentum. The more states that do, the larger the profit revisions to the downside to be had. 
Volkswagen set to disrupt the electric vehicle market
It was recently reported that Volkswagen (VWAGY) has hit a new milestone in reducing battery costs for its electric vehicles, as it now pays less than $100 per KWh for its batteries. Given the battery pack is the most expensive part of an electric vehicle, this has been thought to be a tipping point for mass adoption of electric vehicles. 
Soon after that report, Volkswagen rolled out the final version of its first affordable long-range electric car, the ID.3, at the 2019 Frankfurt Motor Show and is expected to be available in mid-2020.  By affordable, Volkswagen means "under €30,000" (about $33,180, currently) and the ID.3 will come in three variants that offer between roughly 205 and 340 miles of range. 
By all accounts, the ID.3 will be a vehicle to watch as it is the first one being built on the company's new modular all-electric platform that is expected to be the basis for dozens more cars and SUVs in the coming years as Volkswagen Group's pushed hard into electric vehicles. 
Many, including myself, have been waiting for the competitive landscape in the electric vehicle market to heat up considerably – it's no secret that all the major auto OEMs are targeting the market. Between this fall in battery cost and the price point for Volkswagen's ID.3, it appears that the change in the landscape is finally approaching and it's likely to bring more competitive pressures for Clean Living company and Cleaner  Living Index constituent Tesla (TSLA).