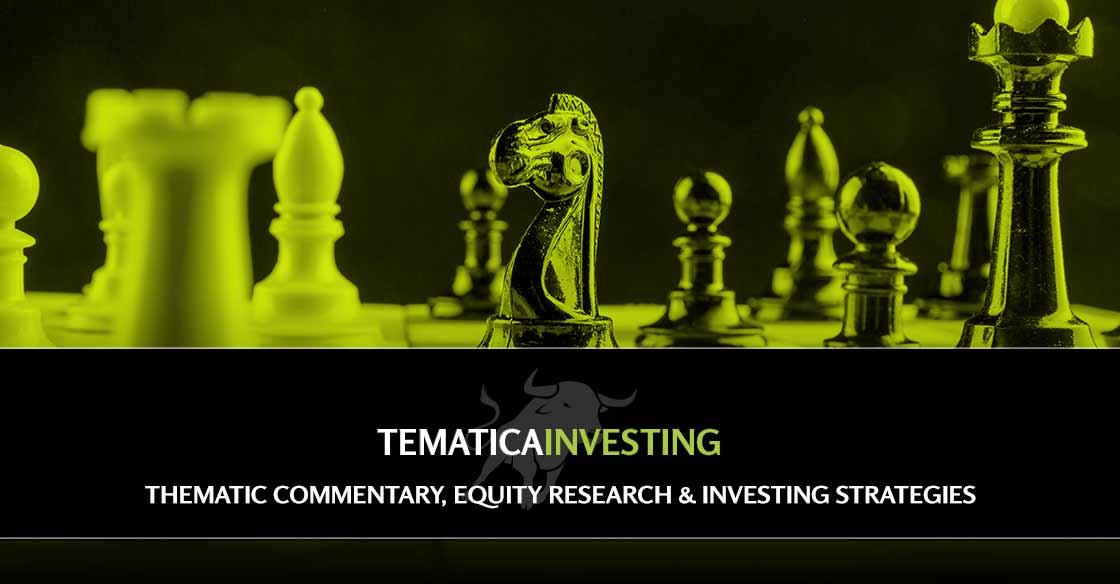 Tags:

$NOK, AAPL, Apple, Century Link, DIS, Disney, FDP, Fresh Del Monte, HD, Home Depot, INTC, Intel, JPM, JPMorgan, KHC, Kraft Heinz, L Brands, LB, Manning & Napier, netflix, NFLX, Nokia, OLED, OMI, Owens Minor, UFAB, Uique Fabricating, Universal Display, Verizon, VZ, Warren Buffett
note: no comments
Key points inside this issue
Our long-term price target on Disruptive Innovator leader Nokia (NOK) shares remains $8.50.
We will continue to be long-term shareholders with Disruptive Innovator Select List resident Universal Display (OLED). Given the improving outlooks, our near-term price target for OLED shares is getting lifted to $150 from $125, and I will revisit that target as we move through the balance of 2019.
Reading the latest from the Oracle of Omaha
Over the weekend, the Oracle of Omaha, Warren Buffett, released his annual letter to shareholders of Berkshire Hathaway (BRK.A). This letter has become a must-read among institutional and individual investors alike because it not only reveals changes in Berkshire's top investment portfolio positions, but it also has contained ample comments on the economy and markets as well as an investing lesson or two.
Out of the gate, we learned that once again Team Buffett outperformed the major stock market indices in 2018. As Buffett got underway, he casually reminded readers to be buyers of "ably managed businesses, in whole or part, that possess favorable and durable economic characteristics" and to do so at sensible prices. While it may seem somewhat self-serving this sounds very much like our thematic investing strategy that looks to identify companies benefitting from structural economic, demographic, psychographic and technological changes at prices that offer commanding upside vs. potential downside.
In the past, Buffett has commented that stocks are akin to pieces of paper and it's the businesses behind them that are the drivers of revenue and profits. It's an idea we are very much in tune with as we view ourselves as buyers of thematically well-positioned business first, their shares second. No matter how attractive a stock's price may be, if its business is troubled or facing thematic headwinds, it can be a tough pill to swallow.
As Buffett later noted, "On occasion, a ridiculously high purchase price for a given stock will cause a splendid business to become a poor investment — if not permanently, at least for a painfully long period." I certainly agree with that statement because buying a stock at the wrong price can make for a painful experience. There are times, to be patient, but there are also times when the thesis behind owning a stock changes. In those times, it makes far more sense to cut bait in favor of better-positioned companies.
Buffett then shared that "prices are sky-high for businesses possessing decent long- term prospects," which is something we've commented on several times in recent weeks as the stock market continued to melt up even as earnings expectations for the near term have moved lower. We'll continue to take the advice of Buffett and focus on "calculating whether a portion of an attractive business is worth more than its market price," for much like Buffett and his team work for Berkshire shareholders, Tematica and I work for you, our subscribers.
Mixed in among the rest of the letter are some on Buffett's investing history, which is always an informative read, and a quick mention that "At Berkshire, we hope to invest significant sums across borders" and that it continues to "hope for an elephant-sized acquisition." While I can't speak to any acquisition, especially after the debacle that is now recognized as Kraft Heinz (KHC), the focus on investing across borders potentially speaks to our New Global Middle-class and Living the Life investing themes. Given Buffett's style, I suspect Team Buffett is more likely to tap into the rising middle-class over luxury and travel.
Several times Buffett touched on his age, 88 years, as well as that of its key partner Charlie Munger, who is 95. There was no meaningful revelation on how they plan to transition the management team, but odds are that will be a topic of conversation, as will Kraft Heinz Co. (KHC) at the annual shareholder meeting that is scheduled for Saturday, May 4. More details on that can be found at the bottom of the 2018 shareholder letter.
If I had to describe the overall letter, it was a very solid one, but candidly not one of the more memorable ones. Perhaps that reflects 2018 as a whole, a year in which all major market indices fell into the red during the last quarter of the year, and a current environment that is characterized by slowing global growth.
More signs that the domestic economy is a-slowin'
In recent issues of Tematica Investing and in the recent Context & Perspectives pieces penned by Tematica's Chief Macro Strategist Lenore Hawkins, we've shared how even though the U.S. economy looks like the best one on the global block, it is showing signs of slowing. We had further confirmation of that in the recent December Retail Sales Report as well as the January Industrial Production data that showed a drop in manufacturing activity. The December Durable Orders report that showed orders for non-defense capital goods excluding aircraft dropped 0.7% added further confirmation. Moreover, the report showed a downward November revision for the category to a fall of 1.0% vs. the prior 0.6% decline.
Much the way we focus on the order data inside the monthly ISM and IHS Markit PMI reports, the order data contained inside the monthly Durable Orders report gives us a sense of what is likely to come in near-term. These declining orders combined with the January declines in Industrial Production suggest slack is growing in the manufacturing economy, which means orders for new production equipment are likely to remain soft in the near-term. 
This past Monday we received another set of data that point to a slowing U.S. economy. We learned the Chicago Fed National Activity Index (CFNAI) fell to -0.43 in January from +0.05 in December. This index tracks 85 indicators; we'd note that in January, 35 of those indicators made positive contributions to the index, but that 50 made negative contributions, which produced the month-over-month decline.
Before we get all nervous over that negative January reading for the CFNAI, periods of economic expansion have been associated with index values above -0.70, which means the economy continued to expand in January, just at a much slower pace compared to December. Should the CFNAI reading fall below -0.70 in February or another coming month, it would signal a contraction in the domestic economy.
In response, Buffett likely would say that he and the team will continue to manage the portfolio for the long term, and that's very much in sync with our thematic investing time frame.
Watch those dividends… for increases and for cuts!
Ahead of Buffett's shareholder letter, shares of Kraft Heinz (KHC) tumbled in a  pronounced manner following several announcements, one of which included the 35% cut in its quarterly dividend to $0.40 per share from $0.625 per share. That's a huge disappointment given the commonplace expectation that a company is expected to pay its dividend in perpetuity. It can increase its dividend or from time to time declare a special dividend, but as we've seen time and time again, the cutting of a company's dividend is a disaster its stock price. We've seen this when General Motors (GM) and General Electric (GE) cut their respective dividends and again last week when Kraft made a similar announcement.
Those three are rather high profile and well-owned stocks, but they aren't the only ones that have cut quarterly dividend payments to their shareholders. In December, L Brands (LB), the company behind Victoria's Secret and Bath & Body Works, clipped its annual dividend by 50% to $1.20 per share from $2.40 per share and its shares dropped from $35 to $24 before rebounding modestly. On the company's fourth-quarter earnings conference call, management of Century Link (CTL)  disclosed it would be cutting the telecom service provider's annual dividend from $2.16 to $1.00 per share. Earlier this month, postal meter and office equipment company Pitney Bowes (PBI) declared a quarterly dividend of $0.05 per share, more than 73% fall from the prior dividend of $0.1875 per share. Other dividend cuts in recent weeks were had at Owens & Minor (OMI), Manning & Napier (MN), Unique Fabricating (UFAB), County Bancorp (ICBK), and Fresh Del Monte (FDP).
What the majority of these dividend cuts have in common is a challenged business, and in some cases like that for Pitney Bowes, the management team and Board have opted to carve out a new path for its capital allocation policy. For Pitney, it means shifting the mix to favor its share buyback program over dividends given the additional $100 million authorization that was announced which upsized its program to $121 million.
As I see it, there are several lessons to be had from these dividends:
One, outsized dividend yields as was the case back in September with L Brands can signal an opportunity for dividend income-seeking investors, but it can also represent a warning sign as investors exit shares in businesses that look to have operating and/or cash flow pressures.
This means that Two, we as investors always need to do the homework to determine what the prospects for the company's business. As we discussed above, Buffett's latest shareholder letter reminds investors to be buyers of "ably-managed businesses, in whole or part, that possess favorable and durable economic characteristics" and to do so at sensible prices. Through our thematic lens, it's no surprise that L Brands and Pitney Bowes are hitting the headwinds of our Digital Lifestyle investing theme, while Kraft Heinz is in the grips of the consumer shift to Cleaner Living. Perhaps Kraft should have focused on something other than cost cuts to grow its bottom line.
Third, investors make mistakes and as we saw with the plummet in the share price at Kraft Heinz, it can happen to Buffett as well. There's no shame in making a mistake, so long as we can learn from it.
Fourth and perhaps most important, while some may look at the growing number of dividend cuts on a company by company basis, if we look at them in aggregate the pace is greater than the number of such cuts, we saw in all of 2018. While we try not to overly excited one way or another, the pace of dividend cuts is likely to spur questions over the economy and where we are in the business cycle.
Putting it all together
As we move into March, more than 90% of the S&P 500 group of companies will have reported their quarterly results. As those results have been increasingly tallied over the last few weeks, we've seen EPS expectations move lower for the coming quarters and as of Friday' stock market close the consensus view is 2019 EPS growth for the S&P 500 will be around 4.7%. That is significantly lower than the more than 11% EPS growth that was forecasted back at the start of the December quarter.
For those keeping score, the consensus for the current quarter points to a 2% growth rate. However, we're starting to see more analysts cut their outlooks as more figures are reported. For example, JPMorgan (JPM) now sees the current quarter clocking in at 1.5% due to slower business investment spending. For now, JP sees a pick-up in the June quarter to a 2.25% forecast. But in our view, this will hinge on what we see in the coming order data.
Putting it all together, we have a slowing economy, EPS cuts that are making the stock market incrementally more expensive as has moved higher over the last 9 weeks, marking one of the best runs it has had in more than 20 years, and a growing number of dividend cuts. Sounds like a disconnect in the making to me.
Clearly, the stock market has been melting up over the last several weeks on increasing hopes over a favorable trade deal with China, but as I've been saying for some time, measuring the success of any trade agreement will hinge on the details. Should it fail to live up to expectations, which is a distinct possibility, we could very well see a "buy the rumor, sell the news" situation arise in the stock market.
We will continue to tread carefully in the near-term, especially given the likelihood that following the disappointing December Retail Sales report and consumer-facing data, retailers are likely to deliver underwhelming quarterly results. Despite favorable weather in December, we saw that yesterday with Home Depot (HD),  and historically it's been a pretty good yardstick for the consumer. In all likelihood as the remaining 10% of the S&P 500 companies report, we're going to see further negative revisions to that current 4.7% EPS growth rate for this year I talked about.
Tematica Investing
A few paragraphs above, I touched on the strength of the stock market thus far in 2019, and even though concerns are mounting, we have seen pronounced moves higher in a number of the Thematic Leaders as you can see in the chart below. We'll continue to monitor the changing landscapes and what they may bring. For example, in the coming weeks both Apple and Disney (DIS) are expected to unveil their respective streaming services, and I'll be listening closely for to determine what this means for Digital Lifestyle leader Netflix (NFLX).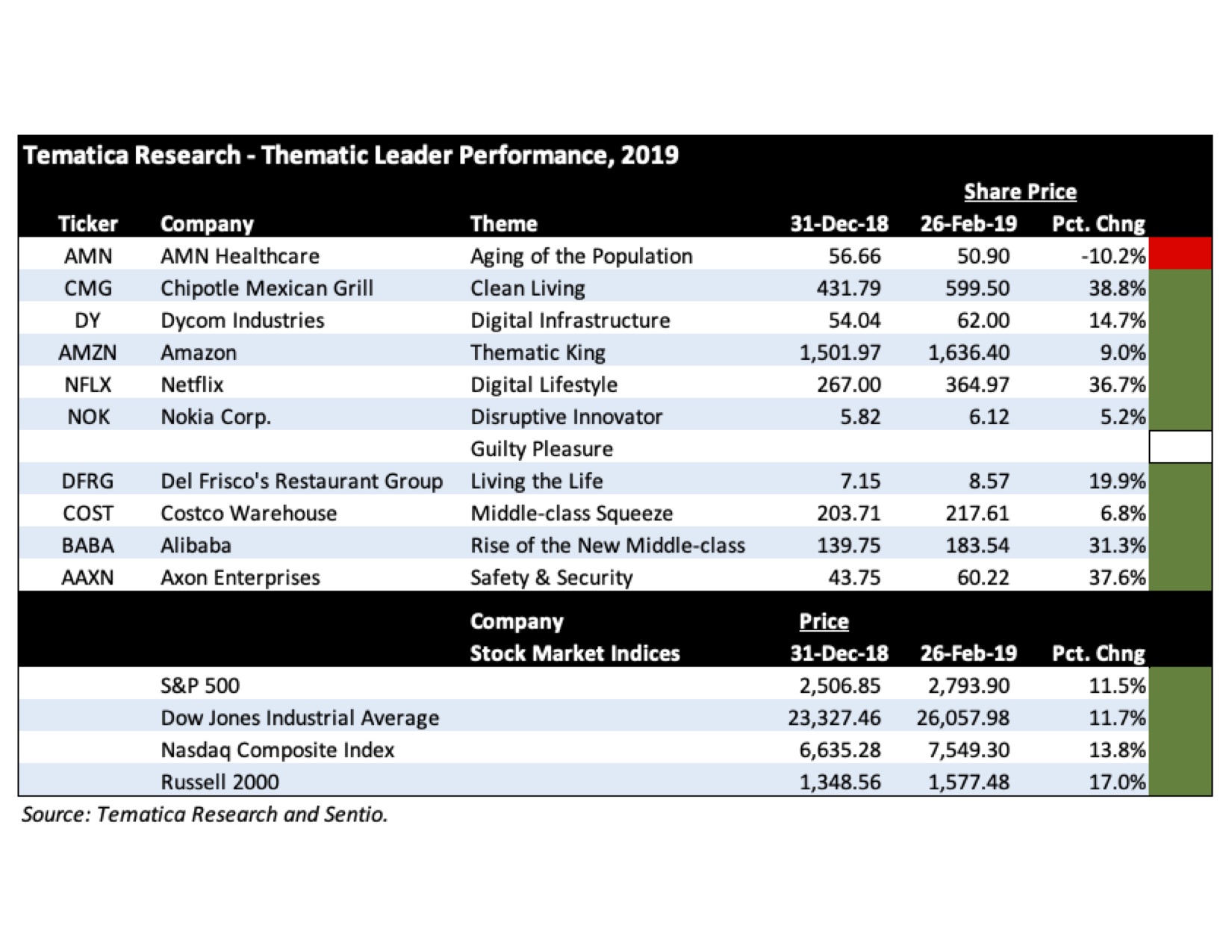 Nokia and Mobile World Congress 2019
We are two days into Mobile World Congress 2019, arguably THE mobile industry event of the year and one to watch for our Digital Lifestyle, Digital Infrastructure, and Disruptive Innovator themes. Thus far, we've received a number of different device and network announcements from the event.
On the device side, more 5G capable handsets have been announced as well as a number of foldable smartphones that appear to be a hybrid between a large format smartphone and a tablet. Those foldable smartphones are sporting some hefty price tags as evidenced by the $2,600 one for Huawei's model. Interesting, but given the size of the device as well as the price point, one has to question if this is a commercially viable product or simply a concept one. Given the pushback that we are seeing with big-ticket smartphones that is resulting in consumers not upgrading their smartphones as quickly as they have in the past, odds are some of these device announcements fall more into the concept category.
On the network side, the news to center on comes from Verizon (VZ), which said it expects to have its 5G network in 30 U.S. cities by the end of 2019. That's hardly what one would call a vibrant, national 5G network, and makes those commercial 5G launches really a 2020 event for the mobile carriers and consumers. It does mean that over the next several quarters, those mobile operators will continue to build out their 5G networks, which is positive for our shares of Nokia (NOK). As the 5G buildout moves beyond the U.S. into Europe and Asia, this tailwind bodes rather well for the company and helps back its longer-term targets. 
This 5G timetable was also confirmed by comments from Intel (INTC) about the timing of 5G chipsets, which are now expected to be available by the end of 2019 and are not likely to hit devices until 2020. Given the timing of CES in early January and the Mobile World Congress 2020 in February, odds are it means we will see a number of device announcements in early 2020 that will hit shelves in the second half of the year. Many have been wondering when Apple (AAPL) will have a 5G powered iPhone, and based on the various chipset and network comments, odds are the first time we'll hear about such a device is September-October 2020. 
If history is to be repeated, we are likely to see something similar to what we saw with the first 3G and 4G handsets. By that, we mean a poor consumer experience at least until the 5G networks are truly national in scale and the chipsets become more efficient. One of the issues with each additional layer of mobile technology is it requires additional radio frequency (RF) chips, which in turn not only consume more power but also present internal design issues that out of the gate could limit the size of the battery. Generally speaking, early versions of these new smartphones tend to have less than desirable up-times. This is another reason to think Apple will not be one of those out of the gate 5G smartphone companies, but rather it will repeat its past strategy of bringing its product to market at the tipping point for the chipsets and network deployments. 
Circling back to our Nokia shares, while there are just over a handful of 5G smartphones that have been announced, some of which are expected to become available later this year, over the coming 18 months we will see a far greater number of 5G devices. This should drive Nokia's high margin, IP licensing business in the coming quarters. As this occurs, Nokia's mobile infrastructure should continue to benefit from the growing number of 5G networks being built out, not only here in the US but elsewhere as well.
Our long-term price target on Disruptive Innovator leader Nokia (NOK) shares remains $8.50
Universal Display shares get lit up
Last week I previewed the upcoming earnings report from Select List resident Universal Display (OLED) and following that news the shares were off with a bang! Universal posted earnings of $0.40 per share, $0.08 per share better than the consensus expectations, on revenue that matched the Wall Street consensus of $70 million. Considering the tone of the smartphone market, I view the company's quarterly results as "not as bad a feared" and, no surprise, the guidance reflects the continued adoption of organic light-emitting displays across a growing number of devices and vendors. For the current year, Universal has guided revenue to $325 million-$350 million, which is likely to be a step function higher as we move through the coming quarters reflecting the traditional year-end debut of new smartphones, TVs and other devices.
Longer-term, we know Apple (AAPL) and others are looking to migrate more of their product portfolios to organic light-emitting diode displays. This shift will drive capacity increases in the coming several quarters — and recent reports on China's next round of display investing seems to confirm this happening per its latest Five-Year Plan. As we have seen in the past, this can lead to periods of oversupply and pricing issues for the displays, but the longer-term path as witnessed with light-emitting diodes (LEDs) is one of greater adoption. 
As display pricing improves as capacity grows, new applications for the technology tend to arise. Remember that while we are focused on smartphones and TVs in the near-term, other applications include automotive lighting and general lighting. Again, just like we saw with LEDs.
We will continue to be long-term shareholders with Disruptive Innovator Select List resident Universal Display (OLED). Given the improving outlooks, our near-term price target for OLED shares is getting lifted to $150 from $125, and I will revisit that target as we move through the balance of 2019.