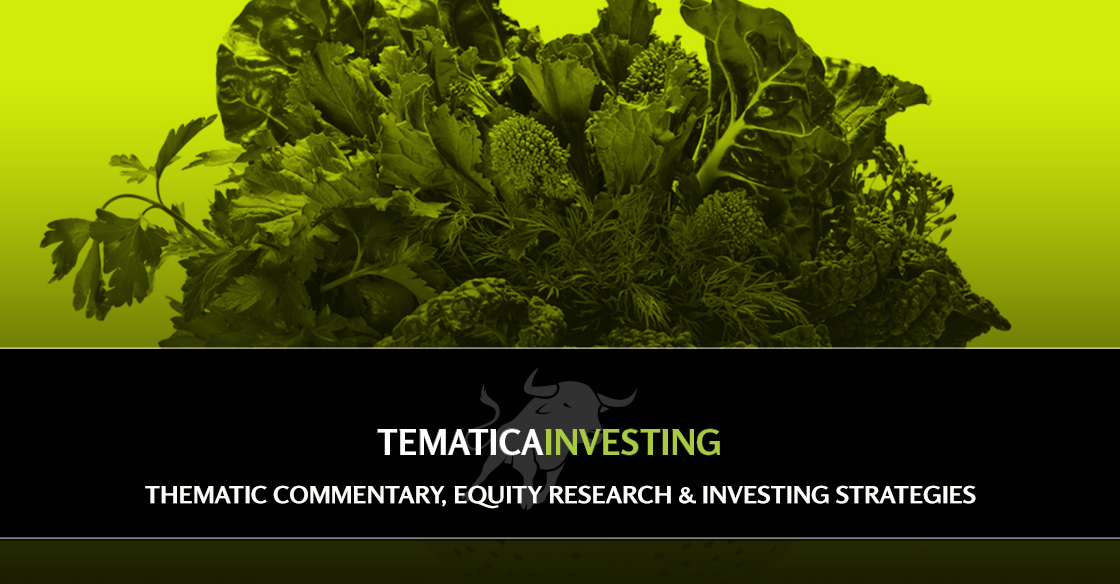 KEY POINTS FROM THIS ALERT:
We are adding Farmland Partners (FPI) to the Tematica Investing Select List with a $12 price target.
On the heels of a smart equity investment in PTC Inc. (PTC), we reiterate our $235 price target for shares of Rockwell Automation (ROK).
Stocks appear to have shrugged off the lack of developments spinning out of the international trade and talks that were had over the last several days.  Perhaps this reflects the meh attitude had by investors that understand it will take time to turn these conversations into solutions. As the focus on those events fades, we have the Fed's next FOMC meeting on deck that will come into the spotlight even though it is widely expected to boost interest rates exiting this meeting.
This begs the question as to why this meeting will be so closely watched and the answer lies in that it is one of the handful of meetings at which the Fed will hold a post-meeting press conference as well as issues its updated economic forecast. My strong suspicion is the Fed will respond to the widening number of inflationary data points that we've been seeing in both hard economic data and other signals in its comments and forecast. More than likely this means the Fed will signal a fourth rate hike this year, again something that has been gaining in thought. Inside the Fed's forecast, I'll be looking to see if it telegraphs a change in the number of rate hikes for 2019 as well.
The reason I'll be focusing on the overall number of rate hikes over the next several quarters is what it means for interest cost on an incremental basis as well as the impact to be had on consumer spending and the economy.
As we wait for that event and its implications to unfold later this afternoon, I'm adding a new company, Farmland Partners (FPI) to the Tematica Investing Select List. Up front, I will tell you Farmland is far from a household name, but it is a Real Estate Investment Trust (REIT) that as its name suggests invests in US farmland. As I explain below, there are several thematic factors coming together across our Rise of the New Middle Class and Scarce Resources investing themes with Farmland. Now with no further adieu…
Adding Farmland Partners to the Select List
As I just mentioned, we are adding shares of Farmland Partners to the Tematica Investing Select List to gain not only high dividend yielding exposure to the real-estate industry, but also benefit from the increasing scarcity that is arable farmland that is becoming more valuable as the middle class outside the US continues to expand. In thematic speak, we see the company as a direct beneficiary of our Scare Resource investing theme and an indirect one for our Rise of the Middle Class one.
My price target for FPI shares is $12, which equates to a price to book value of roughly 1.1x its current book value of $10.85 exiting the March quarter.
Who is Farmland Partners?
FPI is the largest U.S.-listed farmland REIT. Its portfolio spans some 166,000 acres across 17 states, with rental income driving roughly 90% of the company's revenue stream. Farmers use about 70% of FPI's land for primary crops like corn, with the remaining 30% committed to specialty crops such as almonds or citrus. In addition, Farmland "double dips" to some extent by producing solar and wind power on 11 of its farms.
If you're thinking this is a very different REIT and a very different kind of company, I'd agree — but investors can often find meaningful opportunities in such overlooked companies. And FPI is definitely overlooked, with just two analysts covering the stock vs. the more than 18 who follow REITs like Public Storage (PSA) and HCP (HCP).
But what's perhaps most interesting is that FPI's share price is essentially unchanged so far in 2018 despite the upward moves in prices for corn, wheat and soybeans that these charts show: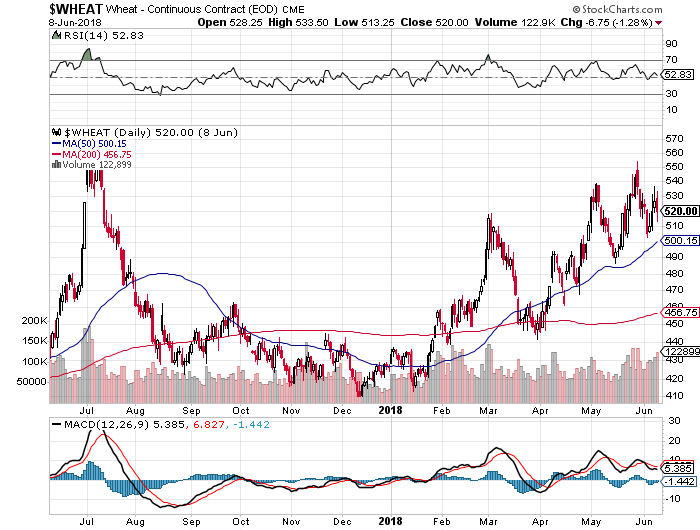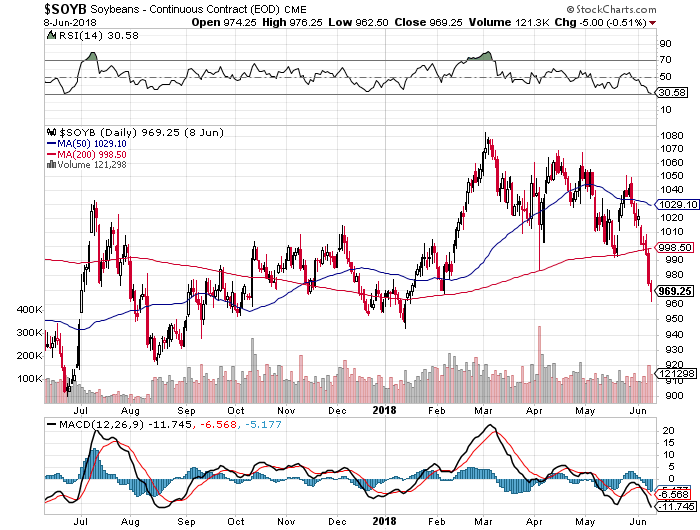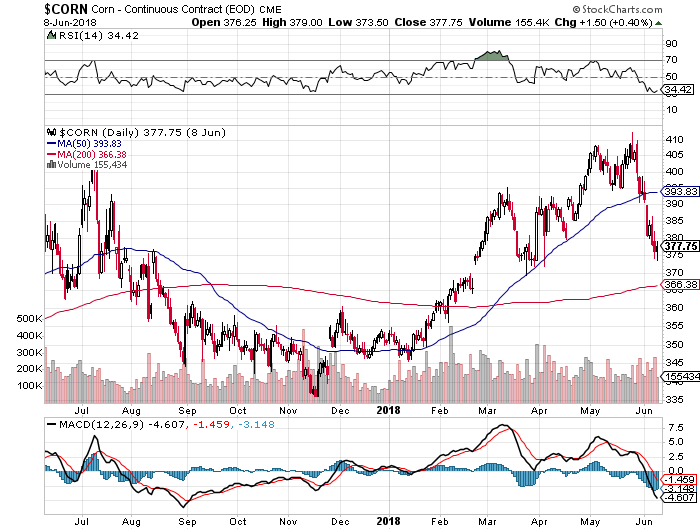 We can attribute some of these crop-price hikes to potential tariffs that would limit global supply, but the increases also have to do with rising global demand. The U.S. Department of Agriculture recently boosted its 2018 projection for overall American grain and feed exports to $31.2 billion — $1.5 billion higher than the agency's February projection. That's also up from the $30.35 billion of grain and feed that American producers shipped overseas in 2017.
And with rising global demand for proteins due in part to emerging markets' rising middle classes, we're likely to see price increases continue for these commodities over the longer term. In fact, America recorded it third-best year for agricultural exports in 2017, shipping $140.5 billion of goods. That's up $10.9 billion year over year. By comparison, China only exported $22 billion of such crops, followed by Canada at $20.4 billion and Europe at $11.6 billion.
The higher U.S. exports have come even though America's arable land fell by nearly 15% between 1997 and 2015 vs. a slight gain in worldwide arable land. Add in rising demand from emerging Asian economies for food imports and U.S. farmland seems poised to become more valuable over time.
We're already seeing this in the USDA's annual Land Values report. The latest edition valued U.S. farmland at $3,080 per acre on average in 2017, up from just $1,483 per acre in 2000. While there can be some ups and downs year to year, U.S. farmland prices have generally been growing at just under a 4.7% compound annual growth rate.
In short, I see arable land as a scarce resource, with Farmland Partners poised to benefit over the longer term as land prices creep higher. Income investors should also remember that as Farmland's business grows, it must pay out at least 90% of its income to keep its REIT status. That bodes well for future dividend increases.
In the meantime, Farmland will pay its next quarterly dividend of $0.1275 per common share on July 16 to shareholders of record as of July 2. On an annualized basis, that equates to a dividend yield of 5.7%, well above the 1.8% yield to be had with the S&P 500.
Getting to the $12 price target
As for the stock's price, FPI is trading at just $8.70 as I write this — about a 20% discount from the $10.85-per-share book value that the company had as of March 31. For those unfamiliar with book value, it's a proxy for the total value of a company's assets that shareholders would theoretically receive if the business had to liquidate.
FPI's discount to book value strongly suggests that its shares are undervalued, likely due to recent trade-war and interest-rate fears. While this might restrain FPI shares in the near term, I instead choose to focus on the stock's long-term favorable fundamentals discussed above. That said, FPI shares have had a favorable move higher since early May and that has the shares approaching over bought status. Given the upside to be had, we're adding the shares to the Select List, but we would look to scale deeper into the position below $8, which would also serve to improve our cost basis.
Like most REITs, odds are Farmland will use its balance sheet to grow its operating business by acquiring additional farmland. If and when such transactions occur, we'll assess the impact to the share's book value and our price target. For now, my $12 price target equates to roughly 1.0x the company's most recent book value of $10.85 per share, which is in line with its price to book value average over the last three years.
Rockwell Automation makes a strategic move and bumps up its buyback program
Yesterday, Rockwell Automation (ROK), a company that is riding our Tooling & Re-Tooling investment theme, made two announcements. The first one surrounds its upsizing its stock buyback program by $300 million to $1.5 billion. I see this as a positive in terms of supporting the share price, but it will be something to watch in terms of profit growth when Rockwell reports its quarterly earnings over the coming quarters.
The second announcement to me is far more interesting because it focused on the evolution of Rockwell's business model. Specifically, Rockwell shared it will spend $1 billion to acquire 10.58 million shares of PTC Inc. (PTC), a company that software company focused on internet of things (IoT), augmented reality and industrial automation communications, and the Rockwell CEO, Blake Moret will join PTC's board of directors. That bite at PTC shares will equate to an 8.4% ownership stake by Rockwell in PTC. While details were in short supply, I see the partnership bringing PTC's offerings, which are in-line with several aspects of our Disruptive Technologies investing theme, to Rockwell's factory automation solutions. A smart move as 5G and IoT looms ahead.
The focus on ROK shares will continue to be business investment spending as companies look to take advantage of tax reform and new depreciation schedules to update and overhaul their plants and other facilities. Our price target on ROK shares remains $235.
On the heels of a smart equity investment in PTC Inc. (PTC), we reiterate our $235 price target for shares of Rockwell Automation (ROK).