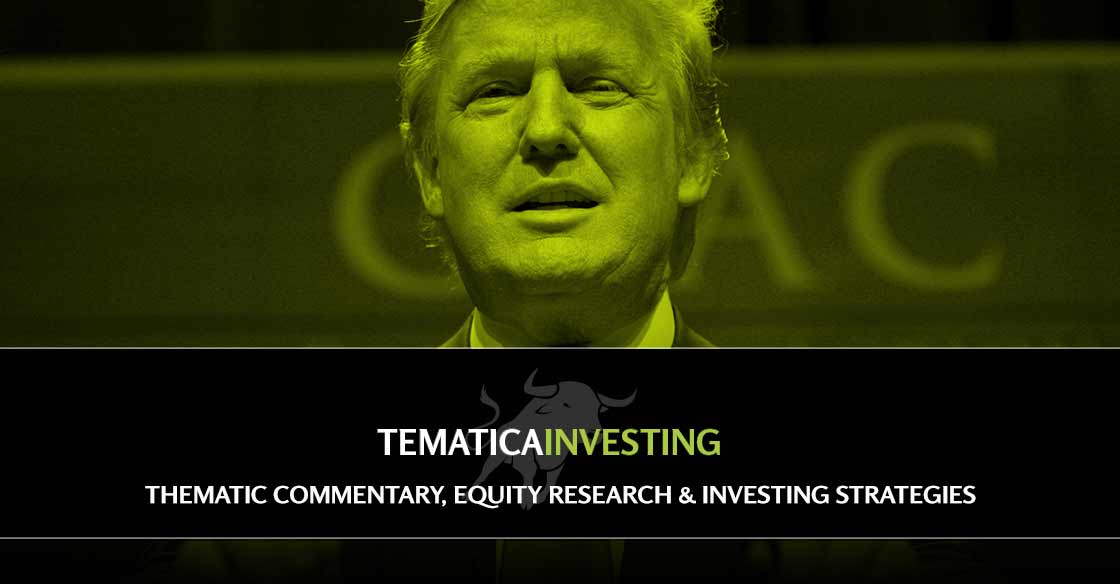 Key points inside this issue
Safety & Security Thematic Leader is up big year to date, and new body camera and digital records products hitting later this year should accelerate the company's transition. Our long-term price target on AAXN shares remains $90.
The April Retail Sales Report should offer confirmation for Thematic King Amazon (AMZN) as well as Middle-Class Squeeze Thematic Leader Costco Wholesale (COST).

Given the wide swings in the market over the last few days that are tied back to the changing US-China trade talk landscape, I thought it prudent to share my latest thoughts even if it's a day earlier than usual.

As we discussed in the last issue of Tematica Investing, we knew that coming into last week, it was going to be a challenging one. Trade tensions kicked up to levels few were expecting 10 days ago and as the week progressed the tension and uncertainty crept even higher. We all know the stock market is no fan of uncertainty, but when paired with upsized tariffs from both the US and China that will present new economic and earnings headwinds, something that was not foreseen just a few weeks ago, investors will once again have to revisit their expectations for the economy and earnings. And yes, odds are those past and even more recent expectations will be revisited to the downside.
What was originally thought to have been President Trump looking to squeeze some last- minute trade deal points out of the Chinese instead turned out to be more of a response to China's attempt to do the same. This revealed the tenuous state of U.S./China trade talks. Last Friday morning, the U.S. had boosted tariffs to 25% from 10% on $200 billion worth of Chinese goods with President Trump tweeting there is "absolutely no need to rush" and that "China should not renegotiate deals with the U.S. at the last minute." Even as the new tariffs and tweets arrived, trade negotiations continued Friday in Washington with no trade deal put in place, which dashed the hopes of some traders. Candidly, I didn't expect a trade deal to emerge given what had transpired over the prior week.
That hope-inspired rebound late Friday in the domestic stock market returned to renewed market pressure over the weekend and into this week as more questions over U.S.-China trade have emerged. As we started off this week, the trade angst between the U.S. and China has edged higher as China has responded to last week's U.S. tariff bump by saying it would increase tariffs on $60 billion of U.S. goods to 25% from 10% beginning June 1st. Clearly, the latest round of tweets from President Trump won't ease investor concern as to how the trade talks will move forward from here.
As the trade war rhetoric kicks up alongside tariffs, the next date to watch will be the G-20 economic summit in Japan next month. According to Trump economic adviser Larry Kudlow, there is a "strong possibility" Trump will meet Chinese President Xi and this morning President Trump confirmed that.
The cherry or cherries on top of all of this is the growing worries over increasing tension with Iran, which is weighing on the market this morning, and yet another 2019 growth forecast cut by the EU that came complete with a fresh warning on Italy's debt levels. Growth projections by the European Commission showed a mere 0.1% for GDP growth this year in Italy. The country has the second-largest debt pile in the EU and, according to the latest forecasts by the commission, the Italian debt-to-GDP ratio will hit 133% this year and rise to 135% in 2020. I point these out not to worry or spook you, but rather remind you there are other issues than just US-China trade that have to be factored into our thinking.
The natural market reaction to all of these concerns is to adopt a "risk off" attitude, which, as we've seen before, can ignite a storm of "fire first, ask questions later." And as should be no surprise, that has fueled the sharp move lower in the major market indices. Over the last several days, the S&P 500, which as we know if the barometer used by most institutional and professional investors, fell 4.7% while the small-cap heavy Russell 2000 dropped 5.7%.
At times like this, it pays to do nothing. Hard to believe but as you've often heard few will step in to catch a falling knife and given the sharp declines, we also run the risk of a dead cat bounce in the market. We should be patient until the market finds its footing, which means parsing what comes next on the economic and earnings as well as trade front.
I'll continue to look for replacements for open Thematic Leader slots as well as other contenders poised to benefit from our pronounced thematic tailwinds. In the near-term, that will mean focusing on ones that also have a more U.S.-focused business model, a focus on inelastic and consumable products. Another avenue that investors are likely to revisit is dividend-paying companies, particularly those that fall into the Dividend Aristocrats category because they've consistently grown their dividends for the past 10 years. As I sift through the would-be contenders, I'll be sure to look for those that intersect our investing themes and the aristocrats.

Tematica Investing
As the stock market has come under pressure, a number of our Thematic Leaders, as well as companies on the Select List, have given back some of their year-to-date gains. One that has rallied and moved higher in spite of the market sell-off is Safety & Security Thematic Leader Axon Enterprises (AAXN) and are up some 48% year to date. That makes it the second-best performer on the Thematic Leaderboard year to date behind Clean Living company Chipotle Mexican Grill (CMG) that is up nearly 60% even after the market's recent bout of indigestion.
Axon reported its March quarter earnings last week, which saw revenue grow 14% year over year as Axon continues to shift its business mix from Taser hardware to its Software & Sensor business that fall under the Axon Body and Axon Records businesses. During the company's earnings conference call, the management team shared its next gen products will be available during the back half of the year. These include the Axon Body, its first camera with LTE live streaming, will launch during the September quarter and Axon Records, its first stand-alone software product. Records w will launch with a major city police department and it is already testing with a second major police department. As far as the new Axon Body product, I suspect the untethering of this camera could spur adoption much the way Apple's (AAPL) Apple Watch saw a pronounced pick up when it added cellular connectivity to its third model.
These new products, which leverage the intersection between our Digital Infrastructure investing theme and our Safety & Security one, should accelerate the transition to a higher margin, recurring revenue business in the coming quarters. In other words, Axon's transformation is poised to continue and as that happens investors will be revisiting how they value the company's business. More than likely that means further upside ahead for AAXN shares.
Our price target on Safety & Security Thematic Leader Axon Enterprises (AAXN) remains $90.

Here comes the April Retail Sales Report
Later this week, we'll get the April Retail Sales Report, which should benefit for the late Easter holiday this year. Up until the March report, this data stream was disappointing during December through February but even so from a thematic perspective the reports continued to reinforce our Digital Lifestyle and Middle-class Squeeze investing themes.
When we look at the April data, I'll be looking at both the sequential and year over year comparisons for Nonstore retailers, the government category for digital shopping and the category that best captures Thematic King Amazon (AMZN). I'll also be looking at the general merchandise stores category with regard to Middle-Class Squeeze Thematic Leader Costco Wholesale (COST). Costco has already shared its April same-store sales, which rose 7.7% in the US despite having one less shopping day during the month compared to last year. Excluding the impact of gas prices and foreign exchange, Costco's April sales were up 5.6% year over year. From my perspective, the is the latest data point that shows Costco continues to take consumer wallet share.
With reported disposable income data inside the monthly Personal Income & Spending reports essentially flat for the last few months and Costco continuing to open new warehouse locations, which should spur its high margin membership revenue, I continue to see further upside ahead in COST shares. And yes, the same applies to Amazon shares as well.
Our $250 price target for Middle-class Squeeze Thematic Leader Costco Wholesale (COST) is under review.