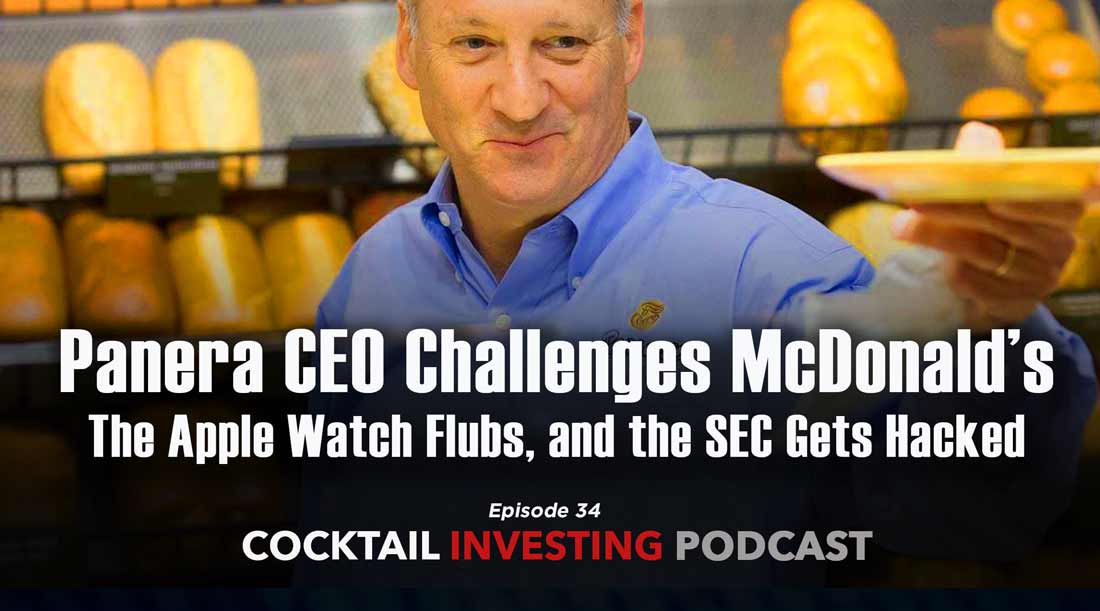 Tags:

Alphabet (GOOGL), Amazon (AMZN), Apple (AAPL), Bob Evans (BOBE), Burger King (QSR), Equifax (EFX), HTC, KB Home (KBH), Kohl's (KSS), Macy's (M), McDonald's (MCD), Nordstrom (JWN), Panera Bread (PNRA), Post Holdings (POST), Target (TGT), Toys R Us, United Natural Foods (UNFI), Wal-Mart (WMT), Wendy's (WEN)
note: no comments
[podcast src="https://html5-player.libsyn.com/embed/episode/id/5766036/height/90/width/470/theme/custom/autonext/no/thumbnail/yes/autoplay/no/preload/no/no_addthis/no/direction/forward/render-playlist/no/custom-color/88AA3C/" height="90″ width="470″]
This week, Tematica's investing mixologists Chris Versace and Lenore Hawkins face-palmed after learning the Securities Exchange Commission (SEC) has been compromised in a cyber-attack. This ironic breach mere days after Equifax broke the news on its breach… as we discuss, this increasing pain point that spills out of our Connected Society investing theme is fodder for our Safety & Security one.  As our portfolio mixologists touch on that, they dish on the Fed's latest missive coming out of its September monetary policy meeting and on a variety of data points for our Connected Society, Food with Integrity and Fattening of the Population investing themes. Chris and Lenore also mix in the latest economic data, and share why S&P 500 Global Ratings' first rating cut to China's sovereign credit rating in nearly two decades is important for investors.
After last week's not-too-special event, we share our view on why it's so disappointing there are connectivity issues with the new Apple Watch model even before it begins to ship.
As Apple tries to get itself back on track, Google is scooping up the team at smartphone company HTC that helped Google develop its Pixel phone. We share why Google is making this move and it's got something to do with its core search business. Here's a hint – it isn't good news.
Why is Post Holdings pivoting its business with the purchase of the packaged foods business at Bob Evans? Believe it or not, it's all about the sausage!
What do drones in Greece and being a neighbor of comedian Kathy Griffin have in common? The answer ties into one of our investing themes.
Who's hiring and who's not hiring for the year-end holiday shopping season? Part of the answer ties to where people are shopping for toys that is part of our Connected Society theme.
What's the story behind Panera Bread CEO Ron Shaich challenging McDonald's, Wendy's and other fast food companies? The answer ties into our Food with Integrity investing theme and if you've seen the documentary Super Size Me you can guess where this is going. You can practically see Lenore roll her eyes at the response from McDonald's.
The Fed expects to hike interest four times before the end of 2018 as it embarks on selling securities on its QE bloated balance sheet, but its economic forecast calls for year over year declines in 2018 and 2019. As Chris and Lenore face-palm, they put some much-needed perspective on this, and explain the real reasons for the Fed's actions.
Over the coming week, we'll be eyeing several key economic reports, including the Flash U.S. September PMI report, the August reports for Durable Orders and Personal Income & Spending. We'll also be watching Hurricane Maria as we look to get a final tally on hurricane-related damage and what it means to 3Q 2017 GDP.
Companies mentioned on this podcast
Alphabet (GOOGL)
Amazon (AMZN)
Apple (AAPL)
Bob Evans (BOBE)
Burger King (QSR)
Equifax (EFX)
HTC
KB Home (KBH)
Kohl's (KSS)
Panera Bread (PNRA)
Post Holdings (POST)
Macy's (M)
McDonald's (MCD)
Nest
Nordstrom (JWN)
Target (TGT)
Toys R Us
United Natural Foods (UNFI)
Wal-Mart (WMT)
Wendy's (WEN)
Resources for this podcast:
Program's we're currently streaming: