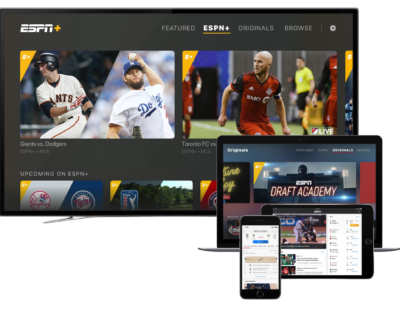 Tags:

ABC, Amazon, AT&T, CBS, Comcast, Disney, ESPN, Hulu, NBC Universal, netflix, Prime Video, Time Warner
note: no comments
Over the last several quarters, one of the few blemishes to be had with Disney has been ESPN as chord cutters moved away from the sports programming behemoth. While it took some time for Disney to get its digital offering together, which included some headcount pruning and other cost-saving measures, this past April it launched ESPN+. Priced at $4.99 per month, the service just signed up its one millionth paying subscriber.
This is significant for a few reasons. First, it shows the Content is King aspect of our Digital Lifestyle investing theme remains firmly intact. Second, it shows Disney can win consumer wallets with a streaming service that is value priced compared to some of the other streaming service bundles like those found at Netflix or Hulu. Third, in many ways, this is a test bed for Disney's other streaming initiatives that will leverage the soon to be acquired Fox content and character library alongside those from other Disney properties such as Pixar, Marvel, and Star Wars.
While the haul to be had from those one million ESPN+ subscribers is relatively small relative to Disney's overall revenue stream, as the subscriber base continues to grow investors will begin to value the company differently. Yes, it will take time – one million is a far cry from the 130 million at Netflix, but Disney has one of the best content libraries to leverage. I'll continue to watch the progress of ESPN+ as well as the adoption of its other streaming efforts.
ESPN said it has signed up more than one million paying subscribers for the streaming service it launched in April, a boost of confidence for majority-owner Walt Disney Co.'s effort to win over cable TV cord-cutters.

The ESPN+ streaming service, priced at $4.99 a month, offers fans hundreds of live Major League Baseball and National Hockey League games, college football and soccer matches from around the world.

It also carries Top Rank Boxing, Ultimate Fighting Championship matchups, and original studio programming like "Detail" hosted by Kobe Bryant. The service doesn't carry live streams from ESPN's TV channels.

ESPN has lost millions of subscribers to its cable channels in recent years, stoking concerns on Wall Street about the sports TV juggernaut's financial health and more broadly about how deeply the cord-cutting phenomenon will hurt the entire pay-TV industry.

In a statement, Mr. Pitaro said "combining sports, technology and the ESPN brand is a very powerful combination, and we are just getting started."

ESPN+ has been a big part of Disney's efforts to take a piece of the burgeoning streaming economy. Disney Chief Executive Bob Iger has said that the company's pending acquisitionof 21st Century Fox Inc. is a foundational part of its plan to take on Netflix Inc. globally.

ESPN+ faces an array of competitors. Other media companies like AT&T Inc.'s Turner andCBS Corp. have released sports-focused streaming competitors, while tech companies likeAmazon.com Inc., Alphabet Inc.'s Google, Twitter Inc. and Facebook Inc. have showed keen interest in competing with ESPN for marquee sports rights.

In March, longtime Disney corporate strategy executive Kevin Mayer took over a new streaming and international division that will oversee both ESPN+ and a new family-focused streaming service that Disney will launch in 2019.
Source: ESPN Streaming Service Surpasses One Million Subscribers – WSJ