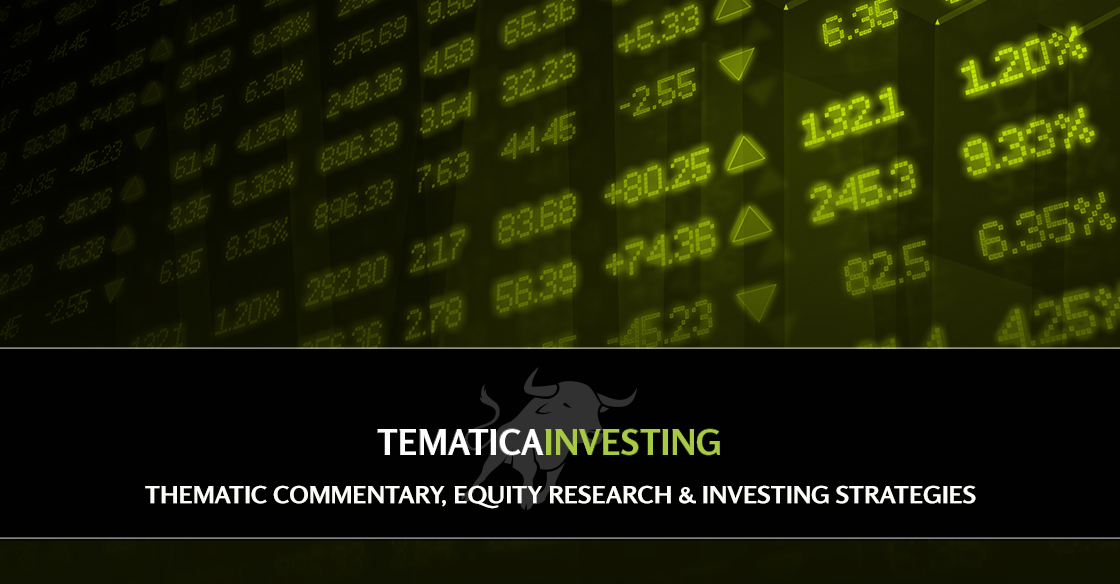 Tags:

$KO, $MA, AAPL, Alibaba, Amazon, AMZN, Apple, Axon Enterprises, AXXN, BABA, BLMN, Bloomin' Brands, Capital One, Chipotle Mexican Grill, CMG, Coca-Cola, COF, COST, Costco Wholesale, Del Frisco's, Del Taco, DFRG, DFS, DGLY, Digital Ally, Discover Financial, Earnings, Habit Restaurant, HABT, MastercCard, McCormick & Co., MDLZ, MKC, Mondelez International, netflix, NFLX, PEP, Pepsico, S&P500, TACO, United Parcel Service, UPS, WING, Wingstop
note: no comments
Key Points from this Issue:
We are downgrading Universal Display (OLED) shares from the Thematic Leaders to the Select List and cutting our price target to $125 from $150. In the coming days, we will name a new Thematic Leader for our Disruptive Innovators investing theme.
Given the widespread pain the market endured in October, Thematic Leaders Chipotle Mexican Grill (CMG), Del Frisco's (DFRG), Axon Enterprises (AXXN), Alibaba (BABA) and Netflix (NFLX) were hit hard; however, the hardest hit was Amazon (AMZN).
This week we closed the books on the month of October, and what a month it was for the stock market. In today's short-term focused society, some will focus on the rebound over the last few days in the major domestic stock market indices, but even those cannot hide the fact that October was one of the most challenging months for stocks in recent memory. In short, the month of October wiped out most the market's year to date gains as investors digested both September quarter earnings and updated guidance that spurred a re-think in top and bottom line expectations.
All told, the Dow Jones Industrial Average fell 5.1% for the month, making it the best performer of the major market indices. By comparison, the S&P 500 fell 6.9% in October led by declines in eight of its ten subgroups. The technology-heavy Nasdaq Composite Index dropped 9.2% and the small-cap focused Russell 2000 plummeted 10.9%. That marked the Nasdaq's steepest monthly drop since it posted a 10.8% fall in November 2008. The month's move pulled the Russell 2000 into negative territory year to date while for the same time period both the Dow and S&P 500 closed last night up around 1.5%.
We are just over halfway through the September quarter earnings season, which means there are ample companies left to report and issue updated guidance. Candidly, those reports could push or pull the market either higher or continue the October pain. There are still ample risks in the market to be had as the current earnings season winds down. These include the mid-term elections; Italy's next round of budget talks with Brussels; upcoming Trump-China trade talks, which have led to another round of tariff preparations; and Fed rate hikes vs. the slowing speed of the global economy.
Despite the very recent rebound in the stock market, CNN's Fear & Greed Index remains at Extreme Fear (7) as I write this – little changed from last week. What this likely means is we are seeing a nervous rebound in the market, and it will likely some positive reinforcement to make the late October rebound stick. As we navigate that pathway to the end of the year, we will also be entering the 2018 holiday shopping season, which per the National Retail Federation's annual consumer spending survey should rise more than 4% year over year.
This combination of upcoming events and sentiment likely means we aren't out of the woods just yet even though we are seeing a reprieve from the majority of October. As is shared below, next week has even more companies reporting than this week as well as the midterm elections. The strategy of sitting on the sidelines until the calmer waters emerge as stock prices come to us is what we'll be doing. At the right time, we'll be adding to existing positions on the Thematic Leaders and Thematic Select List as well as introducing new ones.
Speaking of the Thematic Leaders and the Select List, as the mood shifts from Halloween to the year-end shopping season,  we have several companies including Amazon (AMZN), United Parcel Service (UPS), Costco Wholesale (COST), Del Frisco's Restaurant Group (DFRG), McCormick & Co. (MKC) and Apple (AAPL) among others that should benefit from that uptick in holiday spending as well as our Digital Lifestyle, Living the Life and Middle-class Squeeze investing themes in the next few months.
UPDATES TO The Thematic Leaders and Select List
Given the widespread pain the market endured in October, we were not immune to it with the Thematic Leaders or companies on the Tematica Select List. Given the volatility, investor's nerves it was a time of shoot first, ask questions later with the market – as expected – trading day to day based on the most recent news. I expect this to continue at least for the next few weeks.
The hardest hit was Amazon, which despite simply destroying September quarter expectations served up what can only be called a conservative forecast for the current quarter. For those that didn't tune in to the company's related earnings conference call, Amazon management flat out admitted that it was being conservative because it is too hard to call the second half of the quarter, which is when it does the bulk of its business during the frenetic holiday shopping season. I have long said that Amazon shares are one to hold not trade, and with the move to expand its private label product, move into the online pharmacy space as well as continued growth at Amazon Web Services, we will do just that. That conservative guidance also hit United Parcel Service (UPS) shares, but we see that as a rising tide this holiday season as digital shopping continues to take consumer wallet share this holiday shopping season.
Both Chipotle Mexican Grill (CMG), Del Frisco's (DFRG), Axon Enterprises (AXXN), Alibaba (BABA) and Netflix (NFLX) have also been hit hard, and I'm waiting for the market to stabilize before scaling into these Thematic Leader positions. As we've moved through the current earnings season, comments from Bloomin' Brands (BLMN), Del Taco (TACO), Wingstop (WING), Habit Restaurant (HABT) and others, including Chipotle, have all pointed to the benefit of food deflation. Chipotle's Big Fix continues with progress had in the September quarter and more to be had in the coming ones. Del Frisco's will soon report its quarterly results and it too should benefit from a consumer with high sentiment and lower food costs.
With Axon, the shares remain trapped in the legal volley with Digital Ally (DGLY), but as I pointed out when we added it to the Leaders, Axon continues to expand its safety business with law enforcement and at some point, I suspect it will simply acquire Digital Ally given its $30 million market cap. Turning to Alibaba (BABA) and Netflix (NFLX), both have been hit hard by the downdraft in technology stocks, with Alibaba also serving as a proxy for the current US-China trade war. In my opinion, there is no slowing down the shift to digital streaming that is driving Netflix's business and its proprietary content strategy is paying off, especially outside the US where it is garnering subscriber growth at price points that are above last year's levels. This is one we will add to as things settle down.
The same is true with Alibaba – there is no slowing down the shift to the Digital Lifestyle inside of China, and as Alibaba's other business turn from operating losses to operating profits, I expect a repeat of what we saw with Amazon shares. For now, however, the shares are likely to trade sideways until we see signs of positive developments on trade talks. Again, let's hang tight and make our move when the time is right.
Downgrading Universal Display shares to the Select List
Last night Thematic Leader Universal Display (OLED) reported rather disappointing September quarter results that fell well short of expectations and guided the current quarter below expectations given that the expected rebound in organic light emitting diode materials sales wasn't ramping as expected despite a number of new smartphones using organic light emitting diode displays. On the earnings call, the company pointed out the strides being had with the technology in other markets, such as TV and automotive that we've been discussing these last few months but at least for the near-term the volume application has been smartphones. In short, with that ramp failing to live up to expectations for the seasonally strongest part of the year for smartphones, it speaks volumes about what is in store for OLED shares.
By the numbers, Universal now expected 2018 revenue in the range of $240-$250, which implies $63-$73 million for the December quarter vs. $77.5 million for the September quarter and $88.3 million in the year-ago one. To frame it another way, that new revenue forecast of $240-$250 million compares to the company's prior one of $315- $325 million and translates into a meaningful fall off vs. 2017 revenues of $335.6 million. A clear sign that the expected upkeep is not happening as fast as was expected by the Universal management team. Also, too, the first half of the calendar year tends to be a quiet one for new smartphone models hitting shelves. And yes, there will be tech and consumer product industry events like CES, CEBIT, and others in 2019 that will showcase new smartphone models, but candidly we see these new models with organic light emitting diode displays as becoming a show-me story given their premium price points. Even with Apple (AAPL) and its September quarter earnings last night, its iPhone volumes were flat year over year at 46.9 million units falling short of the 48.0 million consensus forecast.
In my view, all of this means the best case scenario in the near-term is OLED shares will be dead money. Odds are once Wall Street computes the new revenue numbers and margin impact, EPS numbers for the next few quarters will be taken down and will hang on the shares like an anchor. Given our cost basis in the shares near $101, and where the shares are likely to open up tomorrow – after market trading indicates $95-$100, down from last night's closing price of $129.65 – we have modest downside ahead. Not bad, but again, near-term the shares are likely range bound.
Given our long-term investing style and the prospects in markets outside of the smartphone, we're inclined to remain long-term investors. That said, given the near-term headwinds, we are demoting Universal Display shares from the Thematic Leaders to the Select List. Based on revised expectations, we are cutting our price target from $150 to $125, fully recognizing the shares are likely to rangebound for the next 1-2 quarters.
We are downgrading Universal Display (OLED) shares from the Thematic Leaders to the Select List and cutting our price target to $125 from $150. In the coming days, we will name a new Thematic Leader for our Disruptive Innovators investing theme.
Clean Living signals abound
As we hang tight, I will continue to pour through the latest thematic signals that we see day in, day out throughout the year, but I'll also be collecting ones from the sea of earnings reports around us.
If I had just read that it would prompt me to wonder what some of the recent signals have been. As you know we post them on the Tematica Research website but during the earnings season, they can get a tad overwhelming, which is why on this week's Cocktail Investing podcast, Lenore Hawkins (Tematica's Chief Macro Strategist) and I ran through a number of them. I encourage you to give it a listen.
Some of the signals that stood out of late center on our Clean Living investing theme. Not only did Coca-Cola (KO) chalk up its September quarter performance to its water and non-sugary beverage businesses, but this week PepsiCo (PEP) acquired plant-based nutrition bar maker Health Warrior as it continues to move into good for you products. Mondelez International (MDLZ), the company behind my personal fav Oreos as well as other cookies and snacks is launching SnackFutures, a forward-thinking innovation hub that will focus on well-being snacks and ingredients. Yep, it too is embracing our Clean Living investing theme.
Stepping outside of the food aspect of Clean Living, there has been much talk in recent months about the banning of plastic straws. Now MasterCard (MA) is looking to go one further with as it looks to develop an alternative for those plastic debit and credit cards. Some 6 billion are pushed into consumer's hands each year. The issue is that thin, durable card is also packed with a fair amount of technology that enables transactions to occur and do so securely. A looming intersection of our Clean Living, Digital Infrastructure and Safety & Security themes to watch.
Turning to next week
During the week, the Atlanta Fed published its initial GDP forecast of 2.6% for the current quarter, which is essentially in line with the same forecast provided by the NY Fed's Nowcast, and a sharp step down from the initial GDP print of 3.5% for the September quarter. Following the October Employment Report due later this week, where wage growth is likely to be more on investor minds that job gains as they contemplate the velocity of the Fed's interest rate hikes, next week brings several additional pieces of October data. These include the October ISM Services reading and the October PPI figure. Inside the former, we'll be assessing jobs data as well as pricing data, comparing it vs. the prior months for hints pointing to a pickup in inflation. That will set the stage for the October PPI and given the growing number of companies that have announced price increases odds are we will some hotter pricing data and that could refocus the investor spotlight back on the Fed.
Next week also brings the September JOLTS report as well as the September Consumer Credit report. Inside those data points, we expect more data on the continued mismatch between employer needs and available worker skills that is expected to spur more competitive wages.  As we examine the latest credit data, we will keep in mind that smaller banks reporting higher credit card delinquency rates while Discover Financial (DFS) and Capital One (COF) have shared they have started dialing back credit spending limits. That could put an extra layer of hurt on Middle-class Squeeze consumers this holiday season.
Also, next week, the Fed has its next FOMC meeting, and while it's not expected to boost rates at that meeting, we can expect much investor attention to be focused on subsequent Fed head comments as well as the eventual publication of the meeting's minutes in the coming weeks ahead of the December meeting.
On the earnings front, following this week's more than 1,000 earnings reports next week bring another 1,100 plus reports. What this means is more than half of the S&P 500 group of companies will have issued September quarter results and shared their revised guidance. As these reports are had, we can expect consensus expectations for those companies to be refined for the balance of the year. Thus far, roughly 63% of the companies that have issued EPS guidance for the current quarter have issued negative guidance, but we have yet to see any meaningful negative revisions overall EPS expectations for the S&P 500.
Outside the economic data and corporate earnings flow next week, we also have US midterm elections. While we wait for the outcome, we would note if the Republicans maintain control of the House and Senate, it likely means a path of less resistance for President Trump's agenda for the coming two years. Should the Democrats gain ground, which has historically been the case following a Republican presidential win, it could very well mean an even more contentious 24 months are to be had in Washington with more gridlock than not. Should that be the case, expectations for much of anything getting done in Washington in the medium-term are likely to fall.
Yes, next week will be another busy one that could challenge the recent market rebound. We'll continue to ferret out signals for our thematic lens as we remain investors focused on the long-term opportunities to be had with thematic investing.